"Japan captivates at first sight. Here, there is a special energy, and the air smells of cherry blossoms."
Follow iTravel Lay's captivating journey through the enchanting streets of historical Kyoto, the breathtaking landscapes of Fuji, the serene mountain lake of Nikko, and the vibrant energy of Tokyo.

iPremium editors embarked on a three-week exploration of Japan, indulging in the most romantic journey from Kyoto to Tokyo during the famous cherry blossom period. From Osaka to Nikko, they traced the footsteps of the great shogun, inspired by Charles Dunn's book on Japan during the Tokugawa shogunate era.

Tokugawa Ieyasu, a prominent figure in Japanese history, is renowned for his pivotal role in unifying Japan during the Sengoku period. As the founder of the Tokugawa shogunate, he established peace and stability, ushering in the Edo period. Ieyasu's strategic prowess and leadership abilities allowed him to navigate through turbulent times, leading to the Battle of Sekigahara, where he emerged victorious and secured his position as the country's ruler. The relics and ashes of Tokugawa Ieyasu are enshrined at Toshogu Shrine in Nikko and Kunozan Toshogu Shrine in Shizuoka, revered as sacred places where wishes are said to come true, perpetuating the legend of his enduring legacy.

Here are 5 fascinating aspects to know before you travel to Japan:

• Japanese seldom say "no."
• Patience is the key to success.
• Silence is golden.
• Delightful desserts accompany afternoon tea.
• Maintain cleanliness on streets and in restrooms.
• "Arigato" is expressed with a bow and a smile.
Osaka
Discover the opulent allure of Osaka, Japan's vibrant metropolis where tradition and modernity coalesce in perfect harmony. Immerse yourself in the city's captivating blend of historic landmarks, cutting-edge architecture, and Michelin-starred gastronomy. Indulge in luxurious accommodations, exclusive shopping, and a thriving nightlife as Osaka welcomes discerning travelers with open arms.
TOP-5 things to visit in Osaka:
Osaka Castle: Majestic fortress blending history and beauty in the heart of the city.
Dotonbori: Iconic entertainment district offering a vibrant culinary and visual spectacle.
Umeda Sky Building: Modern architectural marvel providing breathtaking city views and upscale dining.
Shinsekai: Nostalgic neighborhood with retro charm, street food, and traditional bathhouses.
Hozenji Temple: Tranquil sanctuary amid the urban buzz, featuring a moss-covered Fudo Myoo statue.
W Osaka Hotel
Indulge in the epitome of luxury and modernity with a stay at the exquisite W Osaka, handpicked by iPremium magazine as the ultimate destination for discerning travelers.
Welcome to the enchanting world of W Osaka, Japan's highly anticipated debut of the iconic W brand. Nestled along vibrant Midosuji Boulevard, this luxury hotel is set to redefine the hospitality landscape of Osaka, infusing it with a spirited spin on luxury that perfectly complements the city's dynamic culture and high-energy lifestyle. Designed by the world-renowned architect Tadao Ando, W Osaka presents a captivating interplay between a minimalist exterior and exuberant interiors, paying homage to Osaka's history of modesty and hidden opulence.
Upon arrival, guests are greeted by an illuminated tunnel inspired by Japanese art forms, leading them to the vibrant social hub, LIVING ROOM, adorned with whimsical Kawaii Kokeshi wooden dolls. The 337 guestrooms and suites feature bright spaces, clean lines, and bold color schemes that reflect the city's blazing streetscapes, offering stunning views of the skyline.
Indulge in extraordinary dining experiences at OH.LALA..., TEPPANYAKI MYDO, MIXUP, and SUSHI UKIYO, where global flavors merge with iconic Japanese cuisine. Detox and recharge at FIT and AWAY SPA, and celebrate special occasions in the elegant event spaces, including the breathtaking GREAT ROOM.
At W Osaka, immerse yourself in a destination within a destination, where international jetsetters and local tastemakers come together to create magic amidst the energy and eclecticism of Osaka.


Kyoto
Unveil the irresistible magic of Kyoto, Japan's cultural gem and a destination that captivates the hearts of discerning travelers. From serene temples and Zen gardens to exquisite tea ceremonies and traditional arts, Kyoto offers a profound journey into the essence of Japanese heritage. Discover the harmonious blend of ancient traditions and modern luxuries in this enchanting city, where tranquility and refinement converge to create an unforgettable experience for the worldly traveler.
TOP-5 things to visit in Kyoto:
Fushimi Inari Taisha: Immerse yourself in the mystical ambiance of this iconic Shinto shrine adorned with thousands of vibrant torii gates.
Kiyomizu-dera: Marvel at the breathtaking panoramic views of Kyoto from this UNESCO World Heritage Site, known for its stunning wooden terrace.
Nijo Castle: Step into the opulent world of feudal Japan as you explore the lavishly decorated chambers and beautiful gardens of this historic castle.
Gion District: Encounter the grace and elegance of Kyoto's traditional geisha culture as you stroll through the charming streets of Gion.
Kyoto's Craftwork: Discover the city's rich artistic heritage by exploring the workshops and galleries that showcase exquisite Kyoto-style pottery, textiles, and other crafts.
For an unforgettable and truly exceptional stay, iPremium highly recommends these unquestionably award-winning 5-star hotels.
Roku Kyoto
Nestled amidst the serene foothills of the Takagamine mountains in Kyoto, ROKU KYOTO, LXR Hotels & Resorts invites guests to embark on a journey of discovery and rekindle their sense of wonder. This luxurious resort is located away from the city's hustle and bustle, offering a secluded retreat that immerses visitors in the authentic essence of Kyoto. Inspired by the historic resort area, which has long been a haven for Japanese artists and artisans, ROKU KYOTO provides unparalleled experiences that allow guests to delve into the rich tapestry of Kyoto's history, culture, and natural beauty.
With a tranquil spa featuring an onsen-thermal pool, guests can rejuvenate their mind, body, and spirit. The resort's name, ROKU, pays homage to the majestic Takagamine mountains and the flowing Tenjin River, symbolizing a deep connection to the natural surroundings. Each of the 114 rooms combines traditional craftsmanship and modern design, offering floor-to-ceiling windows that provide breathtaking views of the changing seasons. For the ultimate experience, the PEAK Suite and ROKU Suite offer expansive spaces and picturesque vistas, allowing guests to immerse themselves in the beauty of Kyoto.
Ritz-Carlton, Kyoto
Welcome to The Ritz-Carlton, Kyoto, an oasis of peaceful luxury nestled on the banks of the enchanting Kamogawa river. This urban resort, Japan's first luxury destination of its kind, presents 134 guest rooms adorned with traditional Japanese motifs. Indulge in a sensory journey with four exquisite restaurants and bars, including modern Japanese cuisine that will tantalize your taste buds.
The spa beckons with rejuvenating rituals inspired by Japan's ancient wellness traditions. Immerse yourself in Kyoto's rich cultural tapestry, as the hotel is conveniently located near iconic attractions such as the Fushimi Inari Shrine and the renowned Kyoto Tower.
With a legacy of quiet luxury, The Ritz-Carlton, Kyoto embodies the spirit of this historic city, captivating guests with meticulous attention to detail and an array of unforgettable experiences. From the moment you step foot in this exquisite hotel and partake in a traditional Japanese tea ceremony during check-in, you will be immersed in a world of elegance and sophistication.
Discover the beauty of modern Japanese artwork displayed throughout the property, savor Michelin-starred Japanese cuisine at TEMPURA MIZUKI, and embark on a culinary journey through Japan's micro-seasons at Chef's Table by Katsuhito Inoue.
Pamper your senses at The Ritz-Carlton Spa, offering a range of indulgent treatments, and take advantage of the heated swimming pool and state-of-the-art fitness center. Escape to this haven of refined elegance and let The Ritz-Carlton, Kyoto enchant your senses with its impeccable service and unparalleled charm.
https://www.ritzcarlton.com/en/hotels/ukyrz-the-ritz-carlton-kyoto/
Shizuoka
Shizuoka and the majestic Mount Fuji, a destination that seamlessly combines natural beauty, cultural heritage, and luxurious experiences. Immerse yourself in the serenity of its tea plantations, indulge in exquisite gastronomy, and embark on thrilling adventures. Join us as we unveil the hidden gems of this enchanting region, offering an exclusive getaway for discerning travelers seeking the perfect blend of tranquility and sophistication.
Nippondaira Hotel
Nestled on the scenic Nippondaira hill, this exquisite hotel is an absolute gem, handpicked by iPremium for its unrivaled vantage point that offers a mesmerizing panorama of the iconic Mount Fuji.
This Hotel perched atop Nihondaira Park and offers an idyllic retreat in Shizuoka, boasting awe-inspiring views of the ever-changing sky and majestic Fuji. Designed to be a "museum of scenic beauty," this haven of tranquility allows guests to savor panoramic vistas from morning till night. Step inside and be greeted by vast glass walls that frame the iconic Fuji-san, as the landscape unfolds like a mesmerizing work of art. With rooms that guarantee splendid views, The Terrace restaurant serving delectable cuisine, and the rejuvenating Pevonia Botanica spa, Nippondaira Hotel caters to discerning travelers seeking refined luxury amidst nature's splendor. Embark on unforgettable experiences exploring historical treasures like Kunozan Toshogu Shrine and marvel at architectural wonders like Nihondaira Yume Terrace, all within easy reach of this exquisite retreat.
Indulge in a gastronomic journey at Nippondaira Hotel, where The Terrace offers all-day dining in a spacious setting with stunning views. Experience authentic Japanese cuisine and sushi at Fukian, savor the finest ingredients at Teppan-yaki Muku, and unwind with traditional English afternoon tea at Terrace Lounge. The Upper Lounge provides a captivating blend of natural beauty and art, while Garden Lounge offers a delightful casual dining experience.
Experience the epitome of elegance and romance at Nippondaira Hotel's exceptional wedding services, where the stunning backdrop of Mt. Fuji and meticulously designed wedding chapel and Shinto shrine create an unforgettable setting for your special day.
Dive into the exquisite beauty of Shizuoka with a personalized program curated by Nippondaira Hotel. Discover the artistry of bonsai at the renowned Taishoen Bonsai Garden, visit the historic Kunozan Toshogu Shrine, indulge in the breathtaking views of Mt. Fuji and Suruga Bay from Shanoma, explore the sacred and inspiring Miho no Matsubara, and engage in the intricate craftsmanship of Suruga Bamboo at Sunpu Takumi-Shuku.
Tokyo
Discover to the vibrant metropolis of Tokyo, where tradition and modernity intertwine to create an unforgettable experience for discerning travelers. From Michelin-starred restaurants and cutting-edge fashion boutiques to serene gardens and ancient temples, Tokyo offers a captivating blend of luxury, culture, and innovation. Explore the bustling streets of Shibuya, savor world-class sushi in Ginza, and immerse yourself in the tranquility of the Imperial Palace. With its unparalleled blend of cosmopolitan allure and timeless charm, Tokyo awaits to captivate and inspire the worldly wanderer.
TOP things to visit in Tokyo:
Cherry blossoms: Witness the ethereal beauty of Tokyo's cherry blossoms in full bloom, a symbol of renewal and fleeting beauty.
Disney: Embark on a magical journey at Tokyo Disneyland or Tokyo DisneySea, where enchantment and imagination come to life.
Michelin restaurants: Indulge in an extraordinary culinary experience at Tokyo's Michelin-starred restaurants, where masterful chefs create gastronomic delights.
Panoramic rooftop experience: Take in breathtaking views of the city skyline from Tokyo's stylish rooftop bars and observation decks.
Nezu Museum: Immerse yourself in Japanese art and culture at the Nezu Museum, showcasing a remarkable collection of traditional and contemporary works.
Mori Art Museum: Delve into the world of contemporary art at the Mori Art Museum, known for its thought-provoking exhibitions and stunning city views.
Yoyogi Park: Find respite in the expansive greenery of Yoyogi Park, a haven for relaxation, picnics, and vibrant cultural events.
Tokyo Department Store: Experience luxury shopping at its finest in Tokyo's iconic department stores, offering an array of designer brands and exclusive collections.
Mount Omuro: Take a cable car ride to the summit of Mount Omuro and marvel at the panoramic vistas of the surrounding landscape.
To ensure a truly unforgettable sojourn, iPremium recommends a handpicked selection of Tokyo's must-visit hotels.
10 Best Michelin Starred Restaurants in Tokyo:

These are just a few of the extraordinary dining experiences awaiting you in Tokyo, where Michelin-starred restaurants redefine excellence and elevate the art of gastronomy to new heights.

Immerse yourself in the artistry of Japanese cuisine at Sukiyabashi Jiro, where the legendary sushi master Jiro Ono crafts masterpieces with unparalleled precision. Experience the exquisite flavors of French cuisine at Joel Robuchon, where innovative techniques and premium ingredients create culinary masterpieces that delight the palate. Savor the delicate kaiseki creations at Kanda, a hidden gem where Chef Hiroyuki Kanda showcases the essence of Japanese tradition with a contemporary twist. Discover the culinary artistry of Ryugin, where Chef Seiji Yamamoto takes you on a captivating journey through seasonal ingredients, pushing the boundaries of innovation.
Japanese Traditional Therapies:



Acupuncture: Discover the ancient healing art of stimulating specific points on the body for wellness.
Kampo: Immerse yourself in the wisdom of traditional Japanese herbal medicine for holistic healing.
Shiatsu: Experience the soothing pressure of skilled hands as they restore balance and relieve tension.
Seitai: Allow the gentle manipulation of joints and bones to harmonize your body's energy flow. Indulge in these exquisite wellness treatments, carefully curated for your rejuvenation and inner well-being.
Ritz Carlton Tokyo
Indulge in true luxury at The Ritz-Carlton, Tokyo, situated in the vibrant Roppongi District. Occupying the top floors of Midtown Tower, this exquisite hotel offers 245 elegantly appointed guest rooms with breathtaking views of Tokyo's skyline, including iconic landmarks like the Imperial Palace Garden and Mount Fuji. Immerse yourself in the perfect blend of East and West, with luxurious suites featuring residential-inspired layouts, contemporary finishes, and floor-to-ceiling windows.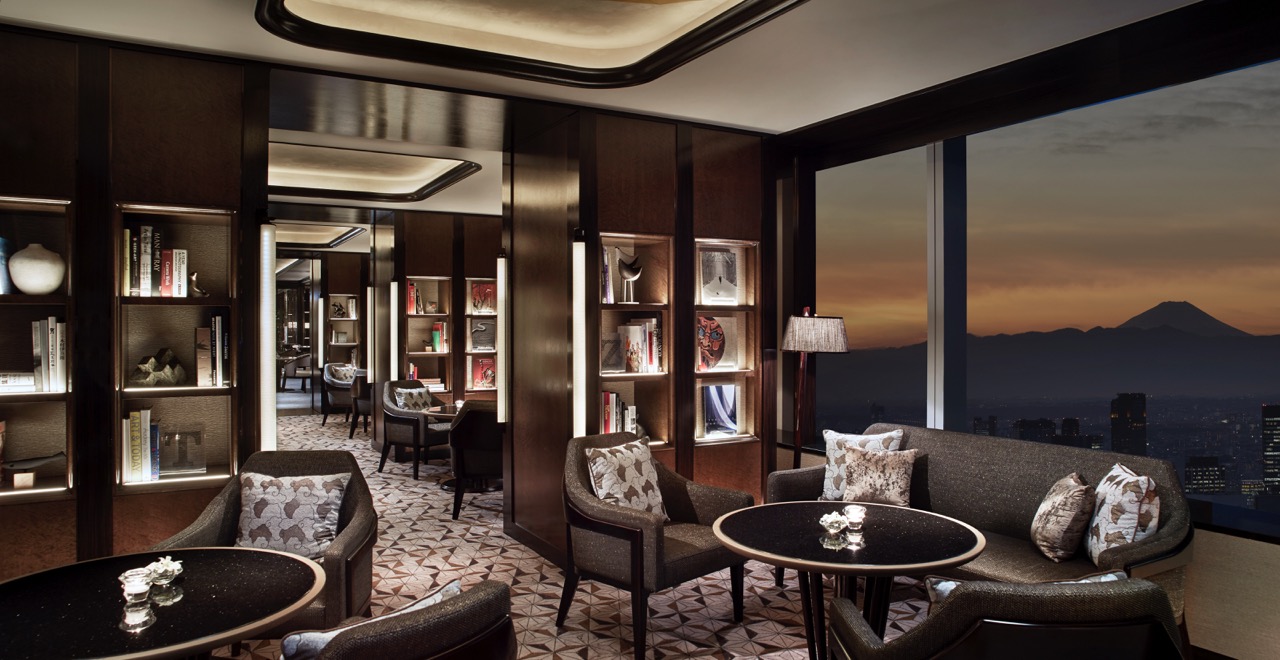 The hotel boasts seven remarkable restaurants, including the Club Carlton Suite's panoramic view of Tokyo Bay, and the Modern Japanese Suite's fusion of traditional design elements. Unwind in the spa, enjoy personalized attention from the Club Level, or experience reimagined meeting spaces. With impeccable service, exceptional dining, and unrivaled views, The Ritz-Carlton, Tokyo elevates hotel luxury to new heights in Japan's capital.
Indulge in the newly elevated Ritz-Carlton Club Experience at The Ritz-Carlton, Tokyo, where guests are treated to unique indulgences, curated culinary journeys, and personalized encounters. From sublime afternoon tea to tranquil evenings with panoramic views, this exclusive club offers unmatched luxury.
Experience global culinary delights at The Ritz-Carlton, Tokyo's seven exquisite restaurants and bars, from the East-meets-West concept of Azure 45 to the sophisticated French cuisine at Towers and the true essence of traditional Japanese fare at Hinokizaka. Indulge in signature sips at The Lobby Lounge and The Bar, while La Boutique offers handcrafted sweet creations.
Park HYATT Tokyo
Nestled in the heart of Shinjuku, Park Hyatt Tokyo is a serene and elegant oasis offering a 360-degree view of the vibrant city and Mount Fuji. This luxury residence, occupying the top 14 floors of a towering structure, provides unparalleled comfort, personalized service, and world-class dining options. The spacious and serene guest rooms, adorned with original artwork and books, offer a private urban retreat. Designed by renowned architects and interior designers, the hotel boasts modern interiors, a private art collection, acclaimed restaurants, and a spa and fitness center.
Indulge in the Tokyo Suite, showcasing understated elegance, or opt for the luxurious Presidential Suite with its grand piano and marble bath. At Club On The Park, take in the panoramic views while enjoying the 26x65-foot swimming pool. For business travelers, a range of services is offered, including assistance with logistics, Japanese business customs, and fully equipped boardrooms. Delight in the dining experience at New York Grill, perched on the 52nd floor with breathtaking views and a remarkable wine cellar. Park Hyatt Tokyo is the ultimate luxury destination for discerning travelers seeking a tranquil and sophisticated retreat in Tokyo.
Shangri-La Tokyo
Experience the pinnacle of luxury at Shangri-La Tokyo, perfectly located adjacent to Tokyo Station. With breathtaking views of the city's iconic landmarks, the hotel offers 200 spacious and elegantly furnished rooms and suites, each designed for the discerning traveler seeking refined comfort. Immerse yourself in tranquility at Chi, The Spa at Shangri-La, where five serene and private spa suites await. Delight in a range of award-winning Chi massages and treatments, as well as Kisetsu therapies inspired by Japan's seasonal beauty. Experience the timeless allure of Tokyo from this exquisite haven, where impeccable service and unparalleled elegance define your stay.
Nikko
Discover the enchanting beauty of Nikko, a hidden gem nestled amidst lush mountains and serene lakes. Immerse yourself in the tranquility of ancient shrines and temples, marvel at the intricate craftsmanship, and indulge in the traditional Japanese hospitality. Uncover a world of rich history and natural splendor in this exclusive destination.
Japanese onsen

Embark on a sensory journey as you soak in the rejuvenating waters of a traditional Japanese onsen, immersing yourself in serenity and blissful relaxation.
Ritz Carlton Nikko
Nestled along the tranquil shores of Lake Chuzenji, with breathtaking views of Mount Nantai, The Ritz-Carlton, Nikko offers an unparalleled escape into natural beauty. Embracing Japan's aesthetic of minimalist elegance, the luxury accommodations feature traditional engawa porches and showcase the sweeping vistas. Indulge in the authentic Japanese spa experience with the only Ritz-Carlton branded onsen, drawing from the renowned Nikko Yumoto hot springs. The sublime treatments, accompanied by the meditative ambiance of wooden carvings and peony motifs, transport guests to a state of deep relaxation. Immerse yourself in the ever-changing palette of Nikko's natural wonders and savor the exquisite Kaiseki dining, crafted from locally sourced ingredients. Discover the serenity and rich cultural heritage of Nikko at this exclusive retreat.
Discover on a culinary journey at The Japanese Restaurant By The Ritz-Carlton, Nikko, where exquisite sushi and teppanyaki creations await for lunch and dinner, complemented by a Western a la carte breakfast. At the Lakehouse, indulge in a fusion of international and Italian cuisine, with picturesque lake views enhancing the serene ambiance and locally sourced ingredients bringing the essence of the countryside to each dish.
Meditation with monks
Embark on a transformative journey of inner peace and mindfulness with meditation sessions guided by wise and serene monks.

Traditional Tea
Immerse yourself in the ancient art of the Japanese tea ceremony, a serene ritual that blends elegance, precision, and tranquility.

Bento box
Experience the artistry of a Japanese bento box meal, a delectable culinary delight showcasing a harmonious blend of flavors.

Udon and Ramen
Savor the rich and comforting flavors of Japanese ramen and udon, each offering a unique noodle experience. Ramen features thin noodles in flavorful broths, while udon boasts thick and chewy noodles in hearty soups.

Michelin-starred kaiseki
Experience the artistry of Michelin-starred kaiseki, a culinary masterpiece showcasing meticulously crafted Japanese dishes in exquisite harmony.

Samurai sword
Discover the timeless elegance and craftsmanship of the legendary Samurai sword, a symbol of power and honor.

Japanese iconic kimono
Adorned on special occasions, such as festivals and weddings, it showcases the rich cultural heritage of Japan with intricate designs and graceful silhouettes.

Temples
Embark on a journey of serenity and enlightenment as you uncover the timeless beauty of Japan's must-visit temples: Souji-in, Ryosoku-in, and Koetsu-ji.

JR Shinkansen
Travel from Kyoto to Shizuoka and Tokyo in record time, enjoying the comfort and efficiency of this iconic high-speed train.