The Ultimate Guide to the Trendiest Foodie Spots 2022
Once on the French Riviera, do not deny yourself the pleasure of visiting local restaurants; the gastronomy of the Côte d'Azur deserves high praise. There are establishments for every taste, from elite eateries with Michelin stars to modest, cosy taverns with a homely atmosphere.

In this article, we will guide you through the restaurants you should definitely visit this summer if you consider yourself a connoisseur of delicious and extraordinary dishes.


Pavyllon Monte-Carlo by Yannick Alléno
To create the ideal feel-good atmosphere, a restaurant should feel like both a home away from home and a social hub. Yannick Alléno's Pavyllon Monte-Carlo has a distinctly local culinary identity: it is subtle and cosmopolitan, much like Monaco itself. It's all you'd expect from its gorgeous location, the Hôtel Hermitage — a true jewel in Monaco's crown, beloved for its culture, refinement, and embodiment of the finer things in life. The main bar provides front-row seating for the kitchen's culinary ballet, as Three Michelin-starred chef Yannick Alléno and his staff employ the best local ingredients to create lively, sun-kissed gourmet cuisine. Don't miss out on the restaurant's John Dory fillet with barigoule artichokes, grilled veal chop marinated in yoghurt with sage, and grilled lamb cutlets with smoked mashed eggplant.




Learn more at: montecarlosbm.com/fr/restaurant-monaco/pavyllon-monte-carlo-un-restaurant-yannick-alleno-hotel-hermitage-monte-carlo


La Môme Monte-Carlo, Monaco

Antoine and Ugo Lecorché ventured on a new journey in May 2015, opening their first restaurant in Cannes — Restaurant Florian, which serves Mediterranean cuisine prepared with fresh and seasonal ingredients. Every evening, the restaurant La Môme welcomes both locals and visitors to experience the pleasures of a small oasis of peace in the midst of a bustling metropolis. Led by chef Julian Cazalas, the restaurant will take your taste buds on a journey through sunny Mediterranean cuisine. The evenings here are enhanced by the music of La Môme's DJ, with a cocktail bar located directly across from the La Môme restaurant. Inspired by New York speakeasies with a small and warm ambience, this sophisticated spot allows guests to complement their evening with handcrafted cocktails. Whether you're having a tête-à-tête or enjoying an evening with friends, an apéritif or a digestive, the experienced bartenders will welcome you with original and professionally-prepared creations.

Learn more at: lamomegroupe.com



Summer Yoshi at Hôtel Métropole


On summer nights beginning on 17th June, the restaurant Yoshi - the only Michelin-starred Japanese restaurant on the Côte d'Azur - comes into picture at the edge of the pool in the Odyssey area and welcomes visitors to enjoy a sumptuous Japanese cuisine in an amazing setting created by Karl Lagerfeld. As Takeo Yamazaki enters his 14th year as head chef at Yoshi, located within the Hôtel Métropole Monte-Carlo, he has become a master in combining Japanese and European cuisines, and continues to draw inspiration from his countless journeys overseas. All ingredient-driven meals are made on the teppanyaki with the freshest quality ingredients and complemented by the finest sakés, whiskys, or Japanese green teas chosen by the head sommelier. Clients especially compliment two of the chef's hallmark dishes: ebi shinjo (shrimp balls with kombu) and ghindara (black cod marinated for 72 hours).

Learn more at: metropole.com/en/restaurant-montecarlo/yoshi



Circé, Beaulieu-sur-Mer

This Greek-style restaurant in the elegant town of Beaulieu-sur-Mer — a jewel of the Côte d'Azur — takes you on the exciting journey through the Mediterranean's rich gastronomy. A stone's throw from the Casino Beaulieu, in the historical Rotonde, this majestic restaurant offers a Mediterranean gourmet menu with a large selection of seafood. The unique twist of this place lies in its concept, based on the legend of the Greek goddess Circe — daughter of the Titan Helios, god of the Sun, and the nymph Perseis. This cultural reference can be traced even in the smallest details of the restaurant's alluring design, finished in leopard prints, colourful motifs and velvet textures. Here, you will be pleasantly surprised by the choice of cigars and drinks in the wine cellar, as well as the unique cocktail list accompanied by mellow DJ sets. It is no surprise that the restaurant's trendy concept was quick to attract sophisticated guests seeking a refined culinary experience. Before the exotic performances and vibrant dancing begin on the restaurant's revolving stage, we highly recommend checking out a local sunset, best enjoyed on the terrace overlooking the sea and Cap Ferrat. After sunset, Circe turns into a real party place — a restaurant festif, as we call it in French. Make sure to try the oysters and fresh sea bream carpaccio with sauces, as well as an entrecôte or a rabbit. And, of course, the unique Nems Pomme dessert with ginger and caramel sauce is an incredibly delicious combination of flavours not to be missed.

Learn more at: circerestaurant.com



Ambrosia, Beaulieu-sur-Mer

Ambrosia invites you to the 1970s for a vacation on the Amalfi Coast, where its skilled chef makes authentic Italian food. The dining area opens onto the port on one side and a bar and huge kitchen, equipped with pizza oven, on the other. Come and cherish its historical and inventive dishes — with excellent ingredients from the Gusto family. We definitely recommend trying the raw slices of fresh bream, presented with lemony olive oil and freshly ground black pepper for dipping. If it's spaghetti you're after, Ambrosia's pasta meals are large enough to share and packed with clams, mussels, shrimp, and broth, ready to drive any seafood lover crazy. Ambrosia is, without a doubt, a gratifying dining option at any time of day.

Learn more at: ambrosia-beaulieu.com



Marco La Rose des Ventes, Monaco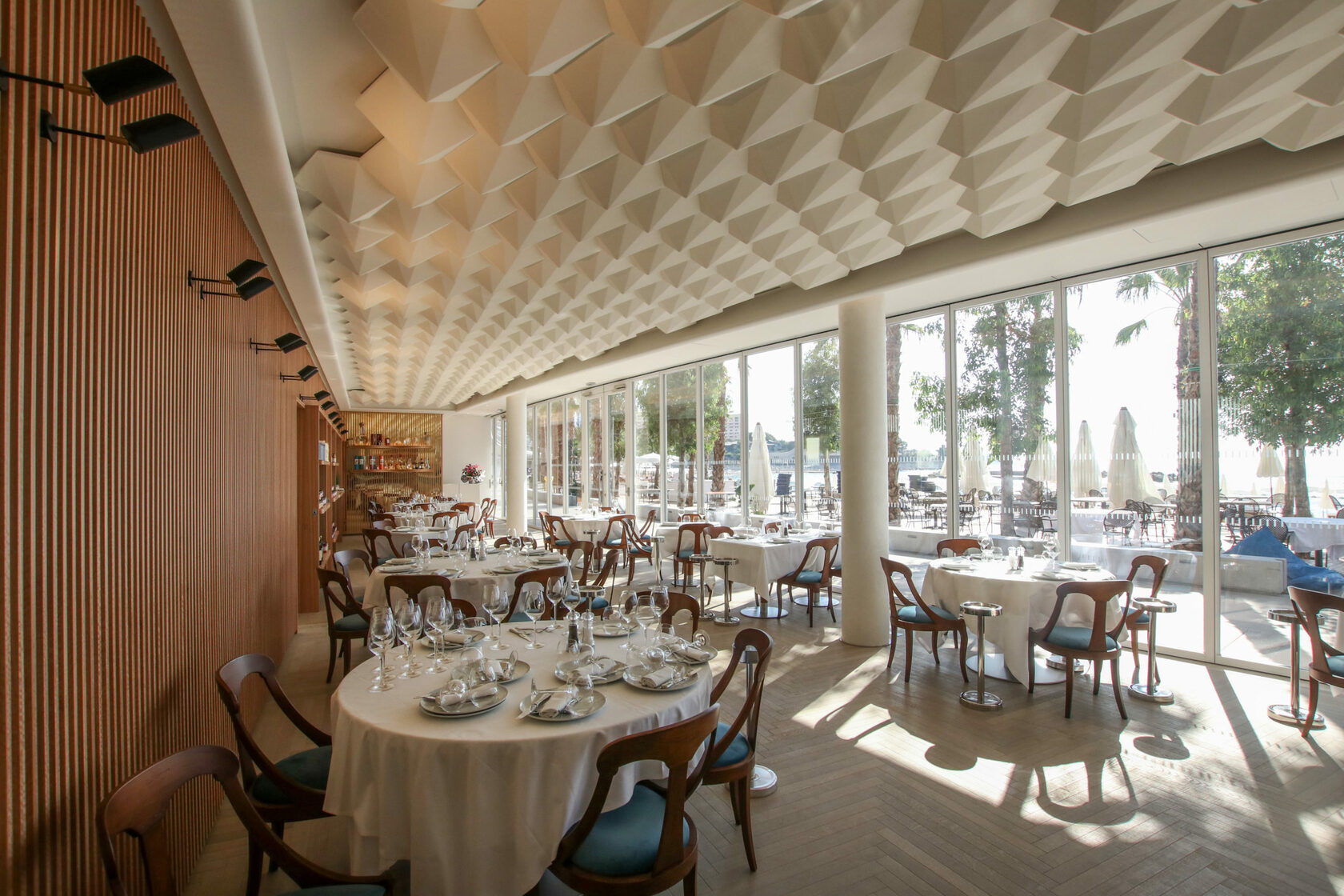 Marco and his daughter Maddalena successfully share their love of locally-caught market-fresh fish with locals and tourists alike. Whether you are here for delicious fish, spaghetti vongole, or flavorful tartare, La Rose des Vents marries French and Italian cuisine to create a unique à la carte from fresh local produce. The restaurant also has some great desserts, including a parfait so delicious that it will undoubtedly become one of your all-time favourite dishes. We also recommend complementing your lunch or dinner with an excellent rosé wine. Spectacular service, attractive prices, and a charming ambience await your presence at La Rose des Vents this summer.

Learn more at: marcolarosedesvents.com



The Niwaki, Monaco

This Japanese restaurant is elegantly designed around a spellbinding blend of shoji ceiling and mirrors, creating a sense of infinity — perfect for sampling upscale oriental cuisine. Here, talented chefs offer delicious creations that elevate great classics, with an extensive list of majestic plates to explore. You'll even get the opportunity to sit next to the sushi master, where a live cooking experience will introduce you to some of the world's greatest culinary expertise, along with exceptionally customised service. This is definitely a must visit for any foodie out there.

Learn more at: theniwaki.com