London is a place of treasures and unlimited new gems. In the British capital, you can feel the special London vibes which you cannot feel anywhere else. Some places are the British heritage and others are a must where to go and have become habits for Londoners and for those who use to visit the capital. In London, you feel at home in every corner: from Mayfair to Knightsbridge. The city is yours from the first day. Discovering London through its fine dining restaurants, afternoon teas you cannot miss out
and unforgettable drinks will conquer your heart, and it will make your London adventure full of good memories and sensations. Your stay in the City will make you feel welcome and "posher" than ever. Here are the places you will die to go to only a hundred kilometres from home.
RESTAURANTS
AMAZONICO LONDON
Amazónico London, situated in the heart of Mayfair on Berkeley Square, is one of the first restaurants to open outside Spain, and will similarly take inspiration from the cultural diversity and gastronomic heritage of the Amazon region. Open from lunch until late, the customer will discover an immersive environment of rainforest-inspired lush greenery and natural materials designed by the internationally renowned artist Lázaro Rosa-Violan. Combining a blend of tropical and Latin American cuisines, menus are not only inspired by the countries of the Amazon but the unique Asian and Mediterranean communities which inhabit them. From Peruvian sushi and the freshest raw seafood to carefully sourced grilled meats and fish; the chefs use both traditional and cutting-edge techniques along with seasonal and vibrant ingredients which take you as far as to South America.

Quickly scroll out the list of London's most "Instagrammable" restaurants and you will see!
10 Berkeley Square, Mayfair, W1J 6AA | +44 20 7404 5000
BAGATELLE
This is the place to taste French Mediterranean cuisine with local ingredients, which takes customers to the
heart of Bagatelle's culinary identity. This club restaurant brought the exclusive New York dining destination to the heart of Mayfair. This restaurant can satisfy both the foodie and the clubber you are. It is worth the experience. This is the city's quintessential host for foodies, jet-setters, celebrities and tastemakers and it brings culinary expertise and ultimate hospitality to the London dining scene. This is also one of the best places to brunch on Sunday if you want to keep the party vibes going before Monday.
34 Dover St, Mayfair, London W1S 4NG | +44 20 3972 7000
SEABIRD RESTAURANT
The Hoxton Southwark hotel knows very well how to attract the best of the city. Located in South London on the fourteenth floor, the gorgeous sky-high restaurant Seabird is the proud home of the longest oyster list in London with some breath-taking views over the city. You will not feel the same after your venue at the Seabird. The fresh seafood platter and this view will make you feel speechless. Last but not least, in summertime, the best of the restaurant is happening on the terrace where the sunset cannot shine better than here.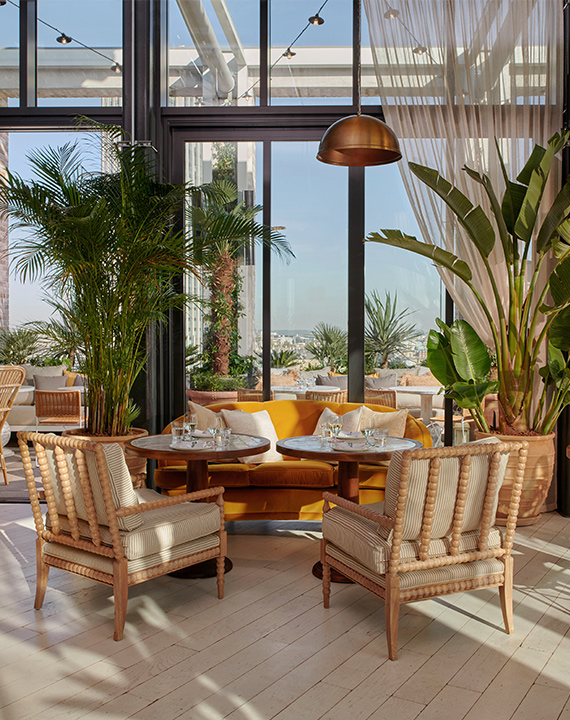 GLORIA
Part of the legendary Big Mamma Group, Gloria is located in the creative side of the city in Shoreditch. It has been adopted by Londoners and tourists from all over the world. This place became a hit just after a few weeks for its best addition of truffle to its dishes and our life. Once you pass the door, you immediately feel an Italian sensation with the retro Italian charm. The kitchen carefully takes the source of its ingredients from Italy. Later at night, down in the basement, a late-night dining spot/cocktail bar with a distinct 60s lounge vibe is available. From Thursday to Saturday, this place will stay open until 2 am.
54-56 Great Eastern St, Hackney, London EC2A 3QR
SUSHI SAMBA
There could not be a better way to get into the heart of the city where a rooftop bar, with a tree sculpture that sparkles after sunset is pretty spectacular. You will be amazed not only by their sashimi presentations but also by the restaurant glass windows with the magnificent view from the 38th and 39th floors of the Heron Tower at 110 Bishopsgate. Sushi Samba London features the highest outdoor dining terraces in Europe, offering unparalleled 360-degree views of the City. The food, a fusion of Peruvian, Japanese, and Brazilian cooking, is equally as enchanting as the place which can be compared to a design of art.
Heron Tower, London EC2N 4AY | +44 20 3640 7330
MNKY HSE
Monkey House (MNKY HSE) is a revolutionary restaurant, cocktail bar and event space in Mayfair. It is just opposite the famous ex-gentlemen Mayfair Club and next to Mahiki Mayfair. MNKY HSE is set on two floors with a slightly different vibe. The design is modern, sleek, intimate with lots of mirrors. This is the "business meeting zone" perfect for business meetings but we all know what usually happens in those environments. Opposite, on the lower level you will find the Latin-American restaurant runs by the master chef Pablo Peñalosa Nájera. Pablo has blended together traditional elements of Latin American cooking with seasonal, British styles and ingredients. By night, the restaurant turns into a dancing space thanks to a special set up with removable long tables (which encourage communal eating), table hopping, and adjustable seating.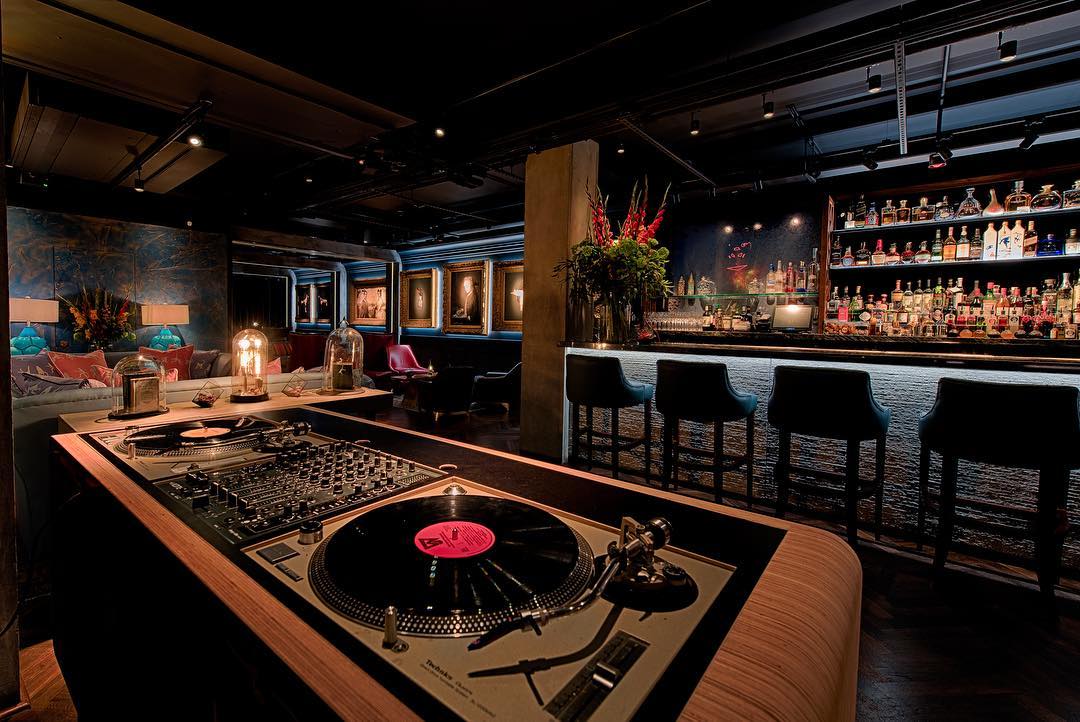 10 Dover St, Mayfair, London W1S 4LQ | +44 20 3870 4880
AFTERNOON TEA
It was in 1840 when the Duchess of Bedford shared her guilty secret of enjoying tea and snacks a few hours before dinner, setting a trend that would evolve to become a national tradition. Afternoon tea in London is one of those quintessential travel experiences. There is nothing more self-indulgent than eating at odd hours than an afternoon tea. London's hotels, restaurants, and cafés have the world best spread.
FORTNUM AND MASON
With a rich history of over 300 years producing and selling tea particularly to Buckingham Palace, there is arguably no better place to go for a classic and elegant brew. Afternoon tea is served in the Diamond Jubilee Tea Salon (which was opened by HM The Queen herself ). You will note soon the running theme of F&M's famous pale blue porcelains and the expected traditional selection of finger sandwiches and cakes. There is no place to compare.
From £52.50 per person
Piccadilly, St. James's, London W1A 1ER | +44 20 7734 8040
THE BERKELEY
The Berkeley hotel's "Prêt-à-Porter" afternoon tea is anything but traditional. Instead of dainty sponge cakes and buttery scones, you will find colourful, eclectic creations inspired by this season's catwalk looks. You will feel the experience from the beginning in a beautiful and smart decor with a fashion touch.
£60 per person; £70 with a glass of Laurent-Perrier Champagne
Wilton Pl, Knightsbridge, London SW1X 7RL | +44 20 7235 6000
THE FOYER AT CLARIDGE'S
Afternoon tea in the magnificent art deco foyer of London's legendary Claridge's hotel is an institution. It has even been by CN Traveller as one of "the 50 things to do in Europe before you die". For over 150 years, the hotel has been serving scones, pastries, and classic sandwiches — smoked salmon with caviar, cucumber and cream cheese — on its signature jade-and-white-striped bone china to nobles and VIPs.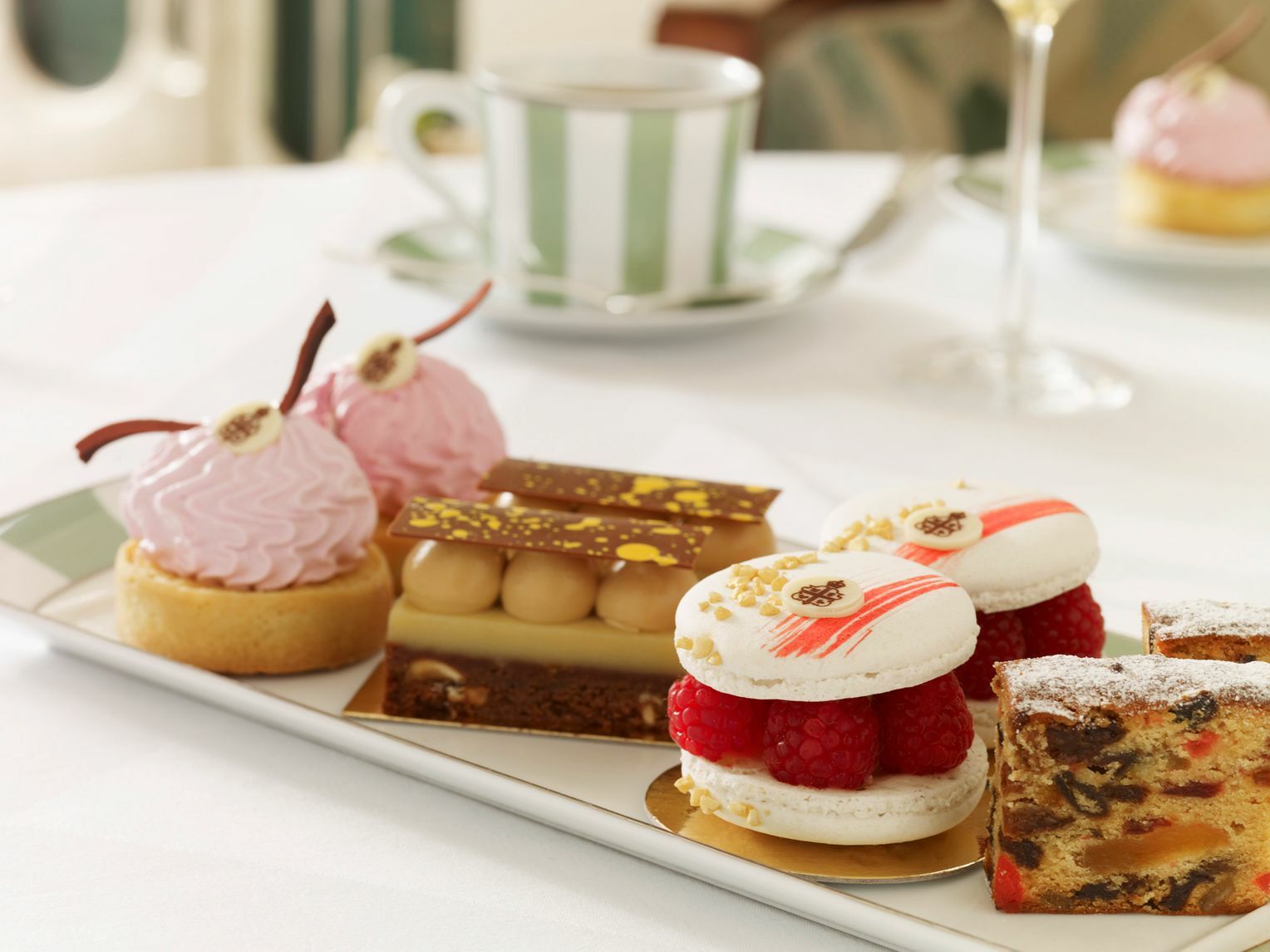 From £70 per person
Brook Street, Mayfair, London W1K 4HR | +44 20 7629 8860
MEMBER CLUBS
The British capital is well renowned for its best member clubs. Back in time, they were dedicated to gentlemen only but times have changed and nowadays the high society of London can become members for a night or for a lifetime. Some of those places are kept secret, they aim at creating a space for entrepreneurs and business leaders to gather together, blurring the lines between a working space and a social hangout. Indeed, those places are ideal to network, drink a cocktail and create your circle of influent people.
ANNABEL'S
Annabel's is the hottest member club in London and has always been known as the right place from supermodels to royalty. It has been reinvented after its famous past of nightclub back in the 1960s, just two doors down from the original nightclub. A century later nothing has changed, except for the refurbishment with the magnificent hall hints. The Club is enormous and extends over four floors and it features everything from Lalique gold swan taps in the ladies' bathroom to a floating unicorn hanging from a chandelier in the lobby. The glamorous member club is now offering a near 24/7 service (7 am to 4 am) with restaurants, bars, a garden terrace, private dining rooms, and a SPA.
Membership starts £3,500 per year, plus £1,250 joining fee.
49 Berkeley Square, Mayfair, London W1J 5AT | +44 2039154046
THE NED
Set in the former Midland Bank building, it counts 252 bedrooms channelling in the 1920s and 1930s designs, nine restaurants, a range of grooming services but also a rooftop pool, gym, SPA, and late-night lounge bar. The roof bar offers a stunning view of the city with an international menu. Applicants can have up to two referrals but it is not compulsory.
Membership starts from £1500 per annum, £250 joining fee for under-30, for over 30s £3000pa, plus a £1,000 joining fee.
27 Poultry, London EC2R 8AJ | +44 020382000
SHOREDITCH HOUSE
It is located on the top of the three-floor of Dickensian Tea Building in Eat London. The members can enjoy stunning views of London from the club's rooftop pool. It is an urban Oasis and it will be hard to leave the rooftop pool, the basement bowling alley, or the screening room. The creative environment will lead you to meet affluent artists, musicians, and fashionistas.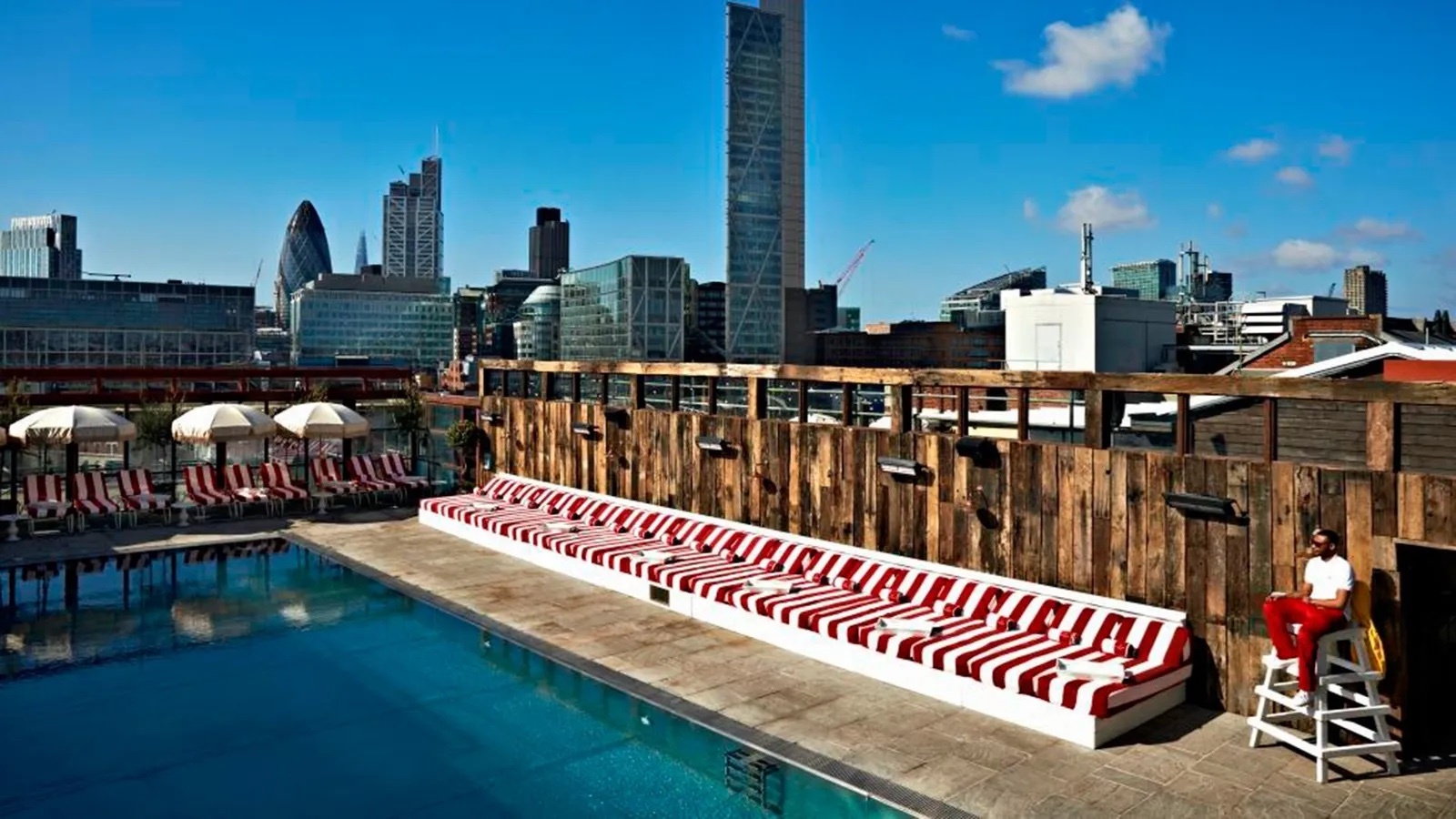 Shoreditch House, Shoreditch — from £1,300 ($1,693) per year, plus £400 ($521) registration fee.
9 Mar 2019.
Ebor Street London E1 6AW | +442077395040
LOU LOU'S
The hot spot is owned by Robin Birley, an English businessman who happens to be the son of Lady Annabel Goldsmith and nightclub owner Mark Birley. For those who are able to make the exclusive experience, its inside is complemented by impeccable décor, including an overwhelming variety of patterns and prints splashed across the carpets and walls. There are a few private dining rooms for group lunches, where dogs are allowed to join for an exquisite meal. The club has its own cigar shop, whose guests can enjoy while taste-testing the lengthy cocktail list and the gin fizz which is widely known as a popular drink amongst members. Loulou's, the bar's nightclub section, is ideal for A-listers who like to party. The venue also serves as the location for many launch parties and events. You must log in with your membership details to see the list of upcoming events but if you like to make a reservation, it must be by phone or in-person; absolutely there are no emails.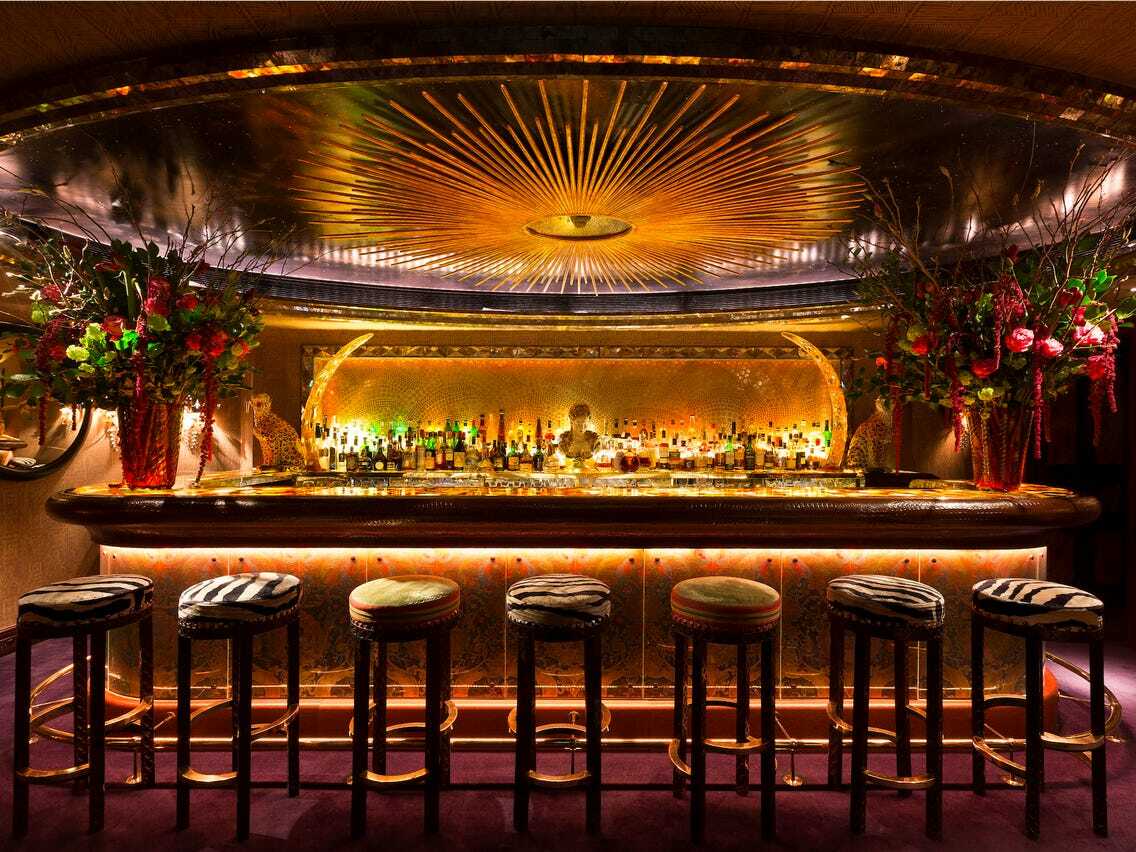 2-5 Hertford St, Mayfair, London W1J 7RB | +442045131555
DRINKS
JUREMA BAR, MANDRAKE HOTEL
The cabana-style terrace on the first floor at The Mandrake hotel offers a moment of calm amid its bustling Fitzrovia location. A curated cocktail list of intriguing flavours is served from a wooden-shack-style bar. This place is perfect for an afternoon break or late evening drinks with your loved one or friend circle.
20-21 Newman St, Fitzrovia, London W1T 1PG | +442031468880
JIN BOW LAW
The Jin Bo Law is one of the coolest rooftop bars to experiment with the breath-taking views of London's most iconic skyline. It is located on the 14th floor of Dorsett City Hotel in Aldgate. The impressive cocktail menu with an Asian twist will take you through a journey of mixology, transforming the most unique ingredients into unexpected treasures.
14th floor, 9 Aldgate High Street Dorsett City, London EC3N 1AH | +442039472582