Every year, high jewellery collections are the most anticipated events in the jewellery world, attracting the attention of hundreds of luxury connoisseurs from all around the world.

Haute Couture Week in Paris is an excellent opportunity for renowned jewellery brands to showcase their lux pieces by staging a whole host of lavish shows. Why? The prime clients of major fashion houses come to Paris for couture defiles, hoping not only to purchase haute couture dresses but also to pick the right jewellery to pair them with. The upscale format of such shows gives them their own unspoken rules: most of the pieces on display are one-of-a-kind, and the number of hours of handmade labour spent to create each one of them - which at times can reach up to several thousand - is comparable to the labour costs in fashion ateliers. This is why high jewellery shows occupy a prestigious place in the calendar of fashion weeks.

Each new high jewellery collection should surpass the last, boast the largest and most beautiful stones, demonstrate innovative and transforming looks that can be worn in different ways, and keep recognisable design codes - all without repeating itself. From the gemologists to the creative director, an entire team is challenged to tick all these boxes to create the perfect piece. According to another unspoken rule, the most spectacular piece in a "high" collection is the necklace. They are usually the most sought-after, and demonstrate the purest flight of creative thought. It is for this reason that many collections begin with a necklace.

1932 Chanel



This collection in honour of the 90th anniversary of the only collection created by the Great Mademoiselle herself in 1932 also begins with a necklace. Allure Celeste is a cosmic fantasy of stars, moon, and sun. Set with a magnificent 55.55 carat oval-cut blue sapphire and large diamonds, the necklace features diamond halos surrounding a star and a comet that can be worn separately as brooches, while the central diamond strand transforms into a bracelet.


Histoire de Style: New Maharajahs, Boucheron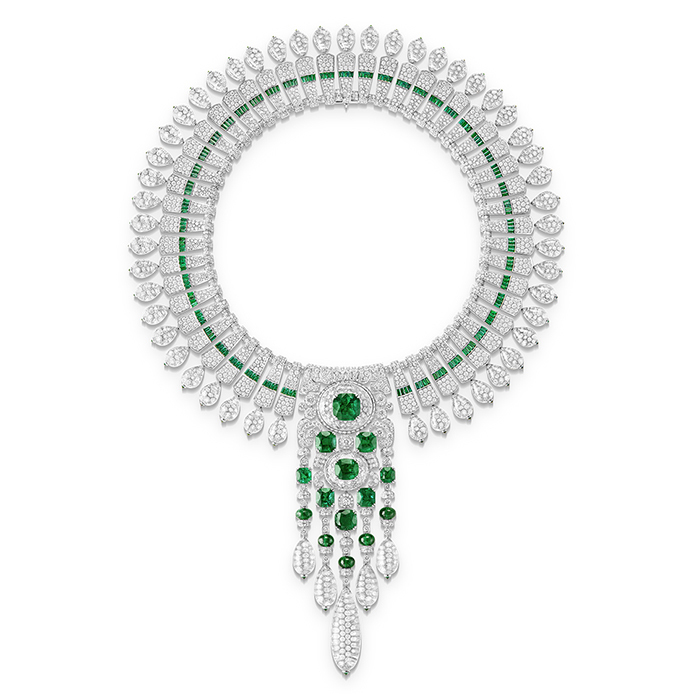 The Histoire de Style: New Maharajahs collection is a modern take on the jewellery created by Boucheron for the Maharajah of Patiala back in 1928. Its transformer is made out of gold, diamonds, and rock crystal as the central motif is adorned with nine 40-carat Colombian emeralds that can also be worn as a brooch - which looks good on men instead of a tie! Remarkably, the necklace can also turn into a flexible collar.


Sixième Sens, Cartier

As a continuation of its Sixth Sense collection, Cartier offers a Victorienne long necklace inspired by the famous 1925 Berenice shoulder piece with a 141-carat carved Mughal emerald, as well as volumetric links of diamonds and black lacquer with a 16.43 carat emerald cabochon forming a flexible weave. In addition, a 7.89 ct Sri Lankan sapphire cushion is crowned with a geometric Heteractis ring.


Galons Dior, Dior

This new chapter in Dior's high jewellery history is dedicated to galons, decorative ribbons used to adorn evening gowns. This type of couture decoration was masterfully used by Victoire de Castellane in jewellery: diamond-studded ribbons entwine large coloured stones in rings, necklaces, and bracelets, while precious sapphires, rubies and spinels resemble fragments of expensive fabric trimmed with exquisite lace or braid. Monsieur Dior's couture spirit is embodied in the 81 Dior Galons pieces.


Déferlante, Chaumet

Chaumet's Déferlante collection is designed exclusively in white. The strength, power and movement of the "breaking wave" - the literal translation of the collection's French name - lies in its swift twists and interweaving of thin gold rods. Splashes of diamond baguettes sparkle at their ends as large colourless diamonds "splatter" in the waves themselves. In addition to rings, necklaces and bracelets, Chaumet also offers tiaras, its main jewellery specialty.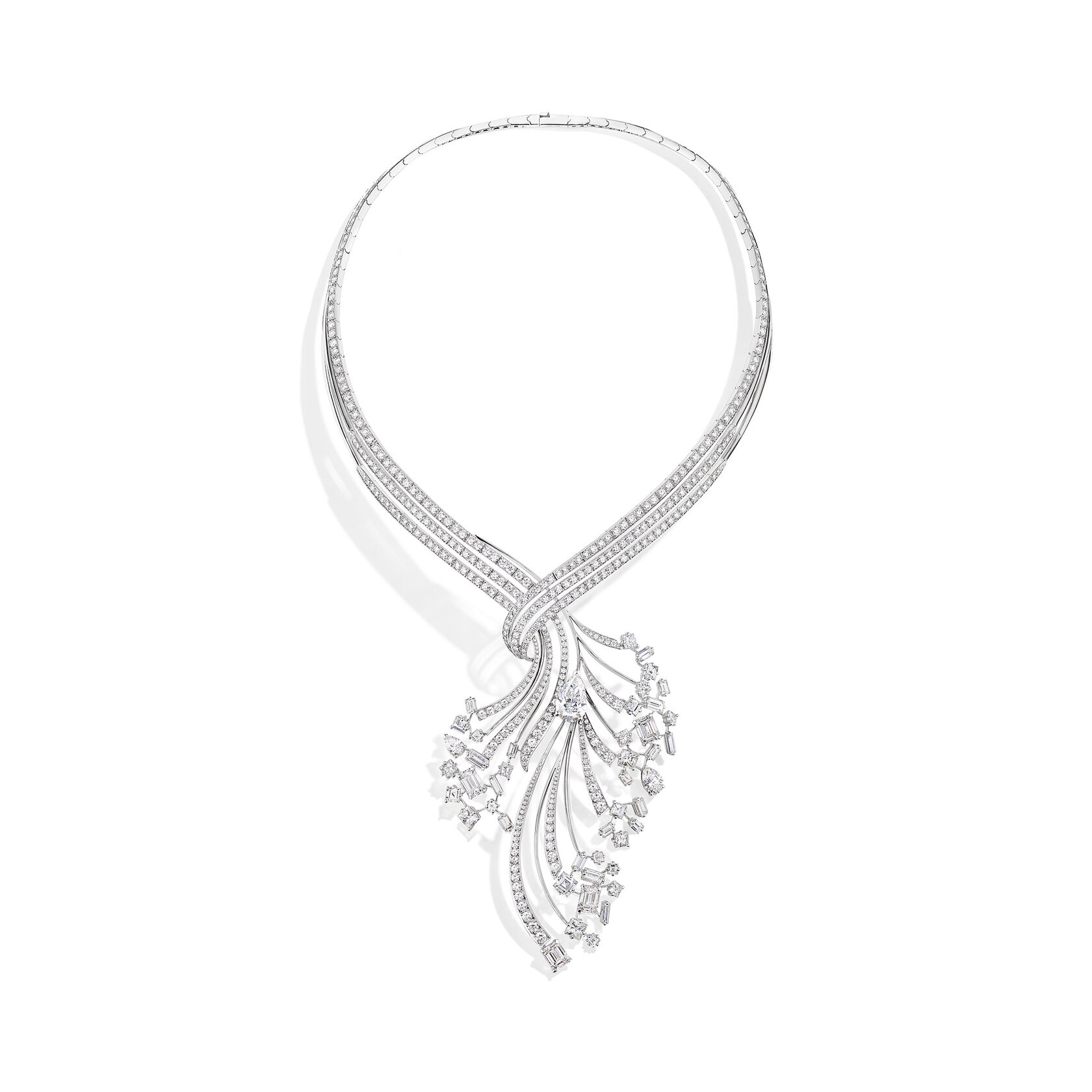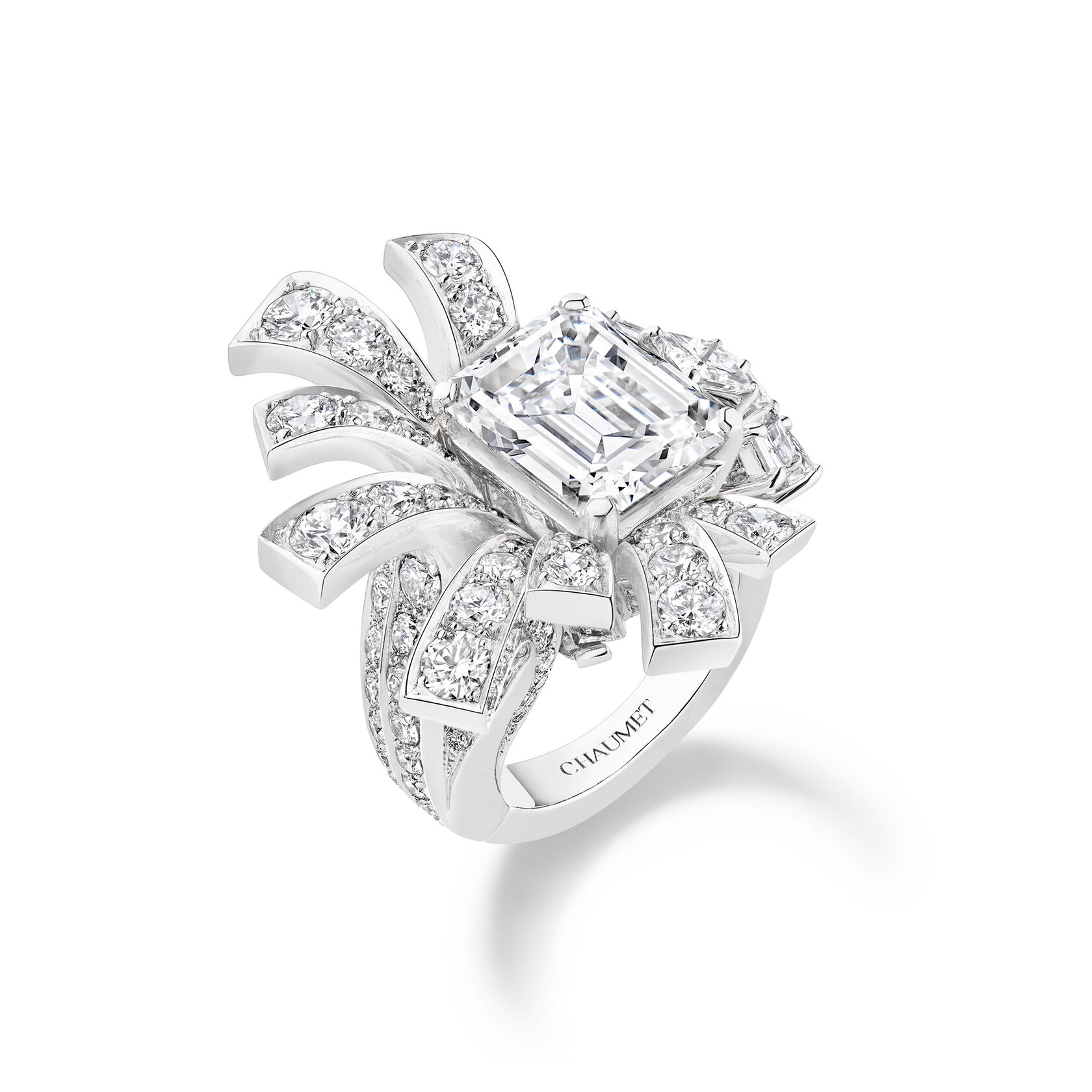 The Alchemist of Light, De Beers


These seven sets combining 45 unique jewels explore the alchemy of light. The geometric patterns of the Atomique choker and earrings, made of white gold and colourless diamonds, are made in the image and likeness of a diamond crystal lattice. 1907 diamonds sparkle in the knots of the collar necklace, while the Light Rays pieces are an attempt to capture sunlight through clouds, with fancy cut and uncut diamonds set on a gold and titanium base.




Chopard
The Swiss house shows off its recent purchases: mainly stones of rare size and colour. Mined in Zambia at the Kagem Mine in accordance with strict ethical and environmental standards, a huge uncut emerald weighing 6225 carats has become a true sensation. In the coming years, Chopard plans to create an emerald collection based on this wonderful stone. Besides, the collection also boasts a 70-carat pink Caroline Star diamond and a pair of blue 4.22 carat and flawless transparent pear-shaped diamonds in a 'toi et moi' style ring.





Bravery II, Louis Vuitton
Francesca Amfitheatrof, the creative director of the Louis Vuitton jewellery branch, dedicated the first part of Bravery to the 200th anniversary of Louis Vuitton. This second part highlights its primary invention, the travel chest, by reimagining its classic elements such as locks and metal corners. It also focuses, of course, on a diamond-encrusted letter V which, in the Le Magnetisme necklace, serves as the setting for a huge 20.29 carat warm cognac yellow sapphire native to Sri Lanka.