No doubt, we were all looking forward to the "grand-opening" of this ski season! Finding ourselves in the difficult reality of the past year, surely each of us will have at least a slight desire to spend precious free time outdoors, surrounded by charming snowy slopes. And if you add to this some incredible gastronomic delights and unique local flavours, you'll get the recipe for a perfect winter vacation. Considering the preferences of the pickiest guests, Courchevel is always the best choice for ski & leisure.



Les Trois Vallées, France

Excellent ski experience and Champagne Popping


Located in the heart of the Savoie French Alps region, the prestigious Three Valleys ski area (Courchevel, Méribel and Val Thorens) can be proudly called not only the largest in the world, covering over 600 km of slopes, but also the one which serves as a unique lifestyle model.

The season starts here usually on December 5th, 2020 and will last until April 23rd, 2021, taking into account and putting in place the strict sanitary measures, such as: disinfection of all cabins, hydro-alcoholic solution provided for all the guests, 1m social distancing and mandatory wearing of masks in designated areas. The cabins will operate from 9:00 to approximately 16:20, depending on their location.

This place is suitable for both relaxing family vacation lovers and for so called party people. Undoubtedly, the heart of all the activities is Courchevel village, where guests from all over the 3 Vallées come to spend their free time in style, enjoying premium service.

How to get?
The nearest airports to the Three Valleys Ski Resorts are Chambery, France (77.5 km), Aosta, Italy (79 km), Annecy, France (85.5 km) and Geneva, Switzerland (119 km).

• Luxurious private transfer from Monaco will take approximately 5 hours and will cost from
€ 1, 100.
• Helicopter transfer from Monaco to Courchevel is available and will take only 1 hour
• Private jet flight from Moscow to Courchevel Altiport

Where to stay ?

Hôtel La Sivolière, Courchevel, France

Alpine chic and charm is revealed at the Hôtel La Sivolière (5 *****) in the trendiest Courchevel 1850.This place combines hospitality, aesthetics and the highest level of personalized service. The Odacité SPA brings together the best of French expertise and Californian research into the latest environmental technology treatments. The long-awaited week-end in a SPA at this hotel will undoubtedly be a great Christmas gift.



Luxury duplex with a view

If you are looking for an authentic mountain experience, then an Alpine weekend in a luxury three-bedroom chalet will guarantee you a dream vacation. You will definitely enjoy the time spent by the fireplace in the luxurious living room which can accommodate comfortably up to 6 people who can enjoy a gorgeous view of the snowy peaks!

Price: from 2,720 € per night
Website: Hôtel La Sivolière



Zannier Hotels Le Chalet, Megève

In the absolute comfort of Zannier Hotels Le Chalet (5 *****) in Megève, any vacation will become the embodiment of your dreams. While admiring the beautiful snow-capped peaks of the Mont Blanc mountain range and staying in the coziest and most spacious rooms of the hotel's 3 chalets, a festive mood is guaranteed. Above all, just think of the cozy 'La Ferme de mon Père' bistro restaurant with local delicacies, a delightful spa with sauna, Turkish bath and relaxation room, and of course a concierge who will be ready to take on any challenge to make your stay truly perfect. What an amazing winter getaway, isn't it?



The hotel houses twelve sumptuous rooms and suites that comply with the highest requirements of beauty and good taste.

Everything − from the decor to the equipment − has been designed and installed to create a unique atmosphere, in which our guests feel as if they are living in their very own chalet. All our suites are spacious and feature a balcony or terrace overlooking the mountains and the village. They include a king-size bed, a sitting area, a corner office with desk, and most also have a fireplace.




The bathrooms are equipped with a large bath and a separate rain shower. Custom Zannier Hotels luxury bathroom amenities are at your entire disposal. In the rooms, everything is available so you can watch a film, listen to music, have a meal, call on the phone and connect to the Internet.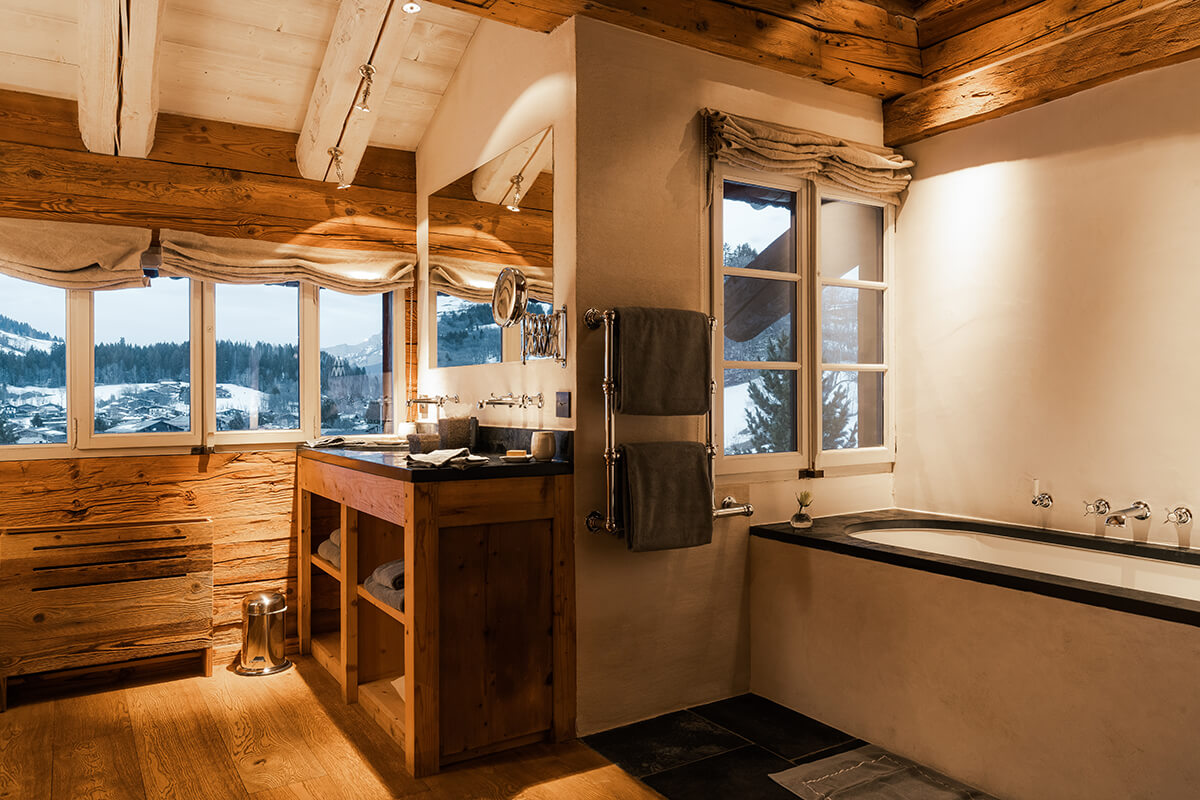 SUITE 1
5 * 140 m2. 2 Bedrooms. Terrace. Fireplace

Suite 1 is Zannier Hotels Le Chalet's largest two-level suite with two bedrooms has a total area of ​​140 sqm, which can accommodate up to 4 people, what makes it a comfortable solution for a family with children or two couples. The luxurious bedrooms offer incredible views of the village of Megève and the mountains, while on the ground floor you can relax in the vast living room by the open fireplace in a warm alpine atmosphere.

Price: 4500 euros / day in high season (January-February)

Opening: December 2021
Website Zannier Chalet


Airelles, Val d'Isère, France

This magical 5-star hotel has found its place in one of most beautiful area in the French Alps. Val d'Isère is the alpine dream of all winter sports enthusiasts. Staying in the luxurious ambience of Mademoiselle, Chalet Airelles, you will move to a place where the quality of your stay and your comfort are top priorities. On cold evenings, visit the Hotel Private Cinema with your beloved one, or devote some time to your body and pamper yourself with a range of exclusive treatments at SPA Guerlain.



Two-bedroom suite snow front

Waking up in the morning in your king-size bed, you will definitely love the view from your bedroom: mountains and mountains, no more no less. After a day of skiing, the only thing you would like to do is to take a warm bath and warm up in the Turkish hammam, which is located right in your room. The welcome gift from the hotel that will await for you in your 100-meter suite upon arrival is a must not to be forgotten. Curious to know what will be?

Price: from 3,680 euros per night
Website: Hotel Airelles

Hotel Barrière Les Neiges, Courchevel, France

Hotel Barrière Les Neiges (5 *****) is a real Alpine palace located right on the slopes of the fashionable Alpine resort. The luxurious chalet rooms are made from light wood, white marble and silk fabrics. Fireplace, spa, swimming pool, cinema and gourmet cuisine - what else do you need for the perfect holiday in Courchevel?



La suite les Neiges

Panoramic mountain views from a private spacious terrace extending from this unique 206 m² suite. Duplex combines authenticity and modern design. While enjoying your cozy evenings by the fireplace entrust all the worries to your personal butler. Treat yourself with a relaxing massage or unwind in the Jacuzzi in the private SPA. From the moment you check into La suite les Neiges, all your wishes will come true.

Price: from 7,600 € per night
Website: Hotel Barrière Les Neige