As snow covers alleys and trees, and whirling winds cruelly caress our shivering limbs, one begins to wonder about a pleasant escape to faraway lands, rejecting the cold embrace of winter.

Fortunately, the Villa Group offers such a much-needed getaway on these 'bounty' islands in the Indian Ocean:


Paradise Island Resort & Spa

Do you want the real Maldives you've seen in the adverts? Chic snow-white long beaches and azure waters? Try Paradise. Located in North Malé Atoll, just a short scenic journey from Velana International Airport, Paradise Island Resort & Spa is surrounded by cerulean waters, idyllic pearl-white beaches, and lush coconut palms - a joyous ode to ultimate relaxation and a true inspiration for a tropical fairytale. With the recent arrival of its new General Manager, established hospitality leader Ibrahim Nahid, this island has blossomed under his careful management style, which centres on the universal guest experience and emphasises exceptional service. Whether you are a family person, an adventurous daredevil, or a hopeless romantic, here at Paradise Island Resort & Spa you will have everything you need for the perfect holiday.

From decadent water villas with whirlpools to luxurious one-bedroom ocean suites, this chic resort boasts 282 beach and overwater villas finished in a fusion of contemporary Maldivian and minimalistic styles with nautical-inspired details and classic interiors blended with sleek marine colours and modern amenities. Whether you decide to stay on a secluded pearl-white beach or be suspended above the turquoise lagoon, each of these accommodation options represents a luxurious private sanctuary with uninterrupted ocean views. We recommend checking out the brand new, sophisticated deluxe beach pool villas, each offering a private pool and a generous 150m2 secluded setting to soak up the tropical surroundings - the ideal atmosphere for long-awaited tranquillity and relaxation. And don't forget to check out the brightest highlight among the resort's other wonderful facilities: one of the Maldives' finest infinity swimming pools. Located at the heart of the island, this pool features panoramic views of the lagoon and is accessible by a network of paved pathways that wind through the tropical jungle leading to unique hubs around the island.

Indulge in unique dining experience at five à la carte restaurants offering an array of culinary journeys, from exquisite Japanese live teppanyaki at Fukuya Teppanyaki to Italian fine dining at Ristorante al Tramanto or authentic Maldivian cuisine and fresh seafood at Farumathi Restaurant. Located at the end of the overwater jetty, Farumathi serves fresh seafood with serene ocean views and is one of the best spots on the island to admire the sunset. At Ristorante al Tramanto, we recommend sampling fish soup and pasta - the best on the island - while Fukuya Teppanyaki offers a striking lobster plate with butter, garlic and soy. For the most authentic experience of Maldivian island life, head to the resort's beach bar, where you will find fresh coconuts, the best cocktails and even a talking parrot among other castaway features.



Sun Island Resort & Spa

The sister resort of the Paradise Island Resort & Spa, Sun Island Resort & Spa is a magical resort for a reason. Named Luxury Eco Resort in the 2021 World Luxury Hotel Awards, Sun is set on one of the Maldives' largest islands near the South Ari Marine Protected Area (SAMPA). It offers guests an abundance of freedom to daydream and unprecedented privacy to reconnect with nature surrounded by the azure waters of the Indian Ocean. The resort is also home to a lush tropical environment with extensive botanical gardens that produce more than 20,000 coconuts per month and a wide variety of tropical fruits and vegetables. From mini golf to the football pitch, here you will find everything you will need for a fun holiday and beyond.

Reachable by a short flight and a speedboat journey, the resort is a tranquil setting where natural beauty meets vibrant interior design, awash with unique features and luxurious indoor-outdoor living spaces. Boasting 462 private villas with harmonious views of pearl-white sand and the turquoise lagoon, the resort features a collection of home away from home villas, including the two-bedroom family beach villa and two-bedroom overwater suite, rated by satisfied clients as one of the best in the Maldives.

Following a similar concept to Paradise, the resort offers five à la carte restaurants with an array of cuisines served in breathtaking spots around the island, all of which put exceptional hospitality and creative culinary experiences at the forefront. First and foremost, we recommend you visit the exotic Sun Star restaurant, where you will not only experience authentic Thai cuisine but also encounter sharks and colourful fish swimming around your table. Another great option for any meal of the day is some hearty Italian cuisine at the romantic oasis Al Pontile. In keeping with the resort's focus on sustainable living, island-grown produce and freshly caught seafood are served at the speciality treetop restaurant, Zero, offering a unique dining experience sheltered by nature - a must-visit spot for sophisticated foodies. For a truly romantic experience, we recommend enjoying a beach dinner with your beloved, featuring unlimited lobsters and other wonderful seafood paired with tranquil live music.



Royal Island Premium All-Inclusive Resort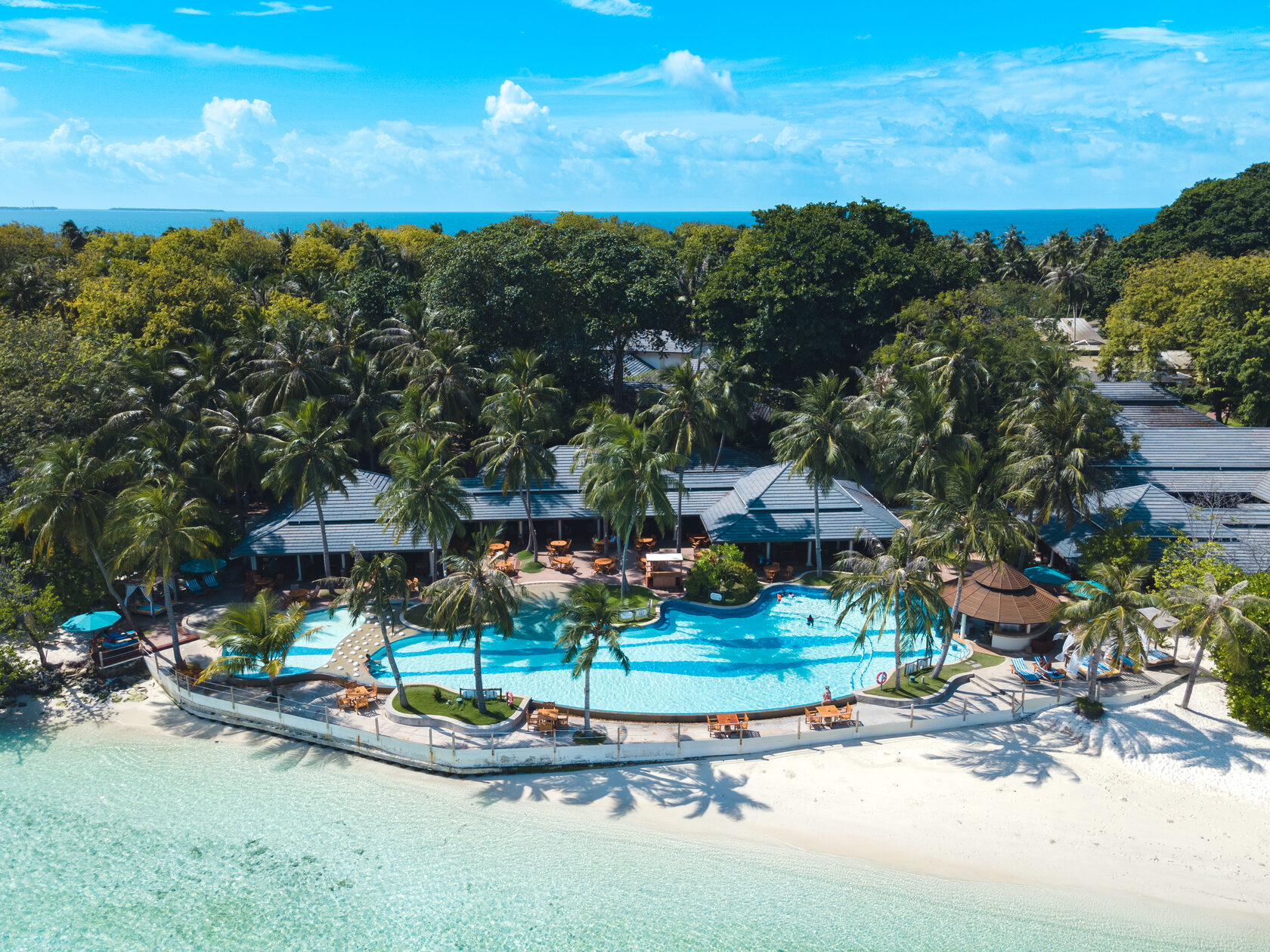 The last, but certainly not the least, resort from the Villa Group on the Maldives is the Royal Island Premium All-Inclusive Resort - a local capital of freedom and tropical serenity. Nestled in the protected UNESCO Biosphere Reserve of Baa Atoll, the resort features a total of 152 tropical beach sanctuaries including sunset beach villas, a two-bedroom family beach villa and a grand two-bedroom beach residence, presenting barefoot island living with consciously-designed earthy aesthetics, exquisite marble details and intricately-carved wooden interiors. Each and every villa here is a serene setting of laid-back indoor-outdoor living spaces nestled in lush coconut palms and located just a few steps from the turquoise lagoon waters, ornamented by a long pristine white beach. Besides, the resort has a wonderful house reef that allows its guests to contemplate a myriad number of colourful fish, turtles, and sometimes even sharks at any time of the day.

Indulge in a great dining experience with the resort's all-inclusive meal plan to explore a variety of Maldivian specialties or gourmet dishes from around the world. Here, the diversity of food options is astonishing, as the menu changes daily to banish culinary boredom. Whether you choose to dine al fresco underneath a dazzling star-studded sky on a private beach location or in the traditional elegance of the beachside Raabondhi restaurant serving fresh seafood, you can expect the most delicious dishes paired with impeccable service. As an alternative, sip on chilled cocktails at one of the resort's four pool bars, overlooking a gorgeous main swimming pool.

Ready for ultimate relaxation?

Speaking of relaxation, the resort features the award-winning Araamu Spa - a peaceful haven of natural wellness and holistic beauty. Secluded by the island's lush botanical gardens and nestled in a migratory bird sanctuary, the spa centre houses masterful therapists from India and Bali, who use only natural oils, herbs and flowers in more than a hundred relaxing and rejuvenating treatments. One of the special options includes Couples Spa Treatment, which allows you to share the joy of peace and ultimate relaxation with your loved one.

Feeling adventurous?

Although the Maldives is a fragile ecosystem and frequently depends on outside forces, its environment is also its main asset and the unique gem that brings crowds of jetsetters and celebrities to its warm and exotic embrace. All islands invite you to discover a range of exciting activities in the Maldives' only UNESCO Biosphere Reserve at the vibrant hub of Qadventure Water Sports. Dive into new adventures with an extensive choice of unforgettable dive excursions with PADI certified dive centre Dive Oceanus, which invites you to venture out to pristine areas around the South Ari Marine Protected Area (SAMPA) - some of the world's top dive locations for colourful coral reefs, the incredible diversity of its marine life, and for its year-round whale shark population. That's why the resort offers Big Game Adventure Snorkelling to witness whale sharks, mantas and turtles, a Sunrise Fishing Trip to catch local wild tuna and barracuda, and a Sunset Cruise to admire the eponymous natural phenomenon while watching dolphins.

Care about sustainability?

Recently, Sun Island Resort & Spa and Royal Island Resort & Spa both received the International Environmental Green Key Award - the gold standard of excellence in environmental responsibility and sustainable operation within the tourism industry. This renowned eco-label award clearly demonstrates Villa Hotels & Resorts' commitment to adhering to the rigorous standards of the Foundation for Environmental Education (FEE). The resorts' achievement of Green Key certification reflects their efforts to establish an ecologically friendly, sustainable, and responsible business.

Considering their dedication to sustainability, it's no surprise Sun Island Resort & Spa and Royal Island Resort & Spa have received this recognition of their efforts. By drawing up a decisive strategy, the resorts' management have devised techniques to protect the natural ecosystem of the islands by avoiding the use of pesticides and other environmental contaminants in favour of natural alternatives and eco-friendly cleaning solutions, as well as minimising the use of energy and water to reduce their carbon footprint. The hotels even took things one step further by appointing an Environment Manager and Environment Committee at each resort to oversee environmental initiatives and continue to work towards annual carbon neutrality goals. So, coming here, you can be sure that you're investing in a better world for future generations.

Still cold?

Luckily, you are not one of the "Game of Thrones" characters and can, in fact, escape the winter. Let Paradise, Sun, and Royal turn your tropical dreams into reality while you sit back and enjoy a romantic lobster dinner with your beloved ones.