La Spiaggetta dei Balzi Rossi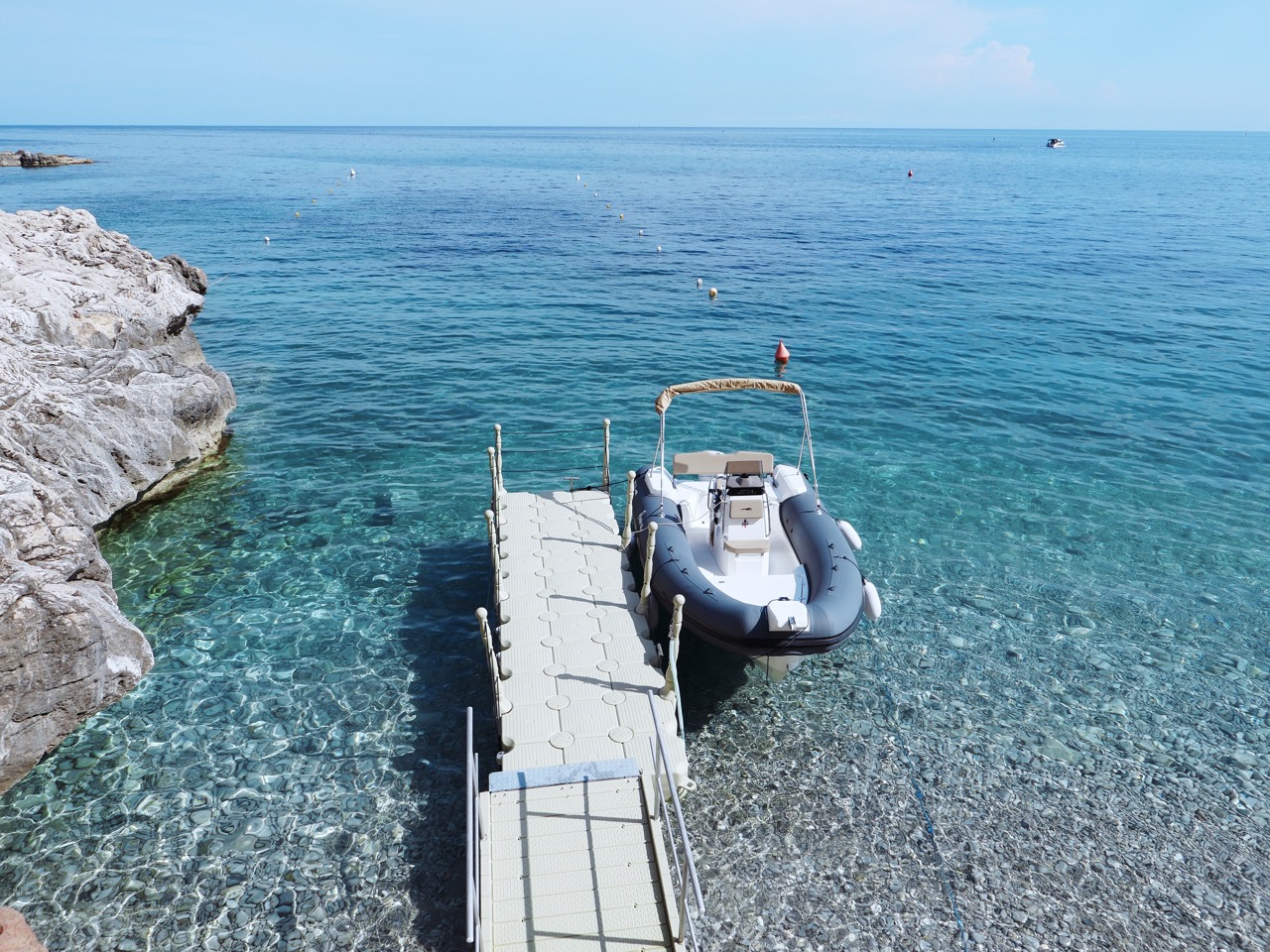 Imagine arriving at this paradisiacal lagoon aboard your exquisite luxury yacht, effortlessly guided by a comfortable tender. Nestled at the juncture of the French Riviera and the Italian borders of Liguria, a mere 15-minute yacht ride from Monaco, "Egg Beach" awaits—a coastal gem. Delight in the soothing ambiance created by a DJ spinning lounge music. Renowned Italian chef Gabriele Esposito proudly presents his signature menu, featuring trendy dishes like spaghetti with sea urchins and tuna bottarga, the beloved summer favorite of gnocchi vongole, and the catch of the day. Indulge in the tantalizing Sanremo red prawns and Gillardeau oysters that effortlessly melt in your mouth, perfectly accompanied by a glass of refreshing Ca' del Bosco, a premium Italian sparkling wine. As evening descends, the beach transforms into a romantic setting, offering a barbecue summer mood menu with white tablecloths placed right at the water's edge, accompanied by live music. This truly is a sanctuary of opulence and warm hospitality, exemplified by Vera and Gualtero, the gracious owners who warmly greet you with genuine smiles.
Baia Bella, Beaulieu-sur-Mer
For aficionados of extravagant summer getaways, Baia Bella is a paradise found. This PALOMA Group beach restaurant, founded in 2021 by siblings Agathe and Baptiste Vannini, is a testament to their commitment to preserving the extraordinary and protected natural haven of the "Petite Afrique" beach in Beaulieu-sur-Mer. With a focus on sustainability, this family-friendly oasis offers a delightful respite, combining art, ecology, and locally-sourced ingredients in its beach club.
Baia Bella aspires to create a harmonious space where guests can immerse themselves in its idyllic surroundings, relishing both the cuisine inspired by Mediterranean culture and the slow-food movement. It serves as a vibrant platform for artists, food producers, and individuals of all generations to engage in meaningful exchanges while savoring their holiday experiences.
Indulge in the exquisite flavors of Mafaldine pasta adorned with truffle cream and Tuber Aestivum summer truffle shavings. For a truly memorable dining experience, sample the whole sea bream grilled over a wood fire, accompanied by two delectable pesto varieties, roasted potatoes, and candied fennel.
Choose Baia Bella if you appreciate life's finer pleasures: exceptional cuisine, warm and attentive service, and an atmosphere that encourages relaxation and rejuvenation.
Monte-Carlo Beach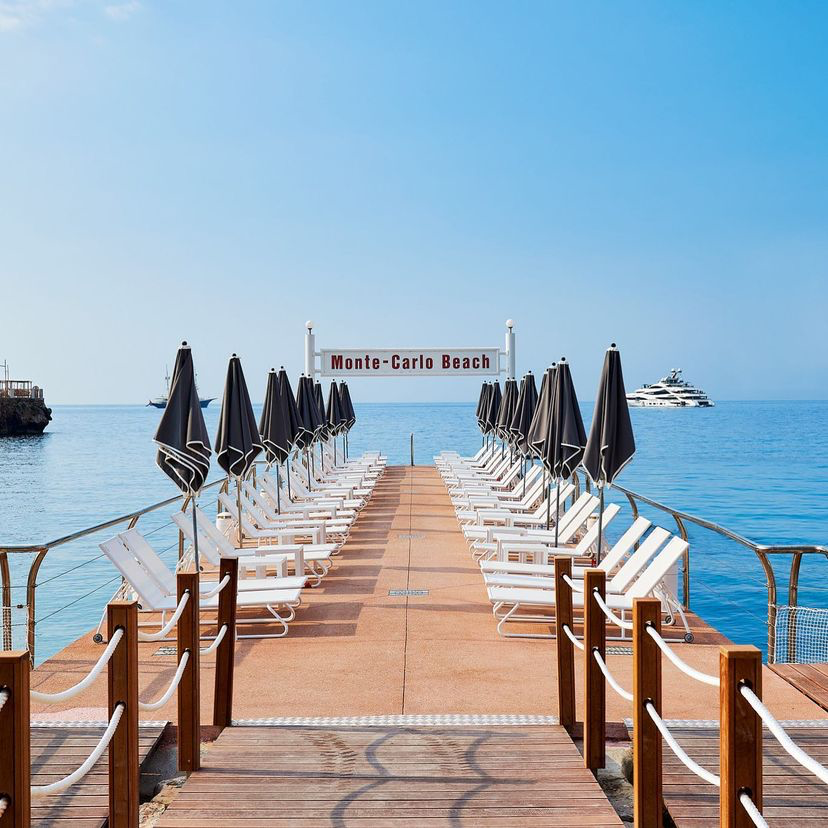 This elegant and sophisticated beach at the Monte-Carlo Beach Hotel combines everything one needs for the perfect beach experience: plenty of sunshine, fresh air, and fine dining. The beach is the ideal spot to enjoy the true Dolce Vita; its design is poetry that exudes respect for the majestic colors and textures of the sea. Here, you will find Elsa, a Michelin-starred restaurant serving 100 percent organic cuisine and wild-caught seafood. The restaurant's culinary guru, Paolo Sari, is not the first chef to receive a coveted Michelin star. The Venetian-born maestro deals with a selection of wineries and even makes his own mozzarella. We recommend you sample the assorted summer vegetables from the chef's own garden, finished with extra-virgin olive oil and fleur de sel from Camargue, and savor a juicy roasted suckling pig with caramelized shallots and potatoes.
Uvita,
Cap d'Ail
Realising an old dream of transposing the culinary vision of the Gusto Family, this resort in Monaco will satisfy even the most demanding clientele with its excellence. The entire beach has been designed to provide you with a one-of-a-kind experience, all while overlooking the Mediterranean. Uvita's natural ornamentation, woody accents, taupe furniture, and elegant sandy hues quickly immerses you in a tranquil realm where your only job is to unwind. The wellbeing session continues in the restaurant, which brims with all kinds of fresh seafood: lobster, caviar, salmon, gilt-head sea bream, and many more. Customers here enjoy treasures not only from sea but from land too, like the Tomahawk prime rib - cooked with care and respect for the ingredients on the table.
Anjuna Beach,
Èze
The story begins in the year 2000 when the waves of Eze bay started swaying at the rhythm of a new era: Anjuna's Summer Seasons. Set in a cove at the cliff's foot, the beach restaurant has evolved season after season, re-inventing and improving itself each year: more beautiful and especially more audacious…Nestled in a secret bay, the restaurant invites you to get away in a set up brought back from the islands of the Indian Ocean… Indonesian statues and tropical plants inhabit the beach, surrounded by turquoise chairs – a hue reminding the colours of the Balinean sea. The multicoloured bar and tables are a reminder of the Indian Ocean's fishermen's boats. And rightfully so, as they are made from their recycled wood. A scene from overseas, where you'll discover a local cuisine presenting generous mediterranean recipes made with fresh products
La Paloma Beach Club,
Saint-Jean-Cap-Ferrat
A coveted haven nestled amidst lush greenery, Paloma Beach is a true gem! With an eastern exposure, it offers breathtaking views of the cliffs of Beaulieu-sur-Mer and Eze.
A portion of this beach is a private sanctuary: Paloma Beach. A legendary destination in Saint-Jean-Cap-Ferrat, built in 1948 by architect André Deperi, it was initially frequented by locals and a few Americans who reveled in this little piece of paradise. Numerous celebrities have graced the establishment, including Matisse, Cocteau, Churchill, Roger Moore, Sean Connery, Elton John, and Tom Cruise.
The restaurant serves Mediterranean cuisine and is open from Easter to the end of September, for both lunch and dinner. The establishment can be fully privatized and offers showers, changing rooms, beach towels, sun loungers, parasols, a bar, and a restaurant.
La Guérite Restaurant Cannes,
Île Sainte Marguerite
La Guérite, located on the rocky cove of Sainte-Marguerite island off the coast of Cannes, provides 1000m² of space where you can come and taste real Mediterranean food made by one of the most accomplished chefs on the Greek gourmet scene — Yiannis Kioroglou. The vivid flavours and inventive but traditional techniques of Kioroglou and his team have captivated the taste buds of guests from all around the world since 1902.
La Môme,
Cannes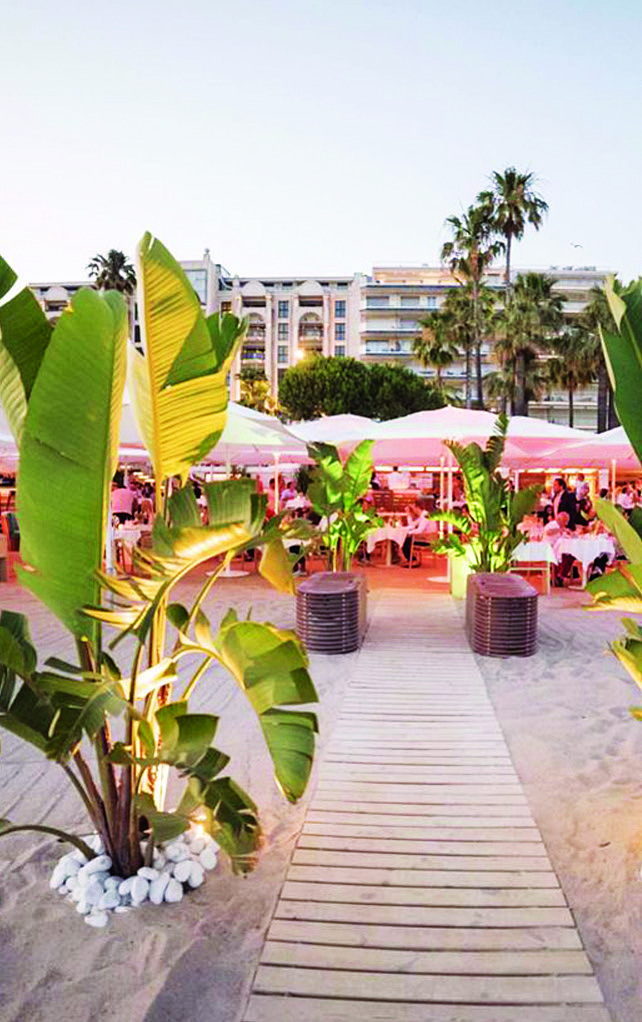 Founded by Antoine and Ugo Lecorché, this place offers Mediterranean cuisine made with fresh and seasonal products. Every evening, La Môme restaurant welcomes locals and guests to enjoy the pleasure of a little island of beach tranquillity in the heart of a busy city. Inspired by New York speakeasies with an intimate and cosy atmosphere, La Môme's cocktail bar offers you the opportunity to accompany your evening with beautifully crafted cocktails. Whether you are having a tête-à-tête or a quiet evening with friends, you will be warmly welcomed to sample the very best beverages in the whole of Cannes.
Playa Chica
Restaurant & Plage
Playa Chica is the new beach for Côte d'Azur insiders. Located in the magnificent bay of Mandelieu, facing the Lérins Islands, Playa Chica has opened the doors to its incredible beach restaurant. Like an ode to travel, we come here to enjoy a seaside getaway with our feet in the water. Playa Chica isn't just another beach, it's a living space open all year round, where children's workshops are held while parents enjoy the day and its atmosphere, from calm morning yoga classes to musical afternoons with a line-up of local and international DJs. In the kitchen, executive chef Dominique Misitano and his team offer a Mediterranean menu featuring the region's finest fresh produce. Playa Chica is an unforgettable experience.
Club La Vigie,
Monte-Carlo
Experience the celebration of life and summer at Club La Vigie Monte-Carlo, nestled in the heart of Monte-Carlo Beach. This exclusive club welcomes you to its lush seaside location, offering a festive yet cozy atmosphere. Lounge on sunbeds, surrounded by the sounds of vibrant House and Deep House music curated by resident DJ Supa Ju and guest DJs. Discover the hidden "Love Nests" bungalows nestled among the rock and pine forest, providing stunning views of the Mediterranean. Indulge in the culinary delights of two-Michelin-star chef Marcel Ravin's menu, showcasing fresh and Mediterranean dishes. Accessible by sea, this hidden gem promises unforgettable moments and exclusive summer events.
La Note Bleue,
Monaco
Venture into the realm of tranquility and conviviality at La Note Bleue, a sanctuary crafted to elevate your well-being. Paying homage to the legendary saxophonist Barney Wilen, the venue exudes a captivating musical ambiance. Designed by renowned architects Emmanuel Pillot, Charlotte Alonzo, and Leah Sekiou of Franck Bourgery Architecte, it embraces innovation while preserving the cherished spirit and remarkable team that define its beautiful history. Embrace this unique opportunity to experience new wonders and witness the evolution of a timeless haven.
Nikki Beach,
Monaco
Experience pure glamour and sophistication at Nikki Beach Monte Carlo, perched atop the Fairmont Monte Carlo. With sweeping views of the city and the azure Mediterranean Sea, this exclusive rooftop destination captivates jetsetters, celebrities, and luminaries of the stage and screen. Luxuriate on plush day beds, basking in the sun's embrace, as you relish delectable lunches and sip on imaginative cocktails. Indulge in an extensive menu showcasing culinary delights from around the globe, from refreshing salads to innovative sushi rolls, freshly caught seafood, and tender slow-roasted free-range rotisserie chicken.
Maybourne La Plage
Nestled on the picturesque shores at Cap Martin, just a stone's throw away from Monaco and the Italian border, lies the exquisite Maybourne La Plage. Embracing the essence of the Côte d'Azur's golden era, our beach club and restaurant offer a serene sanctuary for seaside dining. Indulge in the culinary artistry of Mauro Colagreco, as he presents a tantalizing array of fresh, locally sourced seafood dishes. Sip on refreshing cocktails from our meticulously curated drinks menu, as you bask in the tranquil beauty of the Mediterranean waves.
Loulou - Pirate
The captivating new by the sea restaurant in Roquebrune-Cap Martin. With its mythical address on the rocky cliffs between Monaco and Menton, Loulou revives the magic of Le Pirate. Indulge in the enchanting atmosphere, where the sun, stars, and azure sea meet. From the picturesque fisherman's cabin, relish delightful dishes like grilled seafood and local specialties. Immerse yourself in the relaxed elegance, dance barefoot, or simply unwind by the sea. LouLou embodies the authentic spirit of the French Riviera, where timeless glamour and coastal allure converge.
Anao,
Beaulieu-sur-mer
Discover an exquisite haven nestled between Monaco and Nice, where a privileged beach awaits. Surrender to the allure of an exceptional location, where untouched shorelines embrace a one-of-a-kind heritage. Indulge in reimagined regional specialties meticulously crafted by our chef in a waterfront restaurant, tantalizing your taste buds with every bite. Immerse yourself in a magical setting adorned with vibrant azure colors, where the beauty of nature intertwines with the artistry of cuisine.
Passable,
Saint Jean Cap Ferrat
Passable Beach, overlooking the bay of Villefranche, retains its untamed charm. This legendary spot in Cap-Ferrat, adorned with lush vegetation, is a family-owned establishment led by the Vestry family. The restaurant serves a menu inspired by the Mediterranean, featuring contemporary and fresh cuisine crafted exclusively with seasonal ingredients. Immerse yourself in an idyllic setting with a laid-back atmosphere. Savor your cocktail while enjoying the most breathtaking sunsets in Cap-Ferrat.
Annex Beach,
Cannes
Annex Beach, nestled in the heart of the Croisette, presents an exclusive beach experience immersed in unparalleled glamour and luxury. Indulge your taste buds with our sophisticated Mediterranean cuisine, crafted using fresh, locally-sourced ingredients, accompanied by our expertly-crafted signature cocktails. Prepare for an explosion of flavors! As the sun sets, surrender to a mesmerizing entertainment spectacle brought to you by world-class performers. Immerse yourself in the enchanting ambiance of Annex Beach, where every moment is an invitation to embrace the extraordinary.
La Mandala,
Cannes
Enter a realm of pure relaxation at La Mandala, where tranquility abounds. Whether nestled on a plush deckchair or embraced by a cozy cocooning bed, this beach sanctuary welcomes couples, friends, and families with open arms. Choose your desired ambiance, be it a convivial gathering or an intimate escape. Indulge in the seasonal menu, crafted with fresh ingredients, showcasing delectable meats, succulent fish, al dente pasta, refreshing salads, shareable sandwiches, and exquisite desserts. Immerse yourself in a pure moment of French gastronomy that will linger in your heart.
Carlton Beach
Experience a timeless beach getaway at the Carlton Beach Club. Sink into a deckchair, with your feet buried in the sand or recline on a beach bed on the legendary central pontoon. The club offers a warm atmosphere, chilled cocktails, and sunny cuisine, ensuring a relaxing experience by the sea. At sunrise, witness a magical scene as the sun's rays paint a golden glow on the tranquil waters of the Mediterranean, providing a breathtaking panoramic view. Indulge in a symphony of flavors, from delightful pastries and freshly cut fruits to your choice of morning coffee or tea, tailored to your mood and taste.
Hide Beach
On the other side of the Croisette, opposite the Mondrian Hotel, Hyde Beach Cannes celebrates the Mediterranean and the southern art de vivre: its aromas, flavors and unique atmosphere. With an azure backdrop and fine white sand, the palette of sundrenched colors makes this a stunning setting. Olive and palm trees provide garden shade at the seaside. The Italian coast isn't far away, thanks to a touch of la Dolce Vita. At the restaurant, the taste of Italy featuring fresh produce is perfected by the attentive, accomplished service. The same attention is paid to the cocktail menu featuring classics and signature creations. Located at the heart of the Bay of Cannes, the spot is an idyllic environment to enjoy special moments and take a sophisticated culinary journey. Casual in the daytime, more lively in the evening, it's the ideal place to celebrate an event or make your day exceptional.
Mademoiselle Gray,
Cannes
At the Mediterranean's edge, Mademoiselle Gray unveils her bohemian charm, beckoning you to embark on a gastronomic odyssey. Nestled within Hôtel Barrière Le Gray d'Albion's private beach, this haven radiates an ambiance where sun-kissed delicacies tantalize throughout the day. From leisurely lunches to aperitifs with friends and enchanting starlit dinners, Mademoiselle Gray presents an Oriental-inspired à la carte menu, ensuring a truly epicurean experience that lingers on your palate like a whispered indulgence.
L'Ecrin Plage,
Cannes
Nestled in a splendid bay, L'Ecrin Plage is a hidden gem offering a total change of scenery on the French Riviera since 2023. With a redesigned restaurant, breathtaking views, and a bar facing the sea, this exclusive address is not to be missed. Its privileged location at Port Canto provides a protected bay and private pier, ensuring a luxurious experience. L'Ecrin Plage boasts a meticulously redesigned restaurant, unveiled in 2020, that exudes elegance and sophistication. With a terrace offering awe-inspiring panoramic views of the Lérins islands, patrons can savor their meals in a truly enchanting setting.
Mondrian Cannes
Indulge in the epitome of luxury at Mondrian Cannes Hotel. Nestled at the iconic Croisette boulevard, this five-star gem offers a unique blend of opulence and exclusivity. With stunning garden views, vibrant signature colors, spacious rooms, a state-of-the-art fitness room, and access to Hyde Beach, Mondrian Cannes delivers the ultimate La Dolce Vita experience. The hotel's architectural glamour, captivating artwork, and tantalizing culinary offerings at Mr. Nakamoto restaurant and bar complete the picture of a truly unforgettable stay on the Mediterranean coast.