Caroline Scheufele - a woman who appreciates life and the beauty of nature.

A true creator is not egocentric, his soul is versatile, full of love for everything surrounding him and, at times, is ready for certain sacrifices, because his mission is to be a messenger of happiness.

"A true artist is not one who seeks inspiration, but one who inspires others," - Salvador Dalí.

Jewelry has always been considered a special form of art, the incredible creative touch of which opens up a magical world and gives us a sense of beauty, accompanying us in the most important moments of life.

Chopard is one of the oldest family businesses specializing in the production of high end timepieces and jewelry, with a history dating back to the late 19th century. It was then, led by the watchmaker Louis-Ulysses Chopard, when company gained a solid international reputation as a manufacturer of prestigious and reliable watches. It is said that Tsar Nicholas II himself was among the clients who appreciated the Swiss quality and know-how of Chopard.

The 100-year-old enterprise was sold to the German jeweler Karl Scheufele in the 60s of the 20th century after his successful deal with the founder's grandson Paul-André Chopard, because of his unwillingness to continue the family business.

Then the House takes a "new course", adding also a jewellery department, yet maintaining centuries-old traditions, a spirit of excellence, elegance and innovative design. Today, the children of Karl and Karin Scheufele, Caroline and Karl-Friedrich, have taken over the management of the family business. Caroline runs the women's collections, jewellery department, while her brother is responsible for the men's and watches, including Classic Racing and L.U.C.

The subtle inner world of Caroline Scheufele is fully reflected in jewelry masterpieces - graceful, romantic and extraordinary. Admiring cinema, it was she who in 1998 set the basis for the "love story" of Chopard and the Cannes Film Festival and became the one who recreated the renewed symbol of cinema excellence, the trophy of the Palm d'Or.

Caroline Chopard, Co-President and Creative Director, shared what inspires her to create, what gems won her heart, her incredible philanthropic project and, of course, about her favourite pieces ever created by an iconic Chopard, exclusively for iPremium Lifestyle.


Jewellery – fashion trend or eternal piece?
C.C.
: I would say definitely eternal piece...
I see myself as a woman who cherishes life and the beauty of nature. In fact, nature is my greatest source of inspiration. Flowers along with precious and coloured gemstones are to me the greatest declarations of love offered by mother nature! Indeed, you can say that flora and fauna, like gemstones are the miracles that nature so generously offers us.
So, it is a great joy for me to pay homage to nature by taking the challenge of taking inspiration from flowers and creating the most exquisite High Jewellery pieces with floral designs. It is a way to transform and reinvent love in my own terms.
The greatest declarations of love are always accompanied by flowers, and precious gemstones are forever! I hope these creations make the women who own them feel special forever.
When a floral-themed High Jewellery piece, crafted by the human hand, transcends the work of nature, one can safely state that it has achieved true excellence.
To quote the famous Shirley Bassey song: "Are diamonds forever"?
C.C.:
Of all the gemstones, diamonds are my favourite and it was thrilling to invite Shirley Bassey to sing the famous 'Diamonds are forever' theme at Châtelet Theatre in Paris for the launch of the "The Queen of Kalahari" in 2017; a very rare and exceptional 342-carat rough diamond of perfect D colour and absolute purity which was cut into a set of 23 diamonds – "The Garden of Kalahari" – of which five weighs over 20 carats. It turned out to be the most precious jewellery set ever manufactured by Chopard.
So yes, you can certainly say that diamonds are forever: they were created over two to three billion years ago and slowly rise over time to the earth's surface. They are literally invincible: the hardest of all stones. Diamonds have unique properties and stories that are very special to me, they inspire me to design creations into my sketchbook which later come to life thanks to our highly skilled artisans working at the heart of our High Jewellery workshops in Geneva.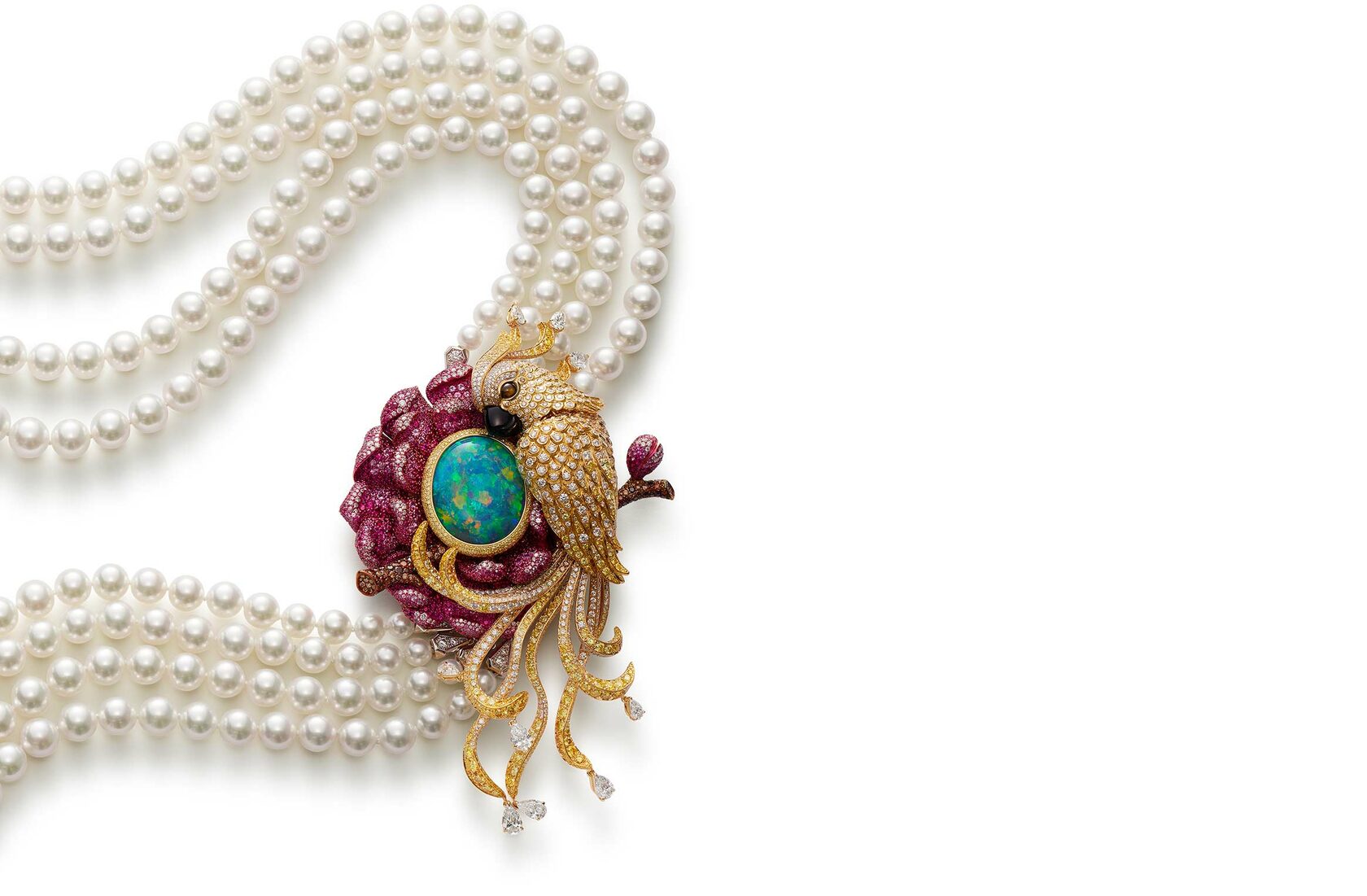 Which piece of jewellery would be the best investment of the upcoming season?
For a woman, I would choose a pair of pear-shaped emerald (61.58 ct) and marquise-cut diamonds (4.98 ct) earrings from the
Red Carpet Collection
2020 inspired by Nature.
As you know, every year during the Cannes Film Festival, we present our Red Carpet Collection of High Jewellery pieces, designed especially for the occasion. The collection counts the same number of unique creations as the number of Festival editions.
As Artistic Director of Chopard, I am delighted to have the opportunity of designing the Maison's High Jewellery pieces, and I am driven by my love for gemstones.
For a man, I would invest in a beautifully crafted timepiece: the
Alpine Eagle watch.
The new timepiece collection is a state-of-the-art reinterpretation of the St. Moritz, the first watch created in 1980 by my brother, Karl-Friedrich Scheufele, co-president of Chopard. Imagined and designed by him together with his son Karl-Fritz and our father Karl, Alpine Eagle is driven by his passion for the Alps and by the lofty power of the eagle that reigns supreme there. Crafted from an exclusive, ultra-resistant and light-reflecting metal named Lucent Steel A223, it beats to the rhythm of a Chopard chronometer-certified movement.
High Jewellery pieces and precious timepieces have always been a good investment, mainly thanks to the increasing value of precious stones. Another factor adding value is the unique know-how of our artisans, this is priceless. Finally, there is another value to a piece which is the story behind it, this is what I often call the "ultimate luxury": to know your piece has been crafted with sustainable materials, in an ethical way is really important to me and this is the reason why we started in 2013 our long-term project
"The Journey to Sustainable Luxury".
What is a Chopard luxurious must for a woman, and a man?
For me, everyday luxury means wearing a beautifully crafted piece that makes you happy from morning to night.
I would pick a creation from the
Happy Hearts collection.
The Happy Hearts collection undoubtedly embodies all that Chopard represents, through a perfect alliance between its Heart emblem and the iconic moving diamonds concept that has shaped the renown of the Maison. The creations provide anchor points for moments of happiness by connecting them with objects that evoke fond memories whenever they are seen. They are visible tokens of happiness, to be passed on from generation to generation as testimony to the happy moments when they were received as gifts.
If I were a man, I would choose the Alpine Eagle Chrono XL watch. It is the new addition to the Alpine Eagle collection of sporty-chic timepieces; a fly back chronograph in a new 44 mm diameter case.
According to you, what is the proudest Chopard jewellery piece ever made?
The Happy Sport watch first launched 27 years ago, inspired by our Happy Diamonds concept where diamonds move freely within evening watches and jewellery creations. Chopard and Happy Diamonds is a neverending love story.
The Happy Sport watch collection was a revolution when it first appeared. In 1993, I imagined designing a sports watch based on an original and astounding association between steel and diamonds. Embodying unprecedented audacity, the Happy Sport was born. In harmony with the spirit of the Happy Diamonds that grace its dial, whirling like skaters performing free variations between two sapphire crystals, the Happy Sport soon became an emblem of our Maison and of feminine watch making. Ever since, it illustrates an inimitable sense of chic embedded in its DNA, truly an icon.
What concept inspired the Chopard gala? When was it organized for the first time? How has its format evolved throughout the years?
The Cannes Film Festival is one of the most glamorous events in the world. Every year (when things return to normal!) international stars gather in Cannes to celebrate the magic of cinema.
Since the beginning of our collaboration with the Festival, we have hosted an extraordinary
Chopard Gala party to celebrate Cinema
, our High Jewellery collections and our support of new talent with the
Chopard Trophée Awards.
When we launched our Red Carpet Collection in 2007, the party became even more important and glamorous - we now have a theme in line with the inspiration of the collection and it is the perfect time for me to translate my creative message into something festive and alive. The Gala evening is now the «place to be» for exclusive Cannes Festival party people. You could say it is the major happening of the occasion. This is thrilling for me as it challenges us to surprise and amaze our prestigious guests a little more every year.
Chopard masterpieces have been worn by many celebrities, but do you have someone in mind who you would like her/him to wear your piece on the red carpet, who hasn't yet?
These marvellous celebrities bring the pieces to life. Jewellery creations are made to be worn. I am always honoured when an actress I admire chooses one of my creations on the red carpet.
Chopard is the Red Carpet jeweller and also the lucky Jeweller for the Oscars, so we have had the pleasure of seeing our pieces worn by the greatest stars such as: Cate Blanchett, Marion Cotillard, Julia Roberts, Rihanna, Charlize Theron, Madonna, etc… but Chopard also loves the new upcoming generation of fresh talent and supports those who are not famous yet but certainly they will be soon.
Let's fantasize! If you were not in the jeweller industry today, where would you imagine yourself?
I have always loved the world of imagination and creativity. If I had not become the Creative Director for Chopard I would have pursued my passion for architecture.
The "Happy hearts" initiative is truly inspiring, showing that the Luxury industry can be at the service of those in need. What was the most meaningful project realized within this initiative?
The Happy Hearts Collection is very special to me. Dancing diamonds and hearts: the close encounter between these two emblematic Chopard symbols was bound to be a case of love at first sight. The heart, a motif deeply cherished by me, has become a key theme for us at Chopard. It is a precious talisman for all women who share a sense of selflessness and generosity - all those with a Big Heart.
I have long understood that Chopard's role, as a family Maison passed on from generation to generation, should not be confined to selling exceptional creations of watches and jewellery – but that its duty also lies in dedicating the family success and corporate influence to serving philanthropic commitments.
One of our most inspiring collaborations is the one we created with
Petra Němcová.
In 2005, Petra founded her charity, Happy Hearts Fund, with a mission to rebuild safe, resilient schools in areas impacted by natural disasters. Her self-understanding of the power of Mother Nature helps her connect with those in need of aid, empowerment, and hope after their lives have been shattered, as she was fortunate to survive, after having endured an almost fatal experience in the 2004 tsunami.
I met Petra at the Cannes Film Festival. I was deeply touched by her story and immediately said "Let's create a bracelet in support of your charity." I then designed within the iconic Happy Hearts collection a bangle which is not only stunning but also incredibly meaningful. Crafted in 18ct rose gold, this special bangle edition, which can be purchased in all Chopard Boutiques internationally, features a red heart as well as a heart with a moving diamond. Part of the benefits go towards the rebuilding of schools, thereby making those who wear it twice as happy. Since 2015, this red heart bracelet has supported the rebuilding of three schools, turning children's dreams into reality. Globally, the charity has rebuilt 206 disaster-resilient schools, serving over 105,000 children in 11 countries. ***