Imagine travelling around the world and finding that one city that will live exclusively for your pleasure. Like an idea from an offbeat fiction book, it might seem bizarre and unrealistic for many, but not for Ecco Concierge.

The company posits the ingenious thought that our "real wealth is the time we dedicate to ourselves", rather than a mere measure of one's existence. Standing by its philosophy, Ecco Concierge offers its customers the opportunity to make their dream of experiencing Venice in a unique and wonderful way a reality, freeing you of the burdens of planning and letting you make the most of your precious time in the city. And believe us, it's totally worth it. Any trip to Venice requires not only diligent planning, but also local expertise to ensure a truly Doge-level vacation.



What's even more interesting, and particularly useful, is that Ecco Concierge is the city's first and only digital concierge service, available 24 hours a day, 7 days a week, ready to serve your needs any time, anywhere.

From tours to events, iPREMIUM Magazine's editorial team has explored everything the city has to offer to showcase how sophisticated, demanding visitors can enjoy a carefree and premium romantic weekend in Venice:

Our Stay: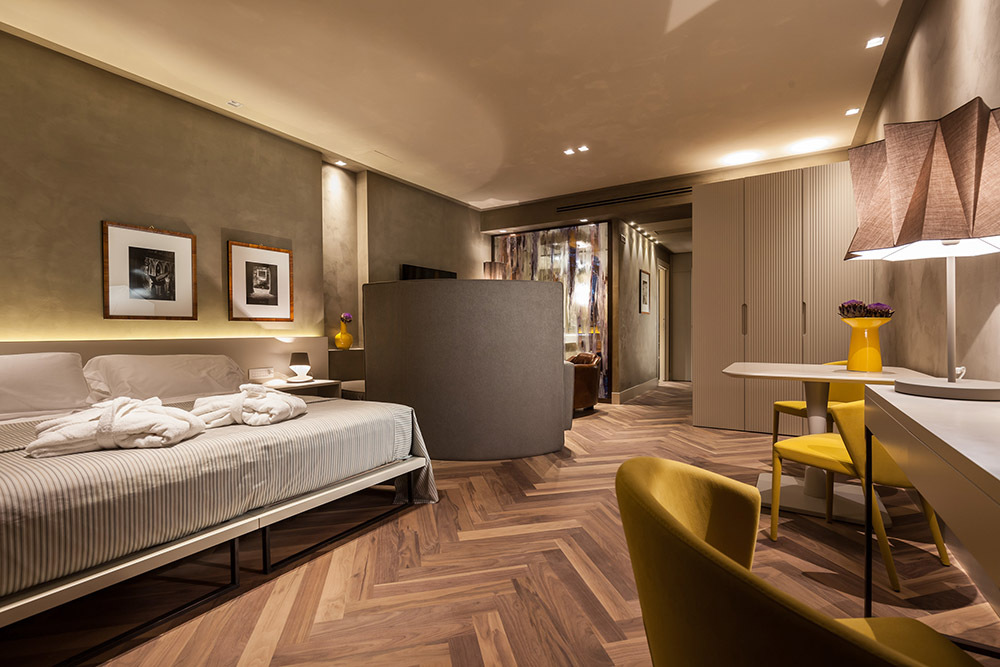 For our stay in Venice, we chose the finest suite on offer in an apartment hotel in the heart of the city: Liassidi Wellness Suites. The hotel's main assets are its serenity and privacy. That's why there are only eight spacious suites, each of extraordinary comfort and equipped with superb amenities including a private Turkish bath and sensory shower with chromo-therapy. In lieu of a traditional concierge, the hotel also provides an exclusive butler service consisting of English-style butlers who are highly attentive, but satisfyingly unobtrusive. From unpacking and hanging clothes in your wardrobe to preparing light menus and serving hearty breakfast in the garden or your room, a pair of your personal butlers is on hand to take care of all your worries, which is a huge plus.

The decisive factor in our decision was the location of our stay. Situated in one of most authentic and evocative corners of Venice, on a small palazzo overlooking a picturesque canal, the hotel embodies the very essence of the Venetian grand lifestyle.

Learn more at: https://www.liassidiwellnesssuites.com/

We also recommend checking out these hotels as great alternatives to the one mentioned above:

Aman Venice 5*



Aman Venice is housed in Palazzo Papadopoli, one of the city's eight magnificent palazzos situated along the Grand Canal. Private gardens, unique in this floating metropolis, are overlooked by luxurious dining venues and vast rooms, while Rococo artworks are offset by the modern minimalism of Jean-Michel Gathy interiors. The hotel makes for a great outpost from which to explore the city and discover its hidden treasures. George Clooney personally chose it as the place to celebrate his wedding with human rights lawyer Amal Alamuddin - which says all you need to know about Aman's royal grandeur.

Learn more at: https://www.aman.com/hotels/aman-venice

Gritti Palace 5*



The grande dame of the city's hotel sector, Hotel Gritti Palace is the pinnacle of traditional luxury: a richly-coloured beauty of a place that exemplifies classic Venetian hospitality, all beautifully positioned across the Grand Canal from the Basilica della Salute. The Rubelli textiles on the walls and furnishings radiate in a beautiful tandem with breathtaking Murano chandeliers. The splendour of the public rooms is echoed in apartments suitable for a king - or a Hollywood star.

Learn more at: https://www.marriott.com/en-us/hotels/vcegl-the-gritti-palace-a-luxury-collection-hotel-venice

Hotel Danieli 5*



Hotel Danieli dominates the Venetian lagoon with stunning views of the Grand Canal and islands from its historic position on Riva degli Schiavoni. The hotel's three palaces date from the 14th, 17th, and 19th centuries: Palazzo Dandolo in Venetian Gothic style, once home to the noble Dandolo family; Palazzo Casa Nuova, formerly the city treasury; and Palazzo Danieli Excelsior, which features upper-floor guest rooms with balconies overlooking the lagoon. Once used as the set for the film The Tourist starring Angelina Jolie and Johnny Depp, this hotel is the place to stay for cinema lovers.

Learn more at: https://www.marriott.com/en-us/hotels/vcelc-hotel-danieli-a-luxury-collection-hotel-venice

Our Experiences:

The Ecco digital concierge assisted us throughout our whole stay, with reservations always made on time and scheduling working out perfectly.

Transfer Service



You know how it goes sometimes when you leave the airport with no one to pick you up. Shady characters snooping around as you wait 10-15 minutes for the taxi you ordered. No more!

With Ecco Concierge, your arrival in Venice will be stress-free. The company provides the option of booking a private transfer from any selected location to your accommodation. Whether you are travelling within or outside the city, spacious cars or water limousines with professional and courteous drivers will get you to your destination comfortably and in no time at all.

When we got to Venice, we were treated to a VIP transfer in a Mercedes and a lux private water limousine, with a staff member on hand to welcome us and serve some refreshing drinks for the taxi ride.

Dining



Knowing all too well how great dining in Venice is, we visited the city's most famous restaurants, all recommended and reserved for us by Ecco Concierge.

For lunch, we highly recommend Trattoria Do Forni, where you can get classic Italian fare served in the buzzing environment of rustic and Orient Express-style dining rooms. A great alternative to Do Forni is Bistrot de Venise, which serves contemporary twists on traditional Venetian dishes accompanied by an extensive wine list of 60+ options, all in a fine dining setting.

For dinner, head to Hostaria da Franz for a genteel, old-fashioned ambience, where casual dining turns into a royal feast with a wide range of traditional seafood and meat dishes. Ristorante Da Ivo is another cosy canalside must-dine establishment, decorated with brass pans and turning out classic Tuscan and Venetian dishes. Last but not least is dinner spot Local.
This elegant eatery revives the best of Venetian cuisine during the Serenissima time, from its risotto di gò to a nine-course menu featuring exotic flavours and the best ingredients from lagoon, land, and sea. Local utilises local traditions, local ingredients and new cooking techniques to create unique flavour combinations for even the most sophisticated tastes.

We also recommend taking a caicco tour of the Venetian Lagoon - a truly unforgettable trip on a Lycian Princess, a caicco built completely of wood in Turkey in 1998 and regularly afloat from 2018, which will turn your world upside down just as it did for us. Cruising over the waters of the Lagoon, we enjoyed wine accompanied by incredible views of famous Venetian gothic architecture - a delightful and unique experience with a magnificent dinner on board.

Following in the footsteps of Queen Elizabeth II, Winston Churchill, and Ernest Hemingway, we also recommend you to stop by Torcello after a gondola ride with a glass of your favourite champagne. And, let's be honest, gondola rides in Venice are simply incredible. Imagine how romantic an ordinary ride can become as you enjoy your drink, gazing across Venice's waterways, which become even lovelier and more mysterious by night. Ecco offers you the opportunity to suspend yourself in a state of awe, taking in the pride of the city while savouring Venetian delicacies and beverages for a great price.

Finally, thanks to Ecco, we also had a chance to try the famous Bacato apéritif at legendary spots like Refolo, Magna Bevi e Tasi, and Bacaro Risorto Castello - the ultra-local places that are hard to track down on your own.

Private Tour of the Lagoon and Islands



Ecco helped us arrange a comfortable private water limousine day trip to the island of Murano, where we were able to tour a prominent glass factory and learn its secrets. We even got the chance to make our own Murano glasswork at one of our favourite glass factories. Our next stop on the journey was to Burano, island of colourful homes, where we reserved a table at famous traditional restaurant Il Gatto Nero - one of the best seafood restaurants in the lagoon. What was particularly delightful was that the owner personally came to each table to check up on the restaurant's guests, and even gifted us a Murano glass black cat for good luck. Overall, we had a great gastronomic experience.

Wine Tasting on Mazzorbo



Few people are aware of a truly hidden gem on the island of Mazzorbo: a vineyard that has been battling sea and high water for decades, giving rise to a wine with distinct characteristics, including a long, almost extreme maceration. The uniqueness of this place lies in its petite size and limited production, as Dorona di Venezia's only acre gives birth to just 3500 bottles every year. As we tasted the island's amazing wines, we were warmly embraced by the tranquillity of the walled-up vineyard. We also recommend checking out the Michelin-starred restaurant nearby, which creates traditional Venetian staples with a modern flair.

Here are a few other worthy activities that Ecco can arrange for you on the go:

Panoramic Helicopter Tour
If you've ever taken a helicopter ride, forget it: your previous experience will be nothing compared to this. The journey begins with a private water limousine cab from your hotel to the Lido di Venezia heliport after a delightful 30-minute ride through Venetian canals. Following a briefing from the pilot, you will have the opportunity to fly above Venice's historical centre and the magnificent Lagoon for 20 minutes in a modern, comfortable helicopter. What's more, you can enjoy this remarkable and one-of-a-kind experience privately - a genuinely kingly adventure.

Private Guide
As history lurks at every turn in Venice, we recommend considering hiring a private guide to get the best out of it. Ecco Concierge offers individual excursions with the city's top guides, allowing you to experience every hidden and undiscovered side of the city. It's the best way to walk the streets of this sacred city and learn about Venetian art, architecture, gastronomy, and customs without surfing the net non-stop.

Lunch on a Traditional Venetian Bragozzo
Another amazing experience awaits you aboard the bragozzo (bragosso in Venetian). A traditional Venetian freight and fishing boat will serve as a great aperitivo and dining spot with a fresh seafood-based menu prepared in line with age-old traditions. Only on a bragozzo can you sample "moeche," or little lagoon crabs, which are one of the best manifestations of Venetian culinary history. Besides, your meal will be made right in front of you as you watch and discuss all the tips and tricks of the cuisine with the chef.

As we mentioned at the start, it may seem far-fetched to have the whole city to yourself. But with Ecco Concierge, you can have Venice in the palm of your hand without indulging in too much reading, planning, or scheduling - a true gem in our fast-paced century.