Looking into investing into real estate or doing it already? No wonder, real estate is a great investment option and a valuable addition to a well-diversified portfolio because of its great potential for passive income, appreciation in value, stability, and control. But for those just starting out, it might be a bit complex to get into the highly competitive field, while experienced investors might lack some up to date info. What if we tell you there's a great event that would serve well both?
MIPIM, or the "Marché International des Professionnels de l'Immobilier," is a real estate event that has been held annually in Cannes, France since 1991. It is considered the leading property market event in the world, attracting more than 26,000 participants from over 100 countries.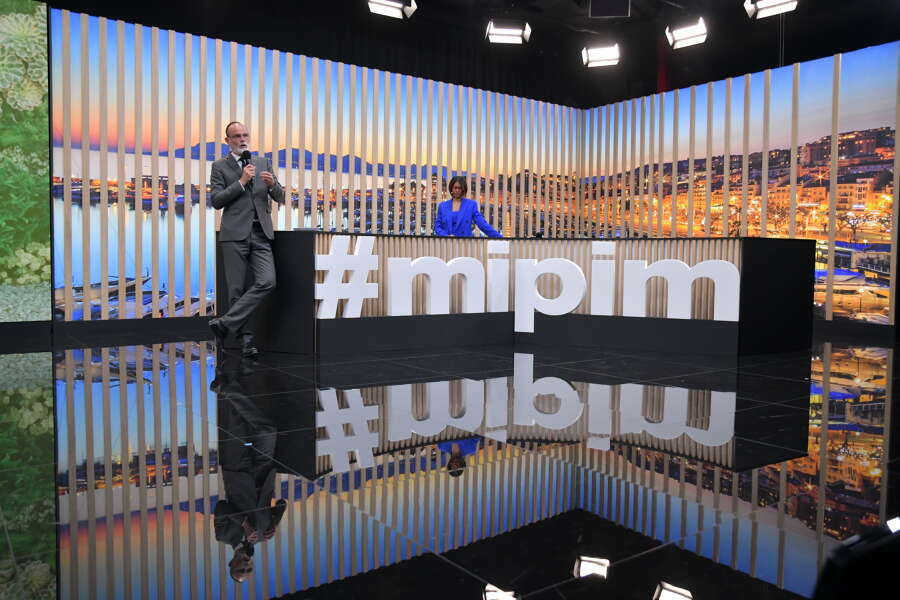 © V. DESJARDINS / IMAGE&CO
The event is organised by Reed MIDEM, a subsidiary of the Reed Exhibitions group, and is held in partnership with the French Ministry of Foreign Affairs and International Development, as well as the French Ministry of Economy, Industry, and Digital Affairs.
A four-day MIPIM brings together real estate professionals, investors, developers, and public sector leaders to network, discuss the latest trends and developments in the industry, and explore new investment opportunities. The event features a comprehensive conference program, with keynote speakers and panel discussions on a wide range of topics related to real estate, urban planning, and economic development. That's why MIPIM accelerates the development of the real estate environment by creating a one-of-a-kind urban festival over four days in Cannes, serving as a catalyst for actual solutions by bringing together face-to-face dialogues, thought leadership, development opportunities, and global finance to promote change. The event connects and encourages the global real estate community to build more sustainable, livable, and affluent communities for all.
© S. CHAMPEAUX / IMAGE&CO
In addition to the conference program, MIPIM always includes an exhibition area where companies from different industries, such as real estate developers, hospitality companies, and architects to name a few, showcase their products and services, as well as a series of networking events, such as cocktail parties, dinners, and sporting events.
One of the key features of MIPIM is its focus on international collaboration and cross-border investment. The event brings together a diverse range of participants from different countries, regions, and sectors, providing a unique platform for building partnerships and exploring new markets. Not without a reason, this event is one of the most recognised ones in the industry.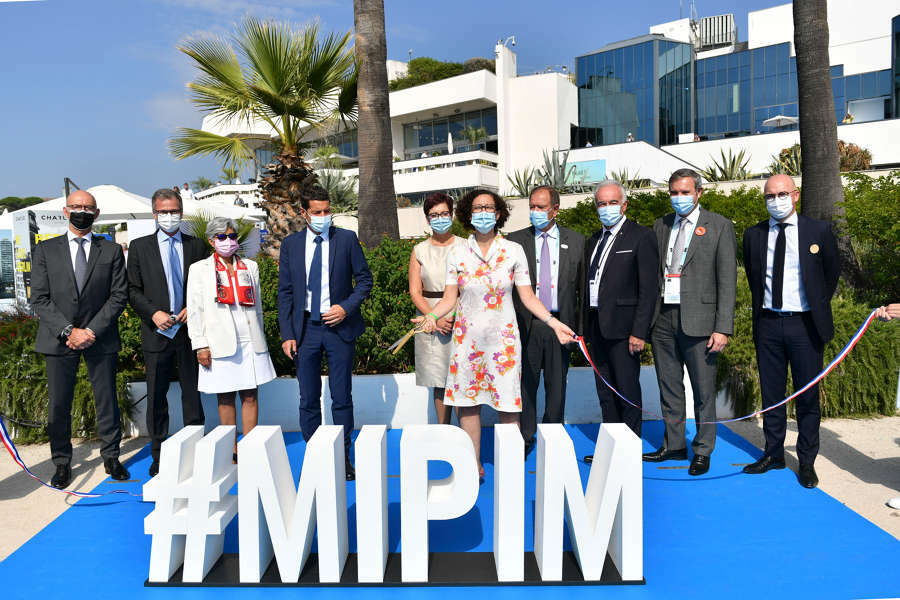 © YANN COATSALIOU - 360 MEDIAS
MIPIM 2021 - SEPTEMBER EDITION - PROTOCOL - OFFICIAL VISIT WITH EMMANUELLE WARGON / MINISTER OF HOUSING
Last MIPIM was held in 2021 in Cannes, France, and it was the 30th edition of the event. The theme for the year's event was "Reshaping Cities for a Better Life," and it focused on the ways in which cities and real estate can adapt to the challenges and opportunities presented by the COVID-19 pandemic.
The event, however, was postponed from March to September due to the pandemic. The September Edition was planned as a shorter, concentrated MIPIM for high level attendees to inaugurate the return to in-person networking in a safe and COVID-secure environment. Arranged over two days, the event was attended by 4,200 delegates from 46 countries around the world.
The investment community played a big part in the Investor Summit as always. A total of 400+ investor delegations from Allianz, APG, Ivanhoe Cambridge Europe, P+, and Zurich Insurance Group participated. Leading brokers from CBRE, BNP Paribas, JLL, and Colliers participated, as did industry executives from Nexity, Gecina, and Fifthwall. Securing investment in Europe's recovering regions and cities remained a primary priority, with political leaders in attendance from Stockholm, Rome, Barcelona, Madrid, Bucharest, and Berlin. Peter Freeman CBE, Chair of Homes England, provided insight into the UK planning landscape in terms of ESG investment, while Virginia Raggi, Mayor of Rome, kicked off the session Italy: Back to Business.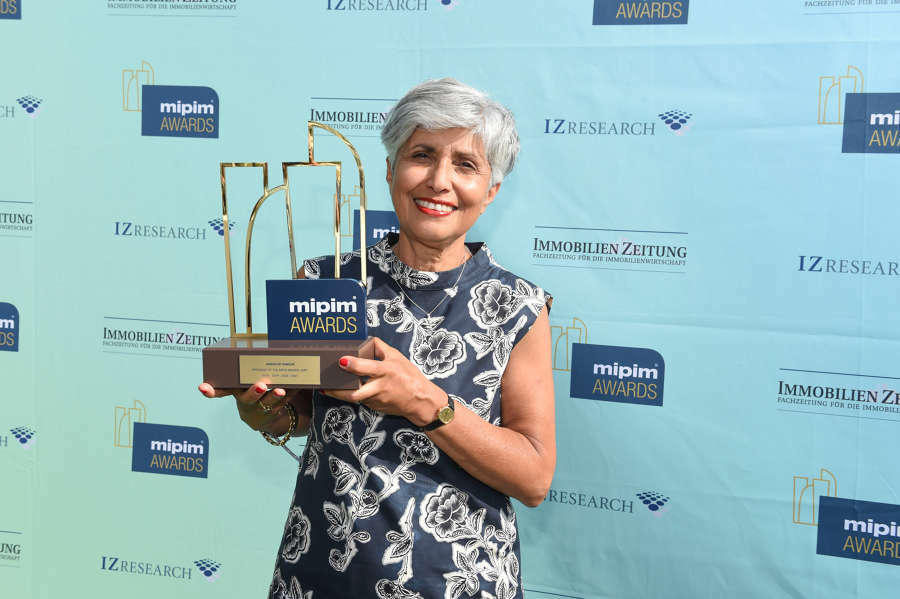 © Michel Johner - 360 MEDIAS
MEKA BRUNEL (CEO GECINA) PRESIDENT OF THE JURY - SPECIAL AWARD
Alongside the talks and debates, MIPIM celebrated its annual awards to recognize the most outstanding projects in the global real estate industry.
One of the key highlights of
MIPIM 2021
was the conference program, which featured keynote speeches and panel discussions on a wide range of topics related to real estate, urban planning, and economic development. Some of the notable speakers at the event included:
Mark Carney, Governor of the Bank of England and Chair of the Financial Stability Board

Anne Hidalgo, Mayor of Paris

Bruce Flatt, Chief Executive Officer of Brookfield Asset Management

David Adjaye, Founder of Adjaye Associates and Principal Architect of the National Museum of African American History and Culture in Washington, D.C.
In addition, this event saw the participation of more than 1,000 exhibitors, representing a wide range of sectors, including real estate development, architecture, construction, and engineering.
As numerous positive reviews suggest, MIPIM 2021 was quite a successful event that provided valuable insights and opportunities for professionals in the real estate industry.
That's what Ronan Vaspart, director of MIPIM, said about the event: "We are happy to be back in Cannes with our real estate friends and colleagues this September. The industry has been unanimous in telling us that it wants to return to safe and secure in-person networking as quickly as possible. It has taken us longer than we first anticipated to get back here, but we have proven that large scale business events are possible again."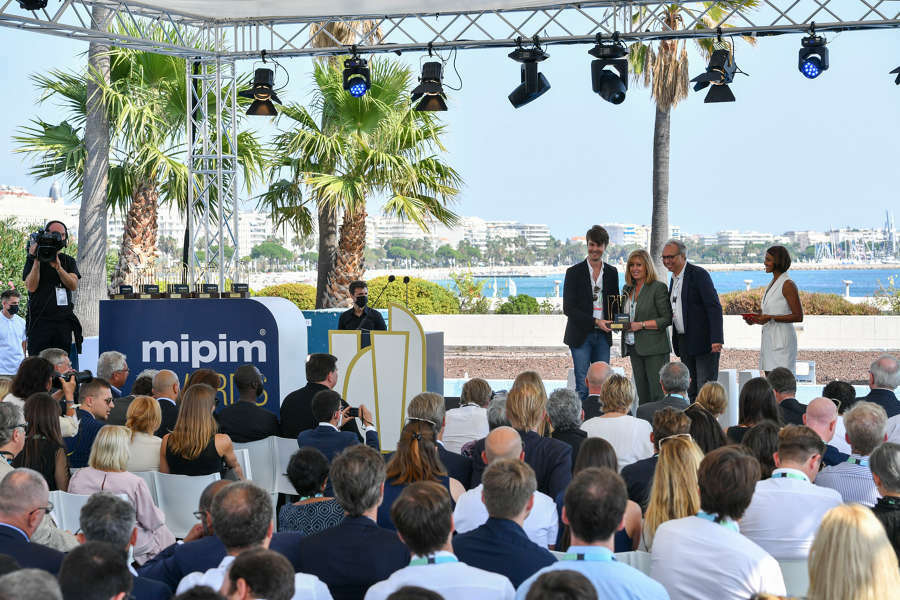 © Yann COATSALIOU - 360 MEDIAS
The 31st edition of the legendary event,
MIPIM 2022
will be held from March 15-18 in Cannes, France. The theme for this year's event will be "Reshaping Cities for the New Normal."
One of the key highlights of MIPIM 2022 is expected to be the conference program, which will feature keynote speeches and panel discussions on a wide range of topics related to real estate, urban planning, and economic development. Here, you will have an opportunity to learn and find concrete solutions for your business from case studies focusing on efficient projects, flexible architecture, green buildings, smart cities, and more. Some of the key topics that will be discussed at MIPIM 2022 include:
The role of real estate in driving economic recovery and resilience

The impact of technology on the real estate industry, including the use of digital platforms and data analytics

The role of sustainability and environmental responsibility in real estate development

The future of work and how it will affect the demand for office space and other commercial real estate

The challenges and opportunities presented by the growing trend towards urbanisation and the need for more housing in cities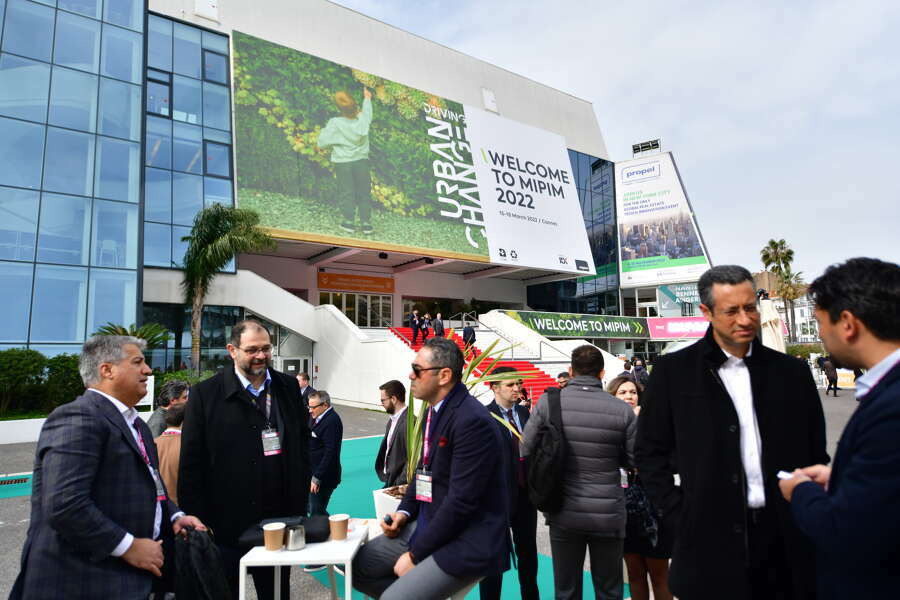 © V. DESJARDINS / IMAGE&CO
The following professionals will be some of the most notable speakers for the event:
Cristina Gamboa, CEO of World Green Building Council

Diane Hoskins, Co-CEO of Gensler

Sanmi Adegoke, CEO of Rehoboth Property International

Michele Cecchini, Head of Public Health at OECD

Scott Leibold, EVP and Global Head of Purchasing & Property at RELX

Kim Herforth Nielsen, Creative Director and Founding Partner at 3XN Architects
This year's event will also feature six new stages for a more accessible and sharp content that will mix workshops, panels and keynotes to exchange experiences while providing inspiration and thought leadership:
The Leaders' Perspective Stage: This stage will feature nspirational keynotes from leaders, in an intimate setting

The Asset Class Stage: From office to residential, from healthcare to logistics and hospitality, this stage will have it all.

The Infrastructure Stage: This stage allows visitors to dive deeper into the impact of transport, water, waste, culture, and data centres on real estate.

The Geo Focus Stage: A great opportunity for attendees to dig into local markets as well as new connections.

The Road to Zero Stage: No buzz, no dreams, just the most pragmatic approach to industry challenges will be dissected on this stage.

The Make It Happen Stage: This stage is for sharing cases, return on experience and collaboration stories.
In addition to the conference program, MIPIM 2022 will also have an exhibition area with more than 2,400 exhibitors and over 350 stands from companies like Hilton, EY, and PWC. Attendees will be able to identify, build partnerships and find new business models by connecting with decision-makers from cutting-edge companies thanks to the networking component of MIPIM.
Speaking of networking, we highly recommend joining with fellow delegates to celebrate the start of MIPIM 2023, and start to reconnect by attending the Welcome Reception on Tuesday 14 March on la Croisette. But it won't be the only opportunity to get to know key players in your industry. Other unmissable events to boost your network will include E-Invest, MIPIM Co-Living Summit, and Political Leaders' Summit.
E-Invest offers a unique chance for sovereign wealth, pension and insurance funds, family offices, and other capital owners to debate real estate investment strategies in developed and emerging economies in a closed-door setting. This year's theme will be how the built environment is now navigating a sequence of action points to provide constructive urban transformation in a post-pandemic and global warming future. RE-Invest will debate these issues and propose new solutions for the real estate sector and investing community.
© S. D'HALLOY - Image & Co
MIPIM Co-Living Summit will reflect on the rising trend of co-living, at the intersection between people and places, powered by major investment opportunities, and will take place for the first time. Launched in partnership with Co-Liv, the leading global association of co-living professionals, the MIPIM Co-Liv Summit will be held on Monday 13th March.
The Political Leaders' Summit is the yearly gathering of urban planning decision makers on the real estate calendar. The Summit, which is by invitation only, will debate the most recent best practices for delivering constructive urban development. Attracting investment; affordable housing; repositioning assets; reinventing city centres; decarbonisation and ESG; infrastructure development; and geopolitics, inflation, interest rates, and supply side shortages will be some of the highlighted topics.
Another key feature of MIPIM 2022 will be MIPIM Startup Competition, in partnership with global industry partner MetaProp, will reveal the most promising and innovative startups that tackle the biggest urban challenges around the world. The 4 winners from their 2022 start-up competition will be showcasing their projects and solutions at the
Propel Station
exhibition zone at MIPIM 2023 in Cannes.
Propel by MIPIM is Europe's leading event dedicated to innovation and tech in real estate, will take place during MIPIM 2023 with a full exhibition programme, including conferences and networking. You can swing by and find start-ups and connect with innovative partners to help your business grow while increasing the value and sustainability of your real estate assets. Besides, there's an opportunity to showcase your projects, establish yourself as a creative firm and enhance your reputation, or enter the Startup Competition yourself. Last but not least, you can learn about emerging worldwide players in real estate innovation and network with them.
If you want to demonstrate your real estate leadership, we highly propose participating in the MIPIM Awards 2023, which honour the industry's most helpful, sustainable, and imaginative projects. From a consideration of construction and operational carbon, to climate and life cycle concerns, prizes will go chiefly to projects that best serve their end-users and wider communities while making a contribution to the economy.
MIPIM's commitment to sustainability is truly inspiring as they try to minimise the footprint while always looking for ways to positively contribute to sustainable development and create change within their organisation, guided by The Sustainable Development Goals of the United Nations.
Thus, the winners of the
MIPIM Awards 2023
will all have one thing in common: a comprehensive commitment to sustainability. This includes excellent buildings in real estate's main asset classes, as well as mixed-use and urban redevelopment initiatives that rewrite the rule book. This year's jury will focus on initiatives that attempt to improve the prospects of the real estate environment in accordance with ESG standards.
These are the key criterias the submissions will be judged by:
Overall sustainability

Integration of the project in its environment and community

Quality of the user experience

Economic contribution

Originality of the concept

Architectural qualities
Overall, MIPIM 2022 is shaping up to be a valuable event for professionals in the real estate industry. So, don't miss out on the chance to raise your success score!