"The best gift is the one you give": Ultimate holiday shopping guide.

Seasonal shopping time is just around the corner! For "fashion experts" it evokes pleasant impatience and a feeling of satisfaction from strolling around their favourite boutiques, while for others it is accompanied by the agony of choosing the perfect gift that will not make them regret the choice or displease those who receive it.

In order to avoid the last-minute stressful situations associated with choosing and buying gifts for your beloved ones, we have prepared for you the best practical luxury gift guide, which will certainly be useful not just for Christmas, but also for any other occasion. Surely, once in your lifetime, you have faced the problem of choosing a gift for those who already have everything but, at the same time, with the desire to leave them a special memory of that holiday season.

But what if this gift is also a great investment? Then the chance of making a wrong purchase is reduced to 0, while the unique taste of your choice will bring your liking to the level of a "superhero".


For her

From Cartier to Launer Bespoke, from beautiful home decorations to fashionable bags and jewellery, no fashionista can resist these kinds of gifts in the new season!

Website

Stylish and sophisticated, Louis Vuitton Scottt glamor boxes are the perfect complement to any decor. Practical and spacious accessory is available in two shapes: cube and cylinder.

Cost: from 760 €

Website

Elizabeth II's favourite bag will delight even the sophisticated owner of a large collection.
The classic hand-made Traviata model, a black leather bag imitating crocodile, can be customized with her initials on the inner side of the product!

Cost: from 2,525 €

Website

The Cartier ring with iconic Panthère motif in 18K yellow gold, onyx and 2 Tsavorite garnets is a true jewellery must, melting women's hearts.

Cost: from 6,400 €




Website

Dense and with the inside glow effect crystal, cast according to the unique technology "crystal dough" (from the French "pâte de cristal"), has become the hallmark of Daum.
But if you do not have enough time to search for exclusive vintage pieces designed together with Richard Orlinsky, Christophe Pie, Philippe Starck, but you still want something exclusive, then pick a limited edition sculpture of a bear in a rich cognac colour, made in collaboration with Ritz Paris.

Price: 4,200 €




Website

For active women, the stylish cashmere mat with leather edging for meditation and yoga from Loro Piana will be an indispensable accessory for group training and for home workouts.

Price: 1,950 €


Chopard watch from Red Carpet Collection

Exclusive watch from the limited Chopard "Red Carpet Collection", decorated with emeralds and diamonds, will make her fall in love at first sight.

Price: upon request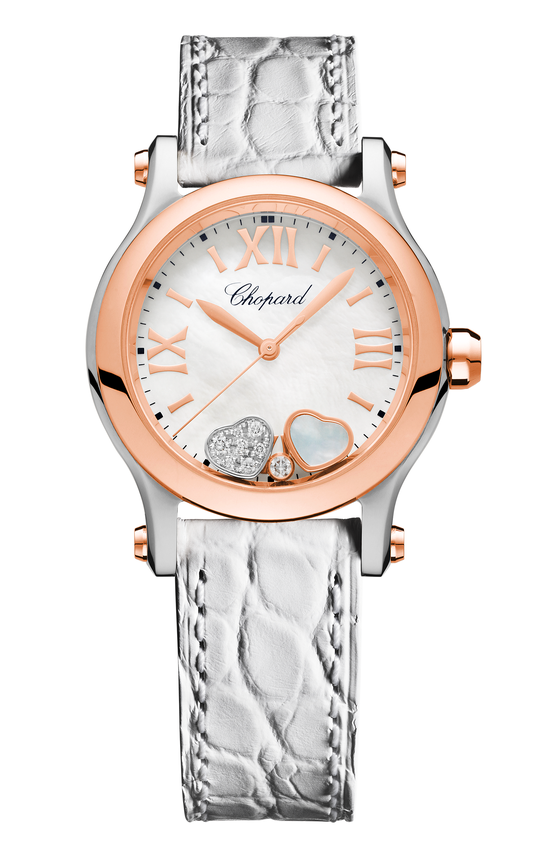 Chopard earrings from Red Carpet Collection

A charming pair of earrings from the Red Carpet Collection. Delightful floral designs featuring diamonds and pear-shaped emeralds of 26.27 and 27.64 CT .

Price: upon request



Chopard Necklace from Red Carpet Collection

Inspired by nature, this delightful Chopard emerald necklace is the perfect complement to any gala attire.

Price: upon request


Chopard Earrings from Happy Heart Collection

The Chopard Earrings in rose gold from Happy Heart Collection decorated with mother-of-pearl and diamonds will add a romantic touch to any outfit.

Price: 9040,00 €


Chopard watch from Happy Sport Collection

The women's watch with a 30 mm case from the Happy Sport collection is a symbol of Chopard's creativity and courage. The combination of steel and playful diamonds has become a true Icon of the House since 1993.

Price: 6570,00 €


For Him

Surprising a man who already seems to have everything is possible! Among the huge number of options, the iPremium Team has chosen the most unbeatable gifts that will be remembered for a long time, bringing not only aesthetic pleasure, but also being a luxurious practical addition to his lifestyle.

Website

For the adventurous man, the unique Loro Piana sleeping bag will become his best friend. Created with Wind microfiber and super soft baby cashmere lining, it will bring his home comfort even in the most extreme conditions.

Price: 2,900 €

Website

When technological innovation meets fashion! The result can be seen in some beautiful things like Louis Vuitton's Horizon Wireless Headphones. Undeniable sound quality and long battery life, make them an indispensable accessory for every man.

Price: 1,010 €

Website

Representatives of the stronger sex will love the Juste un Clou collection, ignoring the cliché that jewellery is the prerogative of women. The cufflinks in the iconic form of the famous curved nails in 18K white gold. A tiny detail that is capable to radically change the whole look.

Price: 4,500€




Website

When looking for a perfect gift for the gambler, check out the unique handcrafted Berluti poker bag in iconic Venezia leather. The set includes playing cards, 300 chips and the engraved dealer button with the famous Berluti Scritto

Price: 3,900 €

Website

Let his culinary genius burst out with the purchase of an ultra-fast professional grill from the German manufacturer Otto Wilde. Why not making his home cooking into a deluxe steak house scene?
Cost: from 1,090 €


Chopard watch from the Alpine Eagle Collection

Modern and sophisticated design of the timepiece with a 41 mm case from the Chopard's new Alpine Eagle collection will match every man's taste. This collection is dedicated to the "modern eagles", ambitious men who are leaders in life and whose vision is constantly inspiring people around them.

Price: 12 800,00 €


Chopard pen from the Alpine Eagle collection

The silver and black Chopard pen is an indispensable element in any businessman's arsenal.

Price: 545,00 €


Chopard cufflinks from the Racing Carbon collection

A pair of ultra-fashionable Chopard cufflinks are a must-have for the modern fashionista. Stainless steel and black carbon elements add a new sport-chic touch to any classic outfit.

Price: 327,00 €


For Kids

For the most stylish kids who are ready to become "rock stars" we have prepared some intriguing gift ideas!

Website

No young fashionista can resist the customized Portofino sneakers from Dolce & Gabbana. A truly unique model for your kid playing with colours, stickers and lettering. It's going to be something your kid will definitely want to brag to his classmates.

Cost: from 295 €


The almost half-meter Doll from Dolce & Gabbana is the dream of any little princess. Her perfect facial features were designed using a colour palette from the makeup room of the fashion house and her lush outfit is a copy of the brand collections.

Price: from 650 €

Website

An elegant briefcase in vintage style made of Dior Oblique printed fabric, with padded back lining and the calfskin handle, will be an indispensable accessory not only in the classroom but also on walks. Refreshing any outfit is easy with a spectacular Dior accents!

Price: 1,400 €


How can you leave your pet without any attention during the holiday season? Offer him some wonderful accessories that will make both the furry friend and his master happy.

Website
Website

Walking your dog in style is much easier with the signature Louis Vuitton collar and leash. Decorated with golden details and LV Monogram print, accessories will add elegance and chic to your four-legged friend's look and will be a great present to the pet owners.

Price: 570€