Louis Vuitton Fall Winter 2023-2024
Paris Fashion Week continues to be one of the most eagerly-awaited fashion events of the year, attracting celebrities and fashionistas from all over the world. This year's edition did not disappoint, with an impressive lineup of renowned fashion houses such as Chanel, Dior, and Balenciaga showcasing their latest collections. The excitement wasn't just limited to the runways, though; the front rows were filled with high-profile guests, including celebrities from the worlds of music and film, as well as actual royalty.


Stars such as Rihanna, Billie Eilish, and Justin Bieber were spotted at the shows, sporting the latest pieces from their favourite designers. Outside of the music industry, Paris Fashion Week also attracted members of the European aristocracy, including Princess Charlene and Charlotte Casiraghi from the princely family of Monaco.


The 2023 collections featured an array of styles, ranging from elegant evening attire to edgy streetwear. This year, designers were inspired by everything from the 1990s to the timeless elegance of the 1950s. Some prominent fashion statements seen on the runway included oversized jackets, wide-leg pants, statement belts, and unique layering techniques. Here are some of the top trends we spotted at Paris Fashion Week 2023.
Oversized Jackets and Coats

Oversized jackets and coats were a staple of many of the collections exhibited at this year's Paris Fashion Week. Designers such as Balenciaga and Saint Laurent showcased jackets that were oversized in both length and width. Powerfully paired with wide-leg pants and high heels, the jackets ensure a unique and stylish look.
Saint Laurent Winter 2023
Vibrant Colours
Paris Fashion Week 2023 featured an explosion of vibrant colours on the runway. From bright yellows and oranges to rich reds and purples, the collections were filled with an array of colours guaranteed to make a statement. Designers such as Valentino and Chanel showcased stunning dresses in bold, vibrant hues that were eye-catching and chic.
CHANEL WOMENSWEAR FALL WINTER 2023-2024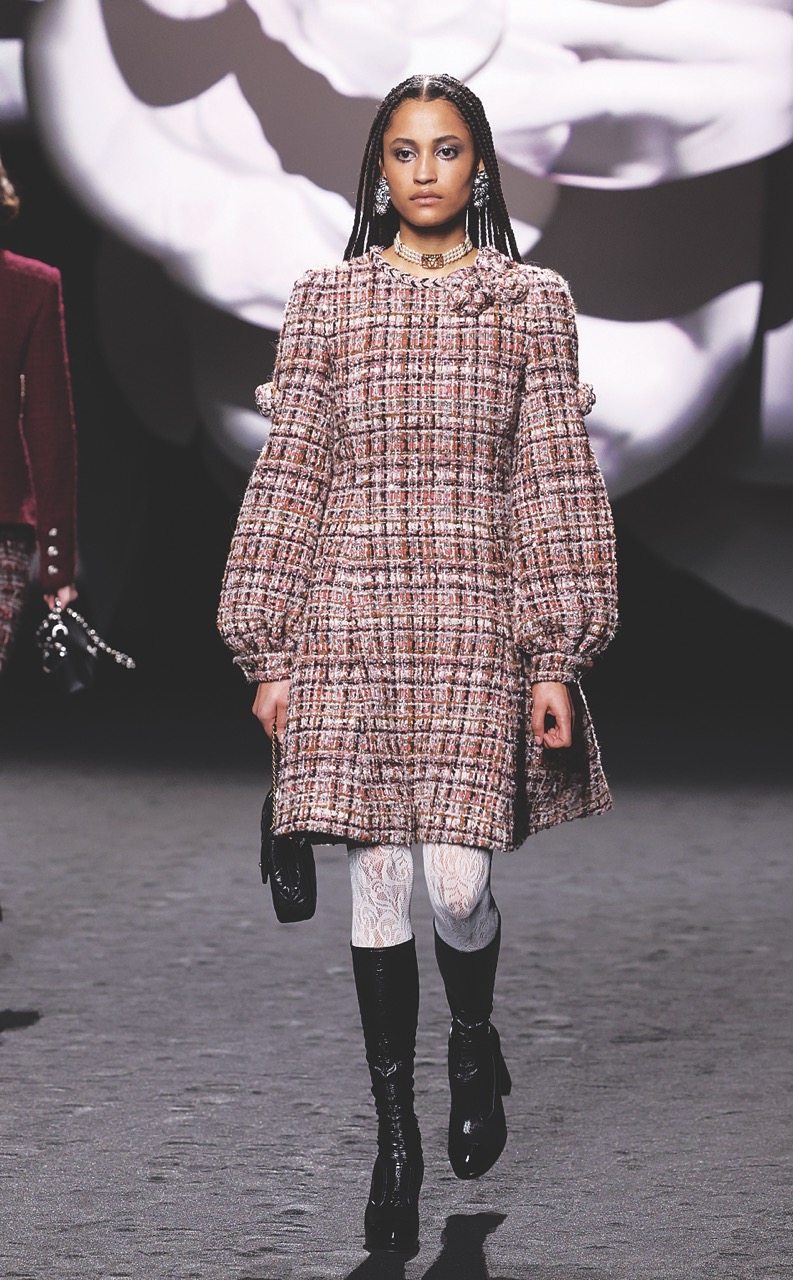 Credit: graziamagazine.com
Fabrics of the Future
Another highlight of the latest Paris Fashion Week was the presentation of fabrics of the future. Japanese brand Anrealage stole the show with their autumn/winter 2023-24 collection, which turned the runway into a mesmerising performance. Their models strutted down the catwalk in white or monochrome outfits made of various materials such as faux fur, velvet, lace, knitwear, jacquard, and satin. What made the collection stand out, though, was that these fabrics changed colours under ultraviolet rays.
As the models moved under the UV lamps, their outfits transformed into vibrant hues of yellow, purple, and red, leaving the audience in awe. Anrealage's futuristic approach to fashion proved an instant hit, demonstrating that the fashion industry is always pushing boundaries and exploring new ways to create stunning designs.
It's clear that Paris Fashion Week remains at the forefront of innovation and creativity in the fashion world, and Anrealage's futuristic collection is a testament to that fact. As we move towards the future, we can expect to see more designers experimenting with unconventional materials and technologies to create fashion that's not just aesthetically pleasing, but also sustainable and environmentally friendly.
Anrealage colour-changing clothes at Paris Fashion Week
Wide-Leg Pants
Wide-leg pants were a recurring trend at Paris Fashion Week 2023. From high-waisted and tailored to slouchy and casual, wide-leg pants were seen across a number of collections. The likes of Saint Laurent and Balenciaga made a particularly powerful statement by pairing wide-leg pants with oversized jackets and statement belts to define this year's look.
Balenciaga Fall Winter 2023 – 2024 Collection
Credit: jtdapperfashionweek.com
Statement Belts
Another theme of this year's Paris Fashion Week were statement belts, showcased by big names including Chanel and Dior. Bold, colourful, and eye-catching, they were worn with dresses, skirts, and pants to add a unique touch to any outfit.
Chanel Fall Winter 2023 – 2024 Collection
Credit: lofficielibiza.com
Layering Techniques
Paris Fashion Week 2023 will also be remembered for the innovative layering techniques on display. Balenciaga led the way in showcasing unique ways of layering pieces to add depth and texture. Jackets, vests, and sweaters were layered together to create a unique and stylish look.
Winter 2023 – 2024 Collection
Credit: jtdapperfashionweek.com
1950s Style
Despite its defiantly forward-thinking ethos, Paris Fashion Week 2023 didn't forget to give a nod to the enduring appeal of 1950s style. Dior's collection was a standout, inspired by the iconic French women of the era such as Catherine Dior and Edith Piaf. The elegant designs and classic silhouettes paid tribute to the timeless elegance of 1950s fashion while adding a modern touch.
From tailored dresses to cinched waistlines and full skirts, the collection emphasised sophistication, femininity, and understated glamour. The 1950s style trend was an undoubted highlight of this year's fashion week, proving that classic style is here to stay.
Dior Fall-Winter 2023-2024
Suits with a Skirt
Saint Laurent's latest collection took centre stage as it boldly showcased suits paired with skirts, another trend of this year's Fashion Week. Creative director Anthony Vaccarello drew inspiration from the iconic 1988 film Business Girl, referencing the classic looks of Melanie Griffith and Sigourney Weaver. The collection expertly juxtaposes masculine and feminine styles by pairing sleek, elegant suits with skirts, and using luxurious fabrics and bold colours to enhance the collection's overall allure. The suit-with-skirt trend from Paris Fashion Week 2023 proves that classic office attire can be both fashionable and chic.
Saint Laurent Winter 2023
Street style

The city's streets were filled with fashion enthusiasts showcasing their unique, edgy looks. The street style trends included oversized blazers, bright neon colours, statement accessories, and bold prints. Fashion lovers experimented with a range of styles, bringing their own personal touch to Fashion Week. Some of the standout pieces included statement boots, layered jewellery, and funky hats. The street style trends showcased at Paris Fashion Week 2023 were as diverse and exciting as the runway shows themselves.
Paris Fashion Week 2023 once again proved the event's huge significance in the world of fashion. Its shows and guests have sparked active discussion in the media, with trends emanating from the event spreading across continents. The week-long festival of fashion showcased an array of trends that are sure to captivate and inspire fashion enthusiasts in the seasons to come. The collections displayed an array of styles, from classic to edgy and understated to bold. With oversized jackets, vibrant colours, statement accessories, and more, Paris Fashion Week 2023 provided a glimpse into the future of fashion and the trends we can expect to see more of in the months ahead.