The United Arab Emirates UAE has been a force of attraction for every tourist for many years. People come here for culture, luxury, shopping, and recently, especially after Expo 2020, for business development. From October, when the heat drops in the UAE, we recommend going to one of the trendiest spots in the Middle East - Dubai - where an unforgettable vacation with exquisite service awaits you. The editors of iPremium / iTravel Magazine offer you a selection of hotels, the best of the best.
Burj Al Arab
Burj Al Arab is undoubtedly the most expensive and luxurious hotel in Dubai. The uniqueness of this hotel is obvious at first sight! It is designed as a giant sail rising a thousand feet into the sky.

The hotel, located on an island connected to the mainland only by a dam, was designed to exude luxury and opulence. It features a unique sail structure that is lit up with different colours at night, as well as golden columns, marble and real gold staircases, and rotating beds for 360-degree views. The hotel is 15 km away from downtown Dubai and 25 km from the airport, and close to nearby attractions such as the Wild Wadi Water Park and the Madinat Jumeirah dining and entertainment complex.
Anantara Downtown
The editors of iPremium magazine guarantee that this newly rebranded hotel will delight you with its location and spacious rooms and a huge pool. It is a modern, luxury hotel that recently opened its doors to guests.

The general manager of the hotel, Mr. Husam Malki, personally spoke to us about its advantages. Remarkably, he is well aware of the mentality of one of the experienced Russian speaking guests.

It's definitely a prime location in the trendy city centre of Downtown, as he says, makes it a popular choice among business travellers and tourists. Guests can also enjoy the hotel's 35-metre outdoor pool, which is hidden from the sun behind skyscrapers, as well as the hotel's world-renowned spa services.

The hotel's design centres around the concepts of height, light, and space, and offers many luxurious amenities such as a superb view of the Burj Khalifa skyscraper, luxurious rooms with wooden floors, expensive materials and fabrics, works of art, and spacious bathrooms.

Hotel has 252 guest rooms and suites, each with views of Downtown Dubai – some including the Burj Khalifa, of the Dubai skyline or the hotel pool, a wide variety of food and beverage options, a dedicated wellness floor including a spa, gym and swimming pool, meeting and events spaces and car parking.

Dining options at the hotel include the Nine7One Restaurant, which serves international cuisine and shisha in a scenic green courtyard, Punjab Grill, Indian cuisine, the rooftop La Mezcalaria Bar & Lounge with stunning views, and the Kimuray-ya restaurant which offers authentic Japanese cuisine. Within the Anantara app, guests can easily view the different cuisines available and place orders directly through their smartphones.
One&Only Royal Mirage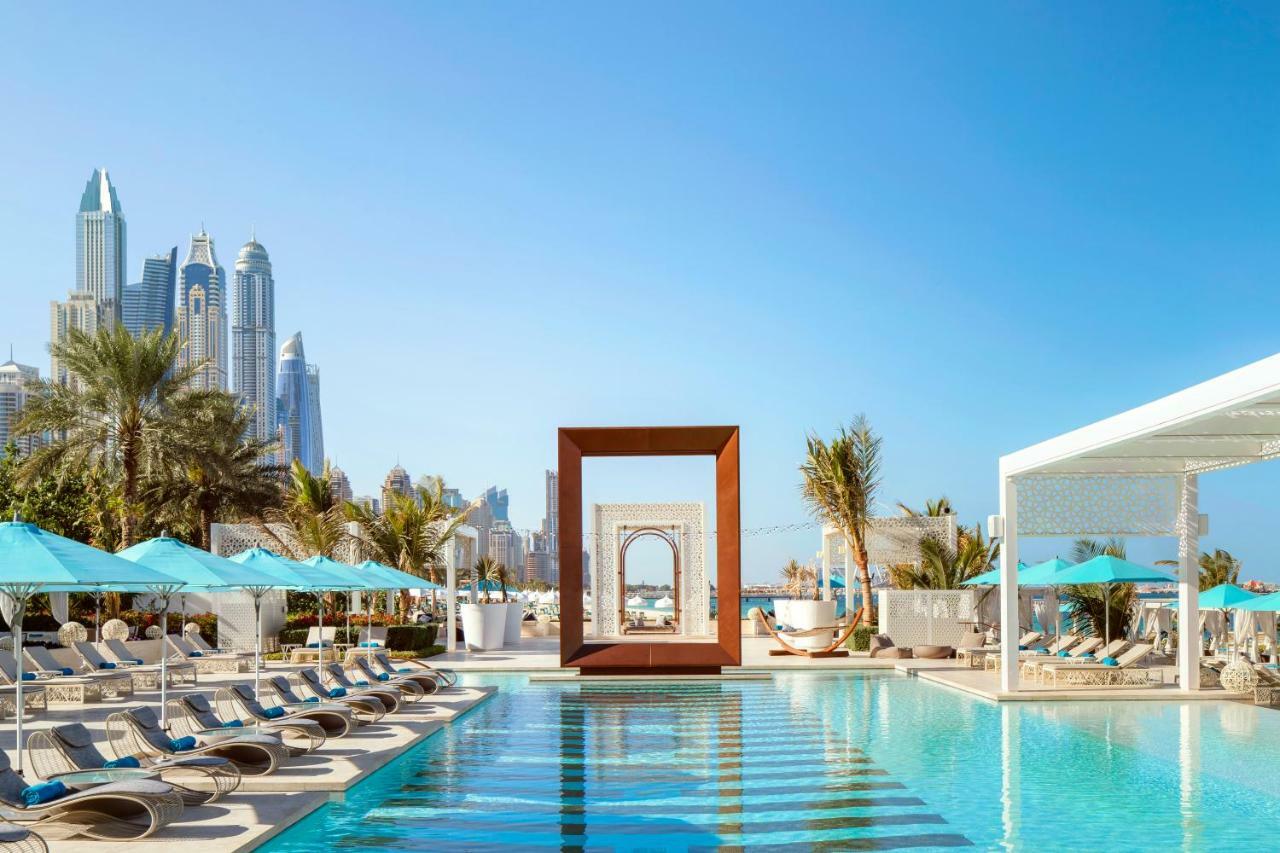 One&Only Royal Mirage is a luxurious boutique hotel catering to connoisseurs of beauty and luxury. The hotel, owned by a prince, boasts exclusivity and quality. Guests can enjoy the hotel's long white sandy private beach with crystal clear sea.

The hotel is located in the Dubai Jumeirah Beach resort area and comprises three different sections; The Palace, Arabian Court and Residence & Spa, each with unique rooms and themed restaurants. Suite guests have access to a separate club and lounge area and direct access to the beach from their rooms, while all rooms have balconies or terraces and the villas have private pools.

One&Only Royal Mirage has a wide range of dining options for guests to choose from, including a Mediterranean restaurant (Olives), a Moroccan restaurant (Tagine), an international restaurant (Celebrities), a grill bar for seafood and grilled dishes (The Beach Bar & Grill), a beach restaurant (The Jetty) and a night club (Kasbar) in the main building. The second building offers a European restaurant (The Rotisserie), a fusion restaurant (Nina), an Arabic restaurant (Eauzone), and two bars, one of which is located on the roof. And in the spa building, there is an elegant gourmet restaurant (The Dining Room) and cozy cafe (The Library). Guests can be sure that the hotel's chefs cater to all tastes, from romantic dinners for two to Ibizan-style parties.

The hotel also features a chic ESPA spa with Moroccan treatments and hammam, considered one of the best in Dubai, Cure Studio manicure and pedicure by Bastien Gonzalez, and Zouari Hair Salon by Alexandre Zouari. The hotel is conveniently located, a 10-minute drive from Aquaventure Water Park and Mall of the Emirates, and a 20-minute drive from Burj Khalifa and Dubai Mall. Guests can also take advantage of the hotel's transfer service, a boat trip from The Jetty pier to One&Only The Palm, situated on the private Palm Peninsula.
Caesars Palace Dubai
Caesars Palace Dubai is a luxurious and laid-back hotel that appeals to travellers who enjoy a luxurious holiday experience.

The hotel is one of the few luxury stays located on Bluewaters, Dubai's most popular island oasis and lives up to its name by offering world-class restaurants and entertainment, as well as luxurious suites that rival the apartments of real kings. Each suite is elegantly decorated in contemporary style with fine Romanesque touches, including spacious seating areas, marble bathrooms with custom-made bathtubs, a furnished balcony, and additional amenities such as your own butler.

The hotel also offers stays in standard rooms, with over 12 unique restaurants, kids and teen clubs, a fitness centre with multifunctional equipment, a 500-metre private beach, temperature-controlled pools (Neptune and Fortuna), as well as the Cove Beach Club, Spa Qua Salon. All of these amenities are just steps away from Ain Dubai, the world's largest Ferris wheel, located on Bluewaters Island.