Golfing Around
By Simon Gusev


Golf, golf, golf...how sweet the sound. Nothing like spending a few hours outdoors, competing against friends, or just playing solo. But why do we love it so much? Perhaps, because it's fun and rewarding, it challenges us physically and mentally, and we can practice the game anywhere we want. Since it originated in 15th-century Scotland, golf has been captivating people worldwide with its simplicity and elegance. More recently, the game has become synonymous with the luxury lifestyle. So, golf courses and clubs started popping everywhere, targeting local elites. But it doesn't mean that all the golf spaces are good. And the search for the perfect one might be challenging at times. Here, at IPremium, we decided to ease your pain and compiled a list of exceptional golf clubs – the pearls of all holes.

These four golf courses, located in or nearby top destinations, are sure to pamper even the most sophisticated souls.

The Royal Mougins Golf-Club

Royal Mougins Golf Club is undoubtedly one of the best golf clubs on the vasts of French Riviera, the Alpes-Maritimes, maybe even in Europe – mainly because of the quality of the championship 18-hole golf course, but also for its preserved natural environment and all the top-of-the-range services, making it a grassy gem of the French Riviera. Besides, the club was awarded "Best Golf Resort of France" three years in a row from 2016 to 2018 by the "World Golf Award". Founded in 1993, The Royal Mougins Golf-Club is superior to most of the worldwide golf establishments when it comes to sporting lifestyle and competitions.

Thanks to the close partnership with Sports Association, the club's event calendar is full of all kinds of tournaments throughout the year, such as the "Dutch Kings Day", the "International Agribusiness Pro-Am", or charity competitions such as "Balles Blanches", which aims to raise money for children in hospitals, with sports celebrities like David Ginola, Jérôme Alonzo and Luc Alphand taking part. But the most important charity event for the club is surely the "Monaco-US Celebrity Golf Cup", officiated by H.S.H Prince Albert II of Monaco and Pascal Grizot, chairman of the France Ryder Cup 2018.


www.royalmougins.fr/en/golf/



The Domaine DeTerre Blanche

Crowned as one of the most prestigious golf of the Côte d'Azur, Terre Blanche was voted for the third time "Best Golf Resort in Continental Europe 2021" by Golf World (UK). Nestled in a picturesque location near Lake Saint Cassien, in the heart of the Grasse hinterland, the club boasts unparallel perks such as the only training center of its kind in Europe, high-end and eco-friendly facilities, the Four Seasons Resort Provence Terre Blanche, a refined and contemporary SPA, and several great restaurants. Coming to the Domaine DeTerre Blanche, where valleys, lakes, ravines, waterfalls, and forests provide the inspiration for the courses, you are ought to enjoy yourself and absorb the wonderful nature around you.


https://www.terre-blanche.com


The Monte Carlo Golf Club at La Turbie | France

Designed by the same architect as Royal Antwerp, Willie Park, Jr., The Monte-Carlo Golf Club at La Turbie was opened in 1911 and is one of the oldest golf clubs in the region. Since then, it kept evolving into one of the most popular places for a high-end golf lifestyle. The club is nestled on a high altitude 900 meters above sea level and overlooking the Principality of Monaco. It offers a driving range, a putting green and pitching green, a training bunke, as well as an 18-hole golf course that has a rolling terrain – requiring extreme precision from players, yet there's no water in play. Despite its overall difficulty, some manage to complete the course with one ball. Maintenance is good, especially excellent and fast greens.





Golf Club Saint-Tropez | France

Nestled amid dramatic views of Grimaud, Gassin, Ramatuelle, and Saint-Tropez, the golf club is only 5 minutes away from Saint Tropez and the famous Pampelonne beach. Offering an enchanting game experience, a 6045-meters 18 holes course was designed by the renowned architect Thierry Sprecher and Gery Watine, former French number one. Thus, everything breathes with professionalism, but not boredom – the definition of which you won't even remember after making a few holes. Another amenity to check out is a 9-hole executive golf course. The design of this shorter course will allow you to make the first loop and return to the Club House or to continue playing on the back 9. Afterwards, you will be able to enjoy the views of the Port of Saint-Tropez, with all its sleek sailboats and the famous steeple, from hole 13. You may also want to boost your skills in a golf academy, where Stéphane Giraudo and Erwann Jouannic provide exceptional guidance. And nothing will bother you since the training spaces are quiet and serene – a perfect environment to pick up new tricks with professionals. For 1 or 2 persons, a one-hour lesson will cost you €70 and 9-hole course management will be double the price – €140. After an exhausting physical activity, you can relax in a Provencal-style 1600m² Club House. There, you can chill on one of the terraces that offer panoramic views of ochre-tinted villages and vineyards, while sipping on a refreshing hand-crafted cocktail, delivered to you straight out of an upscale, yet laid-back French restaurant-bar. As an alternative, you can head to Proshop to upgrade your look with new gear from well-known brands such as Ralph Lauren, or Luisa Buendia, as well as golf brands such as Footjoy, Titleist, and Taylormade. However, the main feature, besides the course, is the impeccable service. The attentive staff is ready to answer all your needs and book your tee times with a welcoming smile. Overall, the place is incredible and worth visiting.



Learn more about Golf Club Saint-Tropez at golfclubsainttropez.com.


East Sussex National | England

Founded in the mid-1980s, this superior golf complex consists of two renowned courses. It is located in East Sussex that is about 2 hours away from London. But the drive worth it, at least because it is ranked 28th in Europe, according to leadingcourses.com. Two courses and the three-hole academy course with USGA specification, which boasts excellent drainage and putting surfaces, matching any of the major championship courses, were designed by Robert E Cupp, an American course architect. Since opening, the club has seen many legendary championships like European Open, European Challenge Tour Events, PGA European Tour Qualifying Schools, and even Sky televised 2016 PGA European event.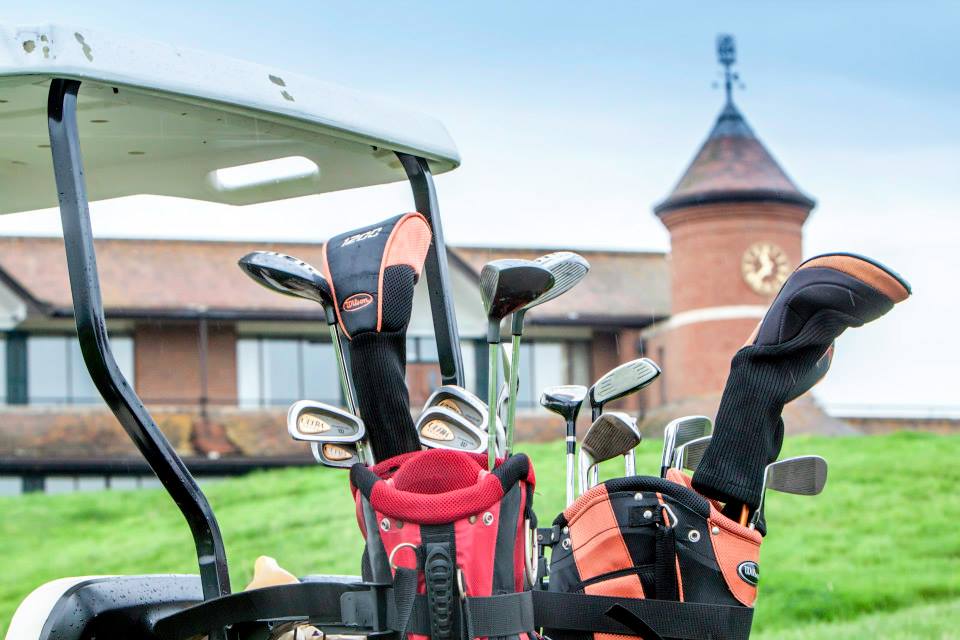 Both courses remained largely unchanged and unique – making a regular game an experience to remember. The green fees go up to £50 and individual memberships go for £1,785. After some golfing, you may unwind at The Horsted Health Club that features a state-of-the-art gym, fitness classes, dance studio, indoor pool, sauna, steam room, and Jacuzzi. Another option is to hit Horsted Spa, an oasis of relaxation, where soothing treatments will make you feel refreshed and truly pampered. Or if you feel hungry, don't miss out on the opportunity to dine your soul out in one of the two great restaurants, The Pavilion and Hunnington's At The 19th, or Sussex Lounge. Ultimately, East Sussex National is a truly aristocratic resort with all the needed facilities for golf aficionados.



Learn more about East Sussex National at eastsussexnational.co.uk.



Yas Links Abu Dhabi | United Arab Emirates

Located on Yas Island, a multi-billion dollar project and home to several world-class attractions like Formula 1 Grand Prix racing track and the Ferrari World theme park, Yas Links has superb, high-quality golf courses and excellent facilities. The golf facility boasts with 18-hole layout, a 9-hole academy course, and a floodlit practice area. Kyle Phillips, a master-mind architecture behind the projects, managed to shape nearly two miles of coastline and use almost 2 million cubic meters of dredged sand to create this elegant and sleek golf wonder. It took over three years to complete Yas Links. But hard efforts didn't go in vain because now, the Par 72 Championship Links course currently ranks 48th in Golf Digest's Top 100 courses in the world and 60th in the World by Platinum Clubs of the World. And, it is necessary to say, the course lives up to its reputation. Especially with its marvelous golf academy, which offers different packages that will fit a player of any level and skill. The special deal is Access Golf that features unlimited group lessons monthly for different types of players: develop, improve, and perform. The last, but not the least amenity worth mentioning is dining. Hickory's Restaurant serves traditional European plates with Middle Eastern flair, and MATSU aims to capture the real taste of Japanese dining culture. With everything mentioned above, Yas Links sounds like an amazing destination for your next game of golf.


Learn more about Yas Links Abu Dhabi at troonabudhabi.com/yas-links/.


Skolkovo Golf Club | Russia

In that land, where "the December snow is pure as the very devil, and the snowstorms drive merry spinning-wheels", lies one of the best European courses, waiting to be discovered. The second Russian brainchild of Jack Nicklaus, Skolkovo Golf Club in Moscow boasts with dozen lakes and over a hundred bunkers – quite a challenge for any type of golfer. A high technology business area, also known as the Russian "Silicon Valley", was built within the borders of the Skolkovo Innovation Center. The course provides amazing entertainment for the overworked elite. After the Russian Open championship reappeared on the European Tour schedule in 2003, it finally made its way to Skolkovo in 2015, just one year after the course opening.




The great feature of this club is surely its membership. It allows you to participate in active club life that includes award ceremonies, tastings, movie screenings, New Year celebrations, family brunches, masterclasses for children, and other activities, including a club jacket from Loro Piana. Tee times and karts can be booked 10 days beforehand, while caddie, the one who carries a player's bag and clubs and gives the player advice and moral support, up to 24 hours before ensuring all parts of the game go smoothly. The club also features a contemporary restaurant with simple, high-quality dishes with minimal heat treatment. The restaurant is divided into two zones: the Member's Lounge for club members only and a terrace part, open to guests all year round. Overall, great features and majestic landscapes promise an excellent golf experience.



Learn more about Skolkovo Golf Club at skolkovogolf.com.

Stay tuned for more updates on luxurious lifestyle with IPremium.