Step into the realm of luxury wellness and embark on a transformative journey at the renowned Spanish wellness clinic, SHA. Far more than a mere medical facility, SHA offers a sanctuary where individuals can revolutionize their lives, restore health and balance, and cultivate optimal habits. In essence, it is a place that caters to the discerning needs of today's successful individuals—those who yearn to slow down, prioritize their well-being, and indulge in the elusive pursuit of a healthier lifestyle.

For the editor-in-chief of iPremium&iTravel, that guiding light came in the form of SHA clinic—an establishment that not only provided direction but also granted her the opportunity to transform her life for the better, enabling the realization of her deepest desires.

Like many in my circle, I reached a point where a lifestyle overhaul became a necessity. Over brunch conversations, trendy buzzwords like wellness, bien être, healthy, and detox seemed to dominate.
One of my personal favorites happens to be the Spanish gem, SHA, nestled in the coastal town of Albir along the Mediterranean shores. This beloved wellness clinic, with its 11 secluded residences and healing center, adheres to a holistic approach, seamlessly blending Eastern medical traditions with innovative methodologies.

For me, SHA embodies the perfect fusion of value and quality, and it is through this article that I share my personal retreat experience.

If asked to distill SHA into a few key associations, I would highlight its commitment to healthy cuisine, tailor-made programs, opulent suites with breathtaking views, an esteemed clientele, and a focus on rejuvenation. However, the advantages extend far beyond these facets—I have handpicked them all for your discerning consideration.

Unparalleled Hospitality

Legends abound when it comes to the hospitality of SHA Wellness Clinic. In 2015, GQ and Conde Nast Traveller bestowed upon this establishment the prestigious titles of the best spa hotel on both national and international levels. Furthermore, in 2013, the Spanish government awarded SHA a medal in recognition of its outstanding contributions to the field of tourism. Is it a clinic, a spa hotel, a thalassotherapy center, or a wellness resort? Perfectly fitting slippers, a customized mattress, and tailored pillow height ensure your utmost satisfaction. The menu is carefully crafted to accommodate your dietary restrictions. If you wish, ozone therapy sessions can be rescheduled for your convenience. Even when staying in, a friendly smile accompanies the delivery of a refreshing green smoothie to your room. SHA goes above and beyond to create a truly personalized experience where every detail is designed to promote your comfort, health, and overall success. With personal programs, concierges and planners, useful mobile app your journey to healing is in the best hands.
Rejuvenation on a Schedule

Although procedures can be rearranged, the program at SHA is designed to be highly immersive. Prior to arrival, guests are required to fill out a questionnaire, which serves as the foundation for their personalized schedule. This schedule can be further adjusted based on individual preferences. Personally, I developed a fondness for the intravenous ozone therapy—an absolute gem within SHA's offerings. Ozone works wonders for the body, stimulating the immune system, enhancing oxygen supply, and rejuvenating one's vitality. It truly feels like a "breath of fresh air" for a weary organism.

The components of the program are tailored to the goals and individual characteristics of each patient. They may include qigong, acupuncture, brain electrostimulation, laser blood irradiation, or sessions with a specialist in mental disorders. Choosing from programs such as "Detox," "Optimal Weight," "Healthy Aging," and "Rebalance," one can rest assured that these experiences bear no resemblance to group aerobics classes or generic injections and steamed asparagus dinners.
Treatments for body and mind

SHA Wellness Clinic offers a wide range of modern medical treatments, from naturopathy to sleep medicine. Among the favorites of the chief editor of the magazine are the Hydroenergetic Detox Cure, Acupuncture Session, Corporal Icoone, TIAI Session on Pelvic Floor Health and Sexual Dysfunctions, and Underwater Therapy.

Also I recommend to try Relax & Energy Infrared Far Heat. Is a procedure that strengthens weak areas identified through energy assessment on a physiological level. Combining infrared radiation with pulsating electromagnetic fields (PEMF) and optimal electromagnetic balance with bioresonance, it precisely targets vulnerable points to optimize overall health. This treatment enhances physical, emotional, and mental well-being while promoting the body's self-healing mechanisms.

SEROTHERAPY is also one of my favorite. It involves intravenous administration of special combinations of bioregulating substances, vitamins, and minerals. It is particularly recommended for those who want to quickly and effectively restore their biological homeostasis and well-being with minimal toxicity. The most popular ones include Cleanse Detox, Antioxidant, Aminoessentials, Alkaline, Weight Control, Mental Balance, Collagen Booster, and Liver Repair. NAD & Mito-Rebalance - It is a coenzyme present in almost all cells of the body. Restoring its levels through intravenous administration improves heart health, overall metabolism, and helps with chronic inflammation, weakened immunity, cognitive decline, metabolic disorders, sarcopenia, and age-related asthenia.
Fernando Rojo, General Manager
Massage for Every Taste

As an avid traveler with a deep love for spas, I have never encountered such a variety of massages as I have at SHA. They offer all types of body treatments invented by humanity: from lymphatic drainage, sports, anti-cellulite, and detox massages to Thai and ancient Ayurvedic techniques, and Japanese shiatsu. The latter is my favorite: the specialist applies pressure to key points all over the body, and it feels like a stream of life energy (Qi) flows into you, washing away stress, tension, and anxiety.

Also for those who want more medical effect there are sessions of STRUCTURAL, CRANIOSACRAL, VISCERAL OSTEOPATHY.
Cutting-Edge Diagnostic and Treatment Equipment

The meticulous doctors at SHA go beyond collecting medical history. Stepping into one of the pristine white offices, your gaze is immediately captivated by ultramodern equipment, evoking the sensation of being transported to a futuristic space shuttle.

Dr. Bruno Ribeiro, a neurobiologist, employs state-of-the-art equipment developed by NASA for the trendy transcranial brain electrostimulation. Meanwhile, the specialists conduct diagnostics in the specially designed Health Screening Lab, where each test is visually explained on a large-format screen. Many of the tests are non-invasive and painless, adding to the overall comfort. Personally, I was particularly fascinated by the test measuring brain activity. It is indispensable for those seeking to enhance their cognitive abilities, as special exercises devised by renowned Professor Bruno Ribeiro can help unlock the full potential of the brain.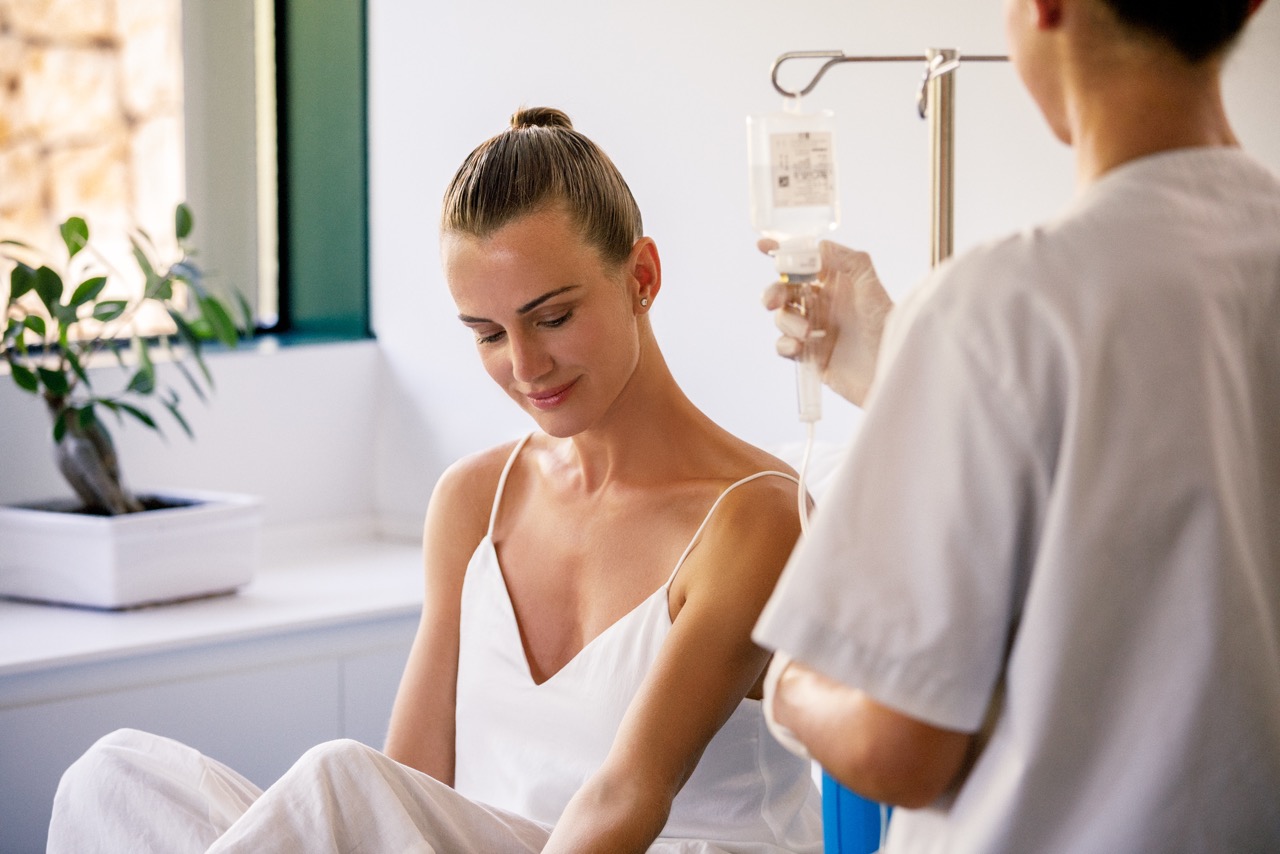 Mood-Enhancing Cuisine

Detox programs and delicious food are often seen as incompatible, but not at SHA, where SHAMADI restaurant serves miso soup for breakfast as a probiotic, while lunches and dinners amaze with high cuisine dishes. At SHA, they follow the principles of macrobiotic cuisine, using the freshest organic ingredients that positively impact all five senses. They also keep up with the latest scientific discoveries: the menu aligns with the latest research from prestigious universities such as Harvard and Cornell (part of the Ivy League) and the World Health Organization. I am quite picky when it comes to food, but in the entire menu, I couldn't find a single dish I wanted to pass up. Perhaps this is the secret to resetting one's diet: finding dishes that you want to incorporate into your everyday menu not just for weight loss purposes.
You can learn new recipes and uncover the secrets of SHA's chefs at fitness nutrition masterclasses—and now I even cook some dishes from their menu at home.

White Minimalism

Outside, there are citrus groves, Zen gardens, and mini-golf spaces, while inside the buildings, there is a sense of coolness, with pristine white floors, ceilings, comfortable chairs, and bedding. Nothing distracts from immersing oneself—minimalism helps you breathe, recharge, rid yourself of harmful habits, and acquire new, better ones.
Convenience without Harming Nature

Those who care about preserving nature can rest assured: there's no need to sign dozens of forms, agreements, and other documents. Everything is conveniently managed through a mobile app with a calendar. I liked that I didn't have to keep in mind the time for meals, doctor consultations, or massage sessions—it's all at your fingertips, and most procedures can be added or rescheduled independently.

A Star in the World of Genetics and Rejuvenation

Dr. Vicente Mera, the head of the clinical and anti-aging medicine department, a graduate of the University of Seville who previously worked at the prestigious Puerta de Hierro clinic in Madrid, can truly be called a superhuman. He admits to sleeping only four hours a day, devoting the rest of his time to studying the latest advancements in medicine, aiming to help patients "hack the system" and extend their youth and overall lifespan by 10, or even 20, years.

SHA VIP COMPREHENSIVE ANALYSIS

Undoubtedly, this is the most comprehensive personalized genetic analysis, which includes the analysis of polymorphisms in 86 genes. It allows you to discover the risks of various pathologies in areas such as weight control and obesity, cardiovascular risk, liver detoxification, osteoporosis, emotional well-being, and more.

GINEGENES: Genetic analysis of the risk of hereditary breast, ovarian, or uterine cancer. Evaluates 19 genes.

MAMAGENES: Genetic analysis of the risk of hereditary breast cancer. Gene sequencing (BRCA1 and BRCA2) with 100% coverage.
Non-Boring Evenings

Evenings at a wellness resort are a time for oneself, and here you have all the conditions for relaxation. French comedies in the VIP cinema with luxurious leather seats, an evening with a book in the multilingual library, meditation in the Zen garden, or relaxation in your own glass-walled pool that seems to float in the air? Here, you can try it all.

Results-Driven

The problem with many detox programs is that they act as a temporary patch on an organism worn out by an unhealthy lifestyle: after returning from a retreat, energy depletes once again. I don't call SHA a reboot point for nothing: here, I truly managed to change my life, and most importantly, maintain those changes. I feel relaxed, grateful to myself, and I have truly learned to love myself, regulate my diet, and establish a routine. Miso soup for breakfast, no alcohol or caffeine—I didn't know I could adhere to these rules without suffering until SHA, and now I see the results: my stomach and intestines work like clockwork.

But even more surprising are the mental changes: I fell in love with meditation, conscious travel, felt a closeness to Japan, found balance, and gained the energy to pursue what I had envisioned. SHA has become a second home for me, and I have decided to return to the clinic twice a year—especially since their new location in Mexico is opening soon.