LUX* South Ari Atoll is unique among Maldivian hotels. It was the first resort built 30 years ago on the mysterious Ari Atoll, far from the island nation's capital. And it has since changed hands and titles numerous times. But two things that haven't changed are its concept and its spirit: sensory luxury, care for the environment, and creating a paradise for everyone.
Lux means "light" in Latin, and you can find it everywhere here; from the soft rays of the morning sun over the ocean and specks of white sand to airy, elegant villas and pavilions. The resort has 193 of them, all artfully dotted along the endless beach and Azure lagoon, creating the feeling that you're alone on the island like a happy Robinson Crusoe. Panoramic windows and pools provide breathtaking views of the Maldives' purple sunsets, and you can swing above the water for hours in carved wooden "nests", all while listening to the roar of waves and mesmerizing bird calls.
LUX* South Ari Atoll has won multiple awards as the Maldives' most sustainable hotel, and they are all well deserved. The resort doesn't use single-use plastic - even coffee to go is served in bamboo cups - grows herbs and vegetables in its own garden, plants corals, and uses recyclable materials. Most importantly, it actively employs solar energy not just for its buildings, but also to power shuttle buses that you can hop on to cruise around the island. Guests can get involved in eco-activities (optional, of course), ranging from ocean cleaning to lectures on rare marine life species. Speaking of rare marine life, LUX* South Ari Atoll is one of the few places in the Maldives where whale sharks can be spotted all year round. While they look intimidating, these gentle giants feed on plankton and are completely harmless. You can spend your days exploring the ocean depths on a traditional wooden dhoni boat, swimming with manta rays and turtles.

LUX* South Ari Atoll believes that sport is key to a good holiday, and provides a plethora of opportunities for it: jet skis, paddle-boards, hoverboards, flyboards, wakeboards, water-skis, knee-boards, windsurfs, kite surfs, sailboats, banana boats, inflatable banana boats and other tubes, but also fishing, parasailing, catamaran outings… And that's just at sea! On land, go for a morning jog around the island (1.8 km for those counting), take your yoga practice to new heights, play beach volleyball or tennis, or hit the gym if you're feeling up to it.
The Hotel promises a "Lighter. Brighter" experience" and it's not just about the design. Luxurious service is very much alive here, along with genuine Maldivian hospitality and deep consideration for each guest. There are plenty of mysterious rituals. For example, every morning, the gardener hides 25 bottles throughout the resort, each containing a note which can be exchanged for a prize - so make sure you search thoroughly. There's also a Tree of Wishes in the garden, to which you can entrust your most cherished wish by writing it on a ribbon and hanging it on a branch. Every year the resort picks one ribbon which entitles its owner to a free island vacation.
Gastronomy is a work of art at LUX* South Ari Atoll. All its restaurants resemble impressionist paintings, full of colors and joy. A prime example is the Beach Rouge bar; absorbed by Parisian red light, its crowning jewel is a giant scarlet orchid which blooms on the ceiling. East Market serves Asian-inspired breakfasts and dinners, while Umami serves fresh sashimi and the chef's teppanyaki complemented by rare sake. Senses restaurant's modern take on classic Indian and Maldivian dishes make it a must-try — its spicy fish in banana leaves is a foolproof hit.
Lux* South Ari Atoll is the first resort in the Maldives recognized as ''Vegan Friendly Hotel'' by Vegan Welcome. Plant-based food lovers can pick from our vegetarian and vegan menu ''Keen on Green'' across all our restaurants. You will be spoilt for choice at Umami with Yaki Udon noodles, Yasai Maki rolls and Japanese coffee jelly; Or, the black truffle & porcini pizza and Vietnamese bean curd at Veli Bar. Enjoy guilt-free meals with a selection of sustainable delicacies brimming with organic goodness.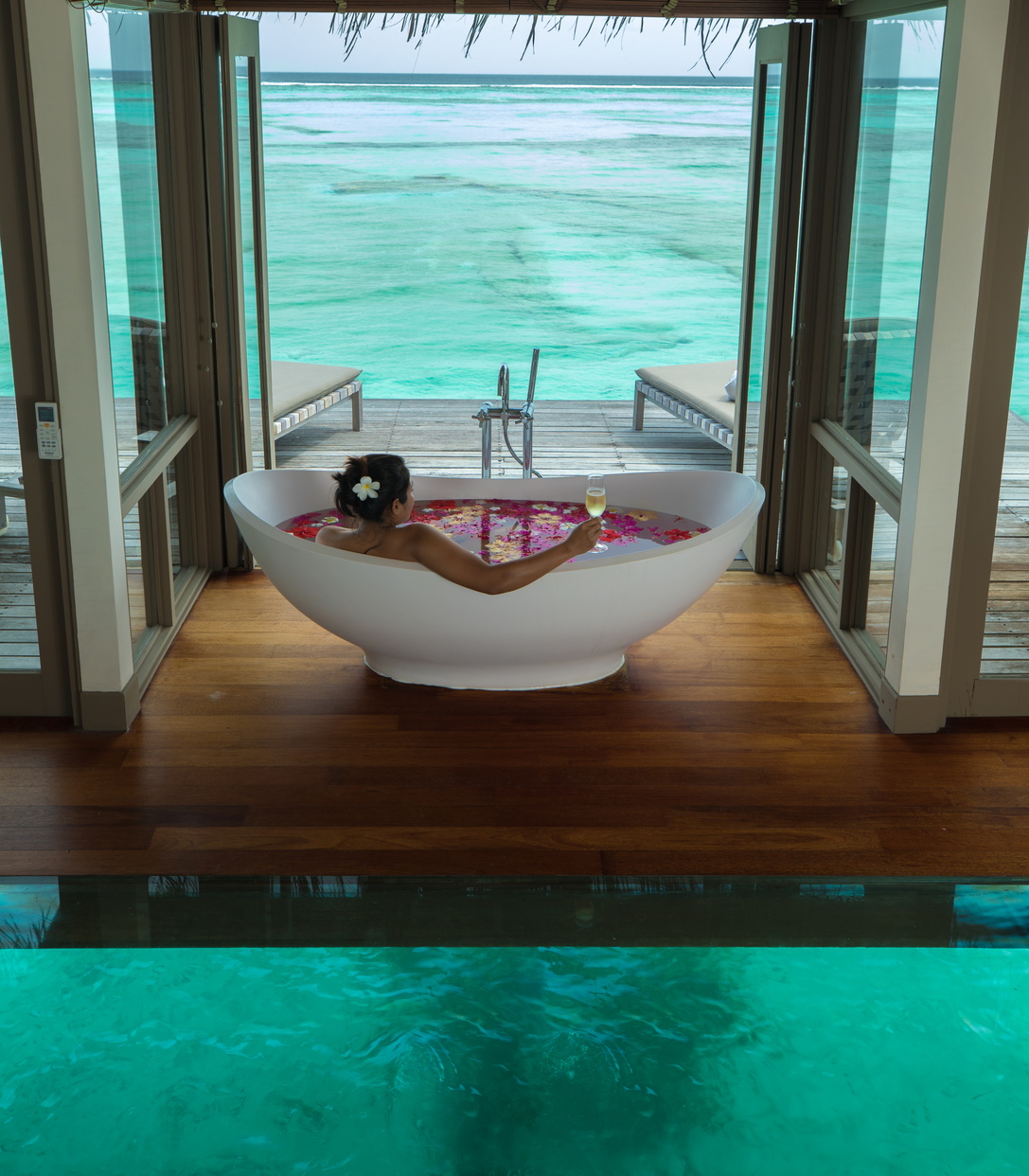 A HASSLE-FREE, ALL-INCLUSIVE STAY
Imagine this. You're on a family holiday. It's becoming hard to keep track! You want to relax, not keep having to sign a tab. This is where our All-Inclusive comes in handy. Six restaurants and five bars (if you were to spend seven days here, you could dine at someplace different each day). 30% off our chic Japanese restaurant, Umami, as well as at our Italian restaurant, Allegria. An impressive selection of drinks: 80 wines and 50 cocktails. A serve-yourself minibar. As-much-as-you-can-eat ice cream during afternoon tea. Time spent with loved ones is precious. Make the most of it!
The hotel's pride and joy is the LUX* ME Spa, which has been repeatedly recognised as the best among island resorts. Shirley Page, a well-known aromatherapist, has created massage oils specifically for LUX*. There are over 60 treatments to choose from, including a signature ten-hand massage. It's also one of the few hotels in the Maldives with an impressive relaxation zone: from a sauna to a hammam, which is the perfect place to spend a rainy day — although they're few and far between on these islands. The spa area is specially designed for guests to immerse themselves in views of the ocean and surrounding tropical greenery from every angle. Here, you can feel peace and light filling not only your body, but also your soul, and engage in meditative, relaxing rituals all day long.