Under the French Sun: The Best Beaches of the Côte d'Azur

Côte d'Azur is a destination for true connoisseurs of luxury and joy. The crystal vasts of the Mediterranean sea annually lure thousands of celebrities, millionaires and aesthetes into their fishnets. Only on the famous Cote d'Azur you can meet a star after the Cannes Film Festival or like-minded souls at the Red Cross Ball. The excitement from Michelin-starred restaurants combined with French elegance will make your stay unforgettable. A striking charm fills the air and envelopes the local population with their adherence to etiquette and sophistication, reminding you of exclusivity and elitism. Many celebrities have already snatched a piece of the local flavor by purchasing houses with the best panoramic views.

We also suggest that you do not delay your decision and embrace the mild climate and blue waves of the French Riviera.

To appreciate the delights of luxurious locations, we advise you to visit the local beaches. Believe us; real yin-yang reigns here, where the beauty of nature harmoniously merges with urban chic.


Monte Carlo Beach

A timeless yet resolutely modern lifestyle
This glamorous and modern beach located at the Monte Carlo Beach Hotel, a seaside hotel, designed by architect India Mahdavi, exudes elegance. The private beach has an Olympic-sized pool and Elsa, a 100 % organic food & wild caught fish Michelin-starred restaurant Ecocert certified.

Its an iconic place for enjoying la dolce vita of the Rivera: that was what the creators had in mind back in the 1930s. Contemporary and chic with an intimate feel, the Monte-Carlo Beach redesigned by architect and designer India Mahdavi is a like a poem paying tribute to the colours and shapes of the sea.


www.montecarlosbm.com

Get ready to relax in the sun... with the solarium, tents, cabins and bungalows. Whether you're seaside or poolside by the Olympic-sized pool, relaxation is the only thing on today's agenda. If you enjoy sports & leisure activities, the Monte-Carlo Beach Club offers a wide array of water sports: parasailing, tubing, boating aboard the Mastercraft®, Flyboard® and more. And let's not forget the charming spa!


Eden Plage mala, Cap D'ail

The bay and beach of Mala are famous for their clear water and breathtaking views of the sea and mountains. Many say the name Mala comes from the Russian word "small", which could be true, considering the Russian nobility of the 19th century being frequent visitors at Cap d'Ail for relaxation and upscale service. Eden Plage boasts friendly service and great food. Many say the beach restaurant owner travels every day to buy fish from the local market and even travels to neighbouring Italy for the Mediterranean Sea. Bali-style interior, great food, smiling waiters and magnificent marine vasts. We recommend spending a whole day here and then taking a water taxi to the Monaco Yacht Club. Be sure to check out a local boutique for a unique outfit or a peculiar souvenir from your vacation.


https://edenplagemala.com/


Balzi Rossi, Ventimiglia/ Menton

This secluded beach between the towns of Menton (France) and Ventimiglia (Italy) is divided into two zones: paid and free. The paid area has amazing sun loungers, umbrellas, and everything is as it should be. But the game-changer is a white sand two meters from the shore. The free zone is a bit on the wild side with a natural stone backdrop. There is also a museum very close to the beach, a grotto cave overlooking the sea vasts.


https://www.balzirossi.it


Baia Bella, Beaulieu-sur-mer

Baia Bella is a dream come true for those in love with luxurious summer getaways. This art-oriented, eco-friendly, locally sourced beach club aims to bring together visitors in the beautiful surrounding nature of Beaulieu-Sur-Mer. The platforms for artists, food producers, and intergenerational people to exchange ideas and enjoy their holidays, Baia Bella takes great pride in its menu, which embraces the Mediterranean culture as well as the slow-food movement. If you are after simple things in life, great food, welcoming company, ambient decor – choose Baia Bella.


https://www.baiabella.com


Club Dauphine Saint-Jean-Cap-Ferrat

With the crystal clear waters of the infinity pool and sparkling sea in a backdrop, this open-air poolside restaurant and club invite its visitors to indulge in all-day poolside relaxation accompanied by Provençal salads and grilled fish paired with a glass of local rosé wine. Besides, the spot boasts picturesque views of the magical sunset – the natural highlight of Cap-Ferrat. Those who enjoy romantic dinners will surely savour colors that range from the deepest, vivid red to a light pastel tone, evoking bright emotions.


https://www.fourseasons.com


Passable Plage Cap Ferrat

Right at the base of the Cap Ferrat peninsula, Plage Passable is a small but perfect beach composed of sand and small stones. Originally called Letitia beach, it was destined to please the celebrated guests of the Grand Hotel. Facing west, the plage opens up the magnificent views of Villefranche bay, especially at sunset. The protected cove has calm waters and a shallow drop-off. To escape into the majestic Middetarenean horizon, get one of the boats docked in Villefranche bay.


https://www.plage-de-passable.fr


Anjuna Eze

Nestled in a cove at the foot of the cliff, this beach restaurant has evolved season after season, re-inventing and improving itself each year, becoming more beautiful and especially more audacious to lure locals and tourist crowds alike. With its secluded location in a secret bay, the restaurant invites its visitors to experience the islands of the Indian Ocean by incorporating Indonesian decor. Tropical plants and turquoise chairs create a unique hue reminiscent of the colours of the Balinean sea. You will discover local cuisine showcasing savory Mediterranean recipes made using fresh produce.


http://www.anjunabay.com


Keller plage Antibes

This sandy beach is located at the tip of Cap d'Antibes in La Garoupe Bay – an unspoiled natural site. Whether you sit at the table or lying down on a deckchair, you will thoroughly enjoy the magical view of the Bay of Angles and the peaks of the Alps, still snow-covered at the start of the season. What can be better than relaxing with multicoloured Mediterranean views, the sky, yachts and fabulous houses while savoring delicious dishes paired with exquisite local wines?


https://www.plagekeller.com/en/


La Môme, Cannes Croisette

Founded by Antoine and Ugo Lecorché, this restaurant offers Mediterranean cuisine made with fresh and seasonal products. Every evening, the restaurant La Môme welcomes locals and foreigners to enjoy the pleasure of a little corner of beach tranquillity in the heart of a busy city. Just opposite the La Môme restaurant is its Cocktail Bar. Inspired by New York speakeasies with an intimate and cosy atmosphere, this establishment offers you the opportunity to accompany your evening with beautifully crafted cocktails. Whether you are having a tête à tête or a quiet evening with friends, you will be welcomed to sample the best of the best beverages in the whole Cannes.


La Môme Plage - Votre plage Privée à Canneshttps://www.lamomeplage.com


Annex Beach, Cannes Croisette

In the middle of La Croisette and near the Hotel Carlton, L'Annex provides an elegant backdrop, boasting with a unique ambiance of relaxation. Fusing fine dining and sunbathing, this beach is great for both foodies and those in love with spending vacations under the sunshine. It's also a great place to sample cold fish and seafood, from chilled oysters to hand-crafted sushi. Here, we also recommend sampling wonderfully cooked in different styles from Sicilian and Thai to French and even Moroccan. Don't miss out on Annex – the culinary gem of Cote d'Azur.


https://www.annexbeach.com


La Guérite, Sainte-Marguerite island

Boasting a spacious sandy beach Since 1902, this restaurant nestles on the rocky cove of Sainte-Marguerite island in front of Cannes, offering authentic Mediterranean cuisine with a healthy flair. The beach offers over 400 m2 of sand bordered by the shores of the Mediterranean Sea. Thanks to its three separate areas that include the restaurant, the beach, and the lounge La Guérite seduced a worldwide clientele with its charm, authenticity, and excellent cuisine.

https://cannes.restaurantlaguerite.com


Naos

Care to start your day with a combination of fabulous sea views, crystal clear waters and fresh local produce? Then there's no need to hesitate with your decision – come to Naos. You are welcome to discover and share the pleasures of our Mediterranean cuisine, fruity juices, floral wines and hot drinks. Boasting with comfortable sunbathing areas and sublime fine dining establishments, you can enjoy the sunshine by day and dinner under the stars by night.

https://www.naosbeach.com


Beaches of Saint-Tropez

The mecca for wealthy tourists, snow white sand and sunset filled bays — true aesthetics of the ideal vacation. The time has come to choose the place and venture forth to new adventures and pleasant warmth.

Today travel to a resort that doesn't need much introduction – Saint-Tropez. This sunny seaside town with its superb beach scene is one of the trendiest and most visited spots of the Côte d'Azur. And since the sunbathing season is around the corner, we decided to make the list of must-visit private beaches in Saint-Tropez for your convenience.





Verde Beach

The first lux spot on our list is Verde "Boho'Chic" beach. The beach can boast excellent amenities and beautiful views. It is decorated in a white palette with cut driftwood, boho seats, and armchairs that promise supreme relaxation. Besides, it is open from 11 am to 7 pm, giving sleepyheads a chance to enjoy the sunshine while listening to chill lounge music. After 4 pm, the bar offers a handcrafted aperitif that will brighten your mood. This beach is for people who enjoy proximity to the city yet want to experience the serenity of the remote tropical island. Learn more at verde-beach.com




Nikki Beach Saint-Tropez

Another great spot to soak up the sun is Nikki Beach, which was open in 2002. This place offers oversized plush daybeds, creative cocktails, and trendy music sets from world-class DJs. Besides, you can enjoy various dishes, pairing them with some of the best Champagnes, including Perrier-Jouët, Dom Pérignon, Krug, and Cristal. This beach is an embodiment of a luxurious lifestyle, where you can meet everyone from jet-setters and celebrities to the local French elite. Learn more at saint-tropez.nikkibeach.com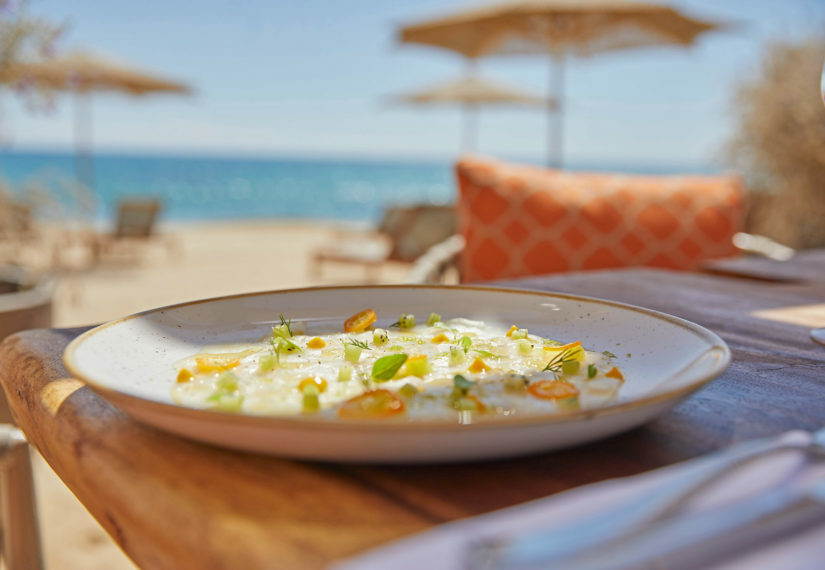 Byblos Beach Ramatuelle

For those who crave both exquisite food and wonderful sunbathing experience, Byblos Beach is your guy. In the afternoon, you can relax on one of the comfy sunbeds and sip tailor-made cocktails. Afterwards, we recommend exploring an extensive Mediterranean-inspired menu that includes Grilled food, Ceviche, and Fresh Vegetables. But the unique feature of this beach is that it offers a boat shuttle for guests arriving by sea. Learn more at byblos-beach.com




Club Les Palmiers Ramatuelle

Designed by the sustainable international architect Philippe Madec, Les Palmiers embodies the notion of eco-friendly architecture – a natural, pristine setting that makes you feel in harmony with elements. Thus, pure white and wood decorations create a sense of pleasant simplicity and tranquility. But don't let yourself be fooled by an innocent vibe around you. When light gives way to darkness, the beach transforms into a party scene with a posh ambiance fueled by creative cocktails and flavorful vapors from well-prepared shishas. Les Palmiers set trends and defines the very idea of 21st Century lifestyle beach. Learn more at clubpalmiers.com




Loulou Plage & Restaurant

Originally from the world capital, Paris, Loulou established its summer residence in Ramatuelle, on Pampelonne beach. With its retro ambiance, the establishment perfectly recreates the nostalgic 1950s French Riviera with a bohemian flair. Besides its unique style, Loulou receives its guests with elegance and lightness of the spirit – felt throughout its tranquil beach property and summer dining room. Experience a refined art of living with Loulou – the posh spot for elite relaxation. Learn more at loulou-ramatuelle.com




Shellona Saint-Tropez

Nestled on the legendary Pampelonne beach – a mecca of posh lifestyle, matchless color scheme, and crystal clear waters – Shelonna lives up to the highest expectations. Here, you can enjoy the cool breath of tender sea winds while savoring on favorite Greek dishes, known for their simplicity yet fantastic flavor combinations. The beach section perfectly replicates this Mediterranean home-like feeling, welcoming visitors from all over the world to relish the natural magic of Côte d'Azur. Learn more at shellonabeach.com/en/ramatuelle



Although beaches provide a superb rest and relaxation, we need a place to stay to recharge in order to come back to sunny delights.


WHERE TO STAY
Here's the top list of hotels in Saint-Tropez for your convenience:


Byblos

Ever since the Lebanese billionaire Gay-Para founded the Byblos in hopeless attempts to secure Brigitte Bardot, the elite has flocked here for superb facilities, spacious rooms, great entertainment, and of course, culinary delights by talented chef Rocco Séminara at Byblos kitchens. And whether you're indulging in a hedonistic lifestyle at the new Byblos Beach club or rubbing shoulders with Leonardo DiCaprio at the nightclub, this celebrity playground is the place to be seen and heard. Experience an elitist way of life in Byblos – the surprising fusion of luxury and laid-back joy.


Learn more at byblos.com


Château Messardiere

The Château de la Messardiere is a sumptuous, 117-room getaway for sophisticated local and international clientele alike. Housed in what was once a 19th-century castle, the hotel is a must-visit vacation spot thanks to its classic French fine dining options, superb spa, and even art gallery. The property is enveloped in fragrant gardens, water fountains, and exquisite sculptures, transforming seemingly ordinary experience into the unique journey to splendor. Elegant rooms and suites feature spa-like bathrooms and either bay or vineyard views. Consider The Château de la Messardiere if you are after sleek vibes and fragrant floral company.


Learn more at airelles.com/fr/destination/chateau-de-la-messardiere-hotel


Le Yaca

Tucked away in the historic village of Saint-Tropez, a majestic and charming 18th-century residence Le Yaca is just a stone's throw from the port and La Ponche beach. The guests thoroughly enjoy staying in the hotel, where boats are moored along with the port. Behind lies the village with its winding alleys and colourful façades – a breathtaking sight for even the most sophisticated clientele. The crafty stonework that withstood time and people fuses with Mediterranean gardens to give birth to the ultimate relaxation worthy of royalties. This unique renaissance experience helps you obtain the vital recharge from everyday stress and get ready for a novel adventure.


Learn more at hotel-le-yaca.fr/en/


Muse Saint-Tropez

Lush gardens and famous people have something in common – they both populate Muse Saint-Tropez. Upon entering the hotel, you find yourself in a paradise come-true setting, where spa treatments, exquisite interior, white-curtained cabanas, and elegant suites will leave you in awe. Each and every room here lets you experience the joy and picturesque surroundings of Saint-Tropez Besides. Who needs Brigitte Bardot's beach if you have your personal Muse – a place where you can safely dive into the whirlpool of superior entertainment and unparalleled elegance.

Learn more at slh.com/hotels/muse-saint-tropez


Hôtel des Lices

Hôtel des Lices is an excellent choice for those visiting Saint-Tropez. It is a pleasant combination of comfort and convenience, a charming atmosphere and services designed to make your stay a very pleasant one. The hotel provides services such as a 24-hour front desk, concierge service and an outdoor terrace, where you can bathe in fresh and tender sun rays to make your stay even more enjoyable. There is also a pool and pool bar. Your comfort and satisfaction are the most important things for the staff of Hotel De Lis. They look forward to seeing you in Saint-Tropez.


Learn more at hoteldeslices.com/fr/


WHERE TO FEAST
TOP 3 PLACES FOR DINNER


SALAMA

A spot of magic greenery, a new universe just a few steps from the famous Place des Lices in Saint-Tropez, the Salama carries you away to the shores of the Mediteranean Sea, to those countries where the spices, flavours, vegetables, dried fruits, meats and fish make surprising mixes giving you a fresh cuisine, full of sun and exotic flavours. La Villa Romana becomes the restaurant Salama



Just a few steps from the famous Place des Lices in Saint-Tropez
It was back in 1999 that Frédérique and Fabrice opened their restaurant Salama. The combination of traditional Moroccan cuisine based on simple and convivial dishes, served in an intimate atmosphere nestled in heart of St Tropez village, brought immediate success.
The garden, the setting and the history of this exceptional site have inspired Frédérique and Fabrice who've seized the opportunity to create an exceptional place where energies unite and pleasures converge.


L'OPERA

L'Opera is a unique experience in the heart of the Saint-Tropez village. Built as an arena, the restaurant mixes with refinement an exceptional gastronomy.
Every dinner will delight in soaking up the glamorous and sumptuous atmosphere, be enthralled by the creative and modern shows and enjoy the seclusion
of the private club.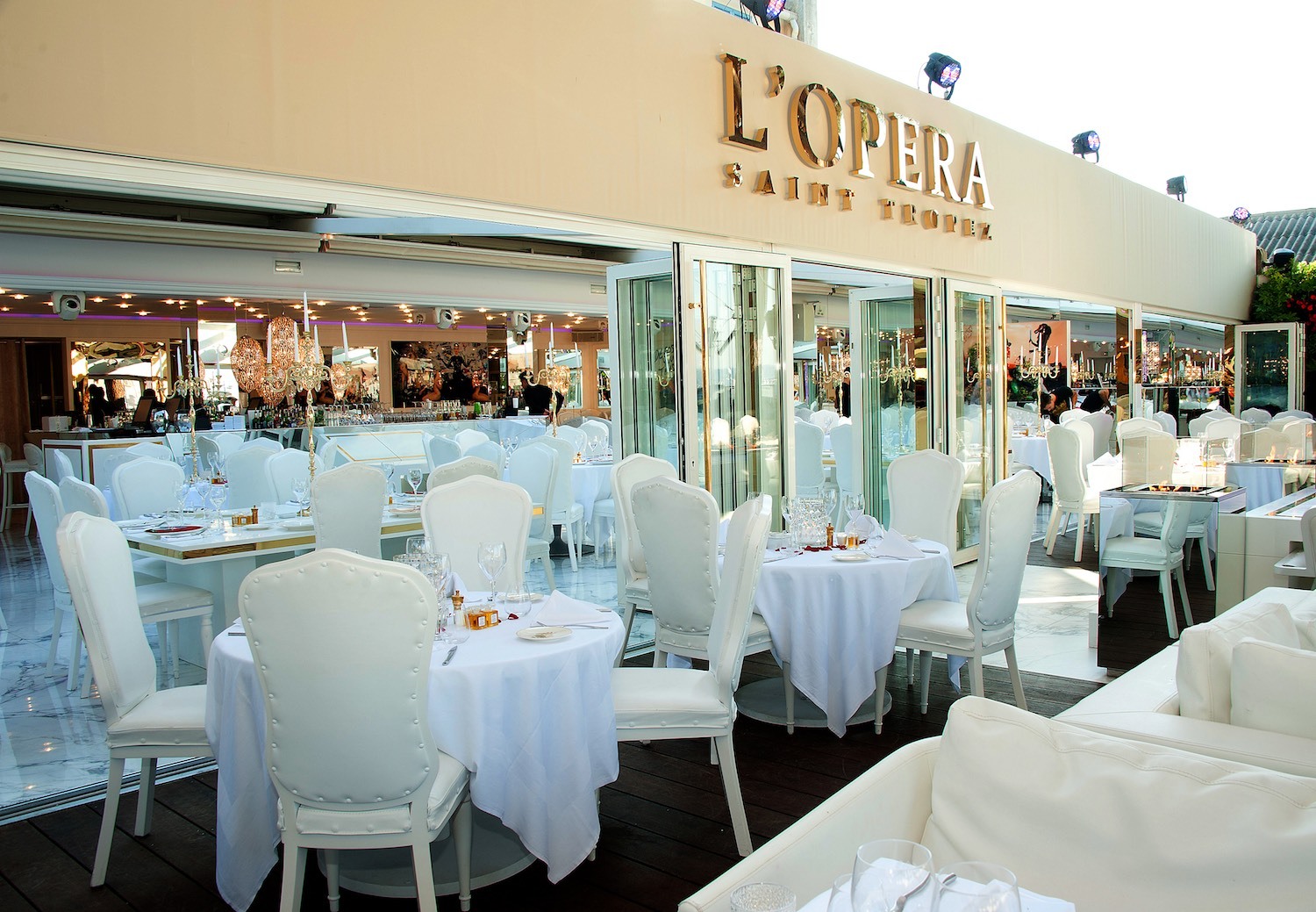 The menu features thoughtfully selected meals that highlight our Chef's talent. The range varies from French and typical Provençale cuisine, to worldwide specialties.
The outstanding Opera dancers and artists performance one after the other on the central podium tables, as on improvised stages, transporting the Guests u to another world for an exception evening's entertainment.


KINUGAWA

You will no doubt enjoy the subtleties and variety of our menu, that offers the very best in contemporary Japanese cuisine.
This elegant venue also boasts a breathtaking panoramic view of the bay that is second to none.