Today, we are going to admire new collections of eminent designers. But first, let's take a look at prêt-à-porter origins and its difference from haute couture.

"Ready-to-wear"– the name that immediately strikes a difference between prêt-à-porter from haute couture. Many critically-acclaimed fashion brands from all across the world showcase their ready-made creations in their runway shows twice a year. In contrast to haute couture, those pieces are usually not customized but come in standardized sizes. Rather than creating single pieces made to attract attention on the runway, designers aim to set new trends with their wearable prêt-à-porter collections.

That's why iPremium has picked the best and quite versatile looks from various shows from Pret-A-Porter Spring/Summer 2021 for you to gaze at and, perhaps, get inspired to refresh your wardrobe for upcoming floral seasons.



Let's start with the Escada spring-summer 2021 collection. This year's show was all about trendy two-piece suits with shorts, skirts, and dresses. This look is not completely new and comprise a basic part of fashionistas' spring-summer wardrobes. Escada offered two great options such as a bright blue suit with shorts, suitable for almost any occasion, and a stylish jacket with a sheath dress. Such freshness and chic of the look is masterfully completed by accessories like a bracelet, a necklace and earrings in golden. Gold sandals or pumps with pastel heels would certainly be appropriate for any celebration.



The next designer is Etro. This look from the fashion house is very summery. A dress with a bodice and a flowing hem with a slit in front, interestingly crafted in a beach style. They added bright yellow sandals, a white shirt with multi-colored stripes, unbuttoned but tied at the waist, and a straw hat. A gold necklace complements the look in an interesting way, focusing on the neckline.




Fashion house Fendi showcased its linen three-piece suit, which, in our opinion, one of the best compositions of the latest fashion trends. Featuring a shirt, shorts that cover the knee and a long summer coat with interesting embroidery to match the color of the suit, the look is sleek. And although it seems that the natural color of linen might not be the best one, we like that Fendi was able to adorn it so beautifully with a bold cut and delicate embroidery.



Next stop is Max Mara with custom black trench coat – the moment to details that make the black color look anti-gloomy. This is a completely classic trench coat, but just look at how unusually tailored the sleeves are. The cuts on them evoke thoughts about Japan, about the elegance of geisha and a might of samurai. With the proper combination of basic-color clothes, an unusual cut and some accents, there is a great possibility of looking both unforgettable and irresistible.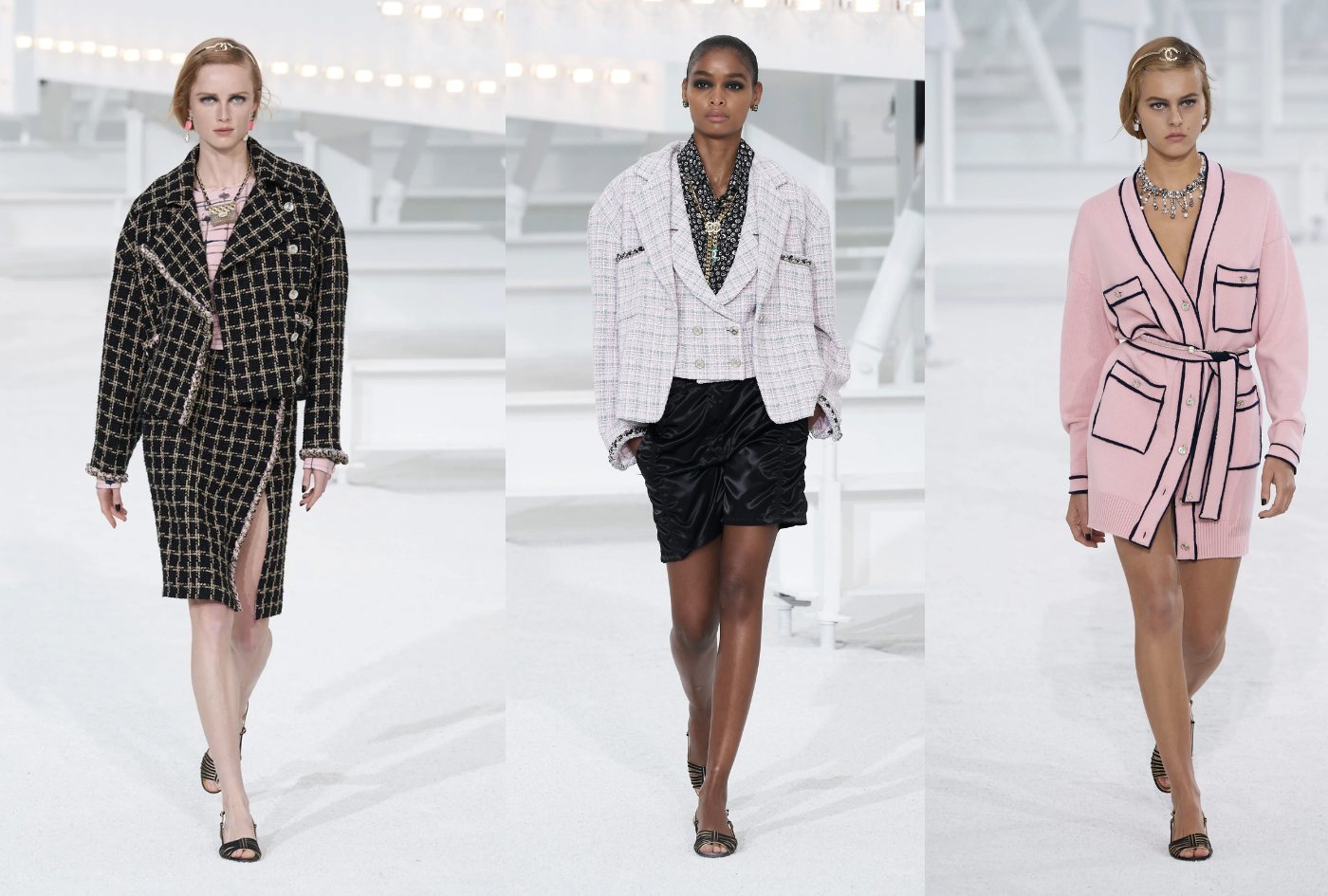 Speaking of a legendary luxury fashion house of Chanel, the separates-based mix felt very Parisian girl cool—the sort of clothes that would appeal to hipster actresses Marion Cotillard and Anna Mouglalis, for instance, who were among the guests attending the in-person show, recognizable even behind the mandatory white masks that were distributed at the door. This meant big-shouldered 1980s-looking Chanel suit jackets worn with petal pushers or stone-washed denim jeans or tiny miniskirts in candy pink or sky blue.