Choosing a gift is, perhaps, the most difficult and energy-consuming task. But everything is much simpler if you choose this gift for your beloved woman - mother, lover or sister. After all, as the legendary song says: "Diamonds Are Girls' Best Friends". And to make it even easier for you, the iPremium editors have collected new goods in the world of jewellery, the brands of which every self-respecting lady dreams of.
Pendant HAPPY HEARTS, Chopard

If you confess your love and loyalty to your beloved, then only with a pendant from the HAPPY HEARTS collection with legendary Chopard moving diamonds. Crafted from ethical rose gold, magical mother-of-pearl, and a 0.24-carat diamond, this piece of jewellery will perfectly describe your feelings for her.
Bracelet Panthère, Cartier

A new interpretation of the Panthère de Cartier collection. The collection features a flexible design created by Cartier craftsmen using a unique technology that adapts to the shape of the wrist. The bracelet is decorated with white gold, onyx, emeralds and 485 diamonds at once with a total weight of 6.25 carats.
Earrings Butterfly Silhouette Drop, Graff

A product in which every girl, even in a casual outfit, will feel irresistible - Butterfly Silhouette Drop earrings. This is a classic everyday elegance, crafted from white gold and brilliant-cut diamonds, totaling 0.95 carats.
Vintage necklace Alhambra Guilloche, Van Cleef & Arpels

No matter how old the Alhambra Van Cleef & Arpels collection is, it will always be desirable, dating back to 1968. And the brand knows this better than anyone, so this holiday season they turn their attention back to Van Cleef & Arpels Vintage Alhambra. This year, the brand pays homage to its roots with the modern elegance of 18-carat white gold.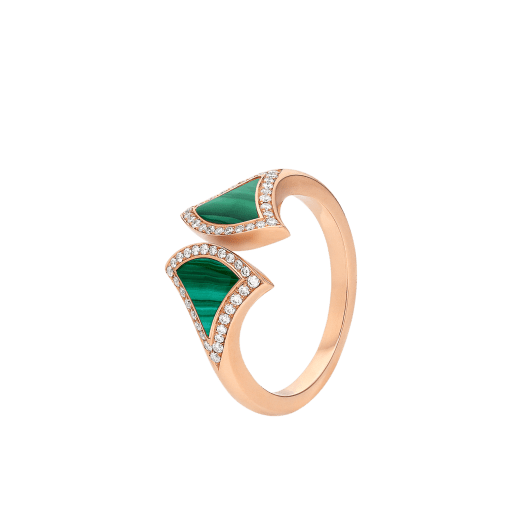 Ring DIVAS' DREAM, Bvlgari

A sophisticated expression of Italian luxury: the DIVAS' DREAM ring in 18-carat rose gold with malachite details and pavé diamonds. As the representatives of the brand admit, this is a truly Roman-inspired dedication to the most delightful divas. And given that every girl considers herself exactly that, the ring will be a wonderful compliment even without big words at the festive table.
Gulfstream necklace, Chaumet

Our favourite among all the pieces is the Gulfstream necklace by French jewellery brand Chaumet, inspired by the mythical mermaid and colourful sea creatures. The precious item is adorned with a 19.83 carat Australian opal, combined with diamonds, sapphires, emeralds and chrysoprase, as well as a cuff in lustrous gold, reminiscent of pebbles on a beach. Each of its "pebbles" is individually cut, as if honed by the waves.
Bracelet Buccellati Vintage Collection, Buccellati

The jewellery house Buccellati, based on the concept of sustainable development, has revealed a vintage collection that includes items from its archives. Iconic pieces include a cuff bracelet in white and yellow gold set with a 74.25-carat aquamarine surrounded by 98 diamonds. Perhaps, it is pointless describing its beauty further.
Watch Premier Chinese New Year Automatic, Harry Winston

Since 2016, Harry Winston has been celebrating Chinese New Year every year with a clock depicting an animal from the Chinese zodiac. 2023 is the Year of the Rabbit, so the legend of the Jade Rabbit adorns the dial of the new Premier Chinese New Year Automatic 36 mm, crafted in 18k rose gold and set with white diamonds.
Allure Celeste necklace, Chanel

The Allure Céleste necklace from the Chanel 1932 collection will be one of the best gifts for a woman you love. And there are many arguments for this. Firstly, because this piece is part of the high jewellery art that went down in history of the brand - the necklace was released for the 90th anniversary of the collection created by Mademoiselle. Secondly, the jewellery is enriched with round-cut diamonds, among which are a sapphire weighing 55.55 carats and a diamond of 8.06 carats. Thirdly, parts of the transforming necklace can be worn as brooches, and the central diamond thread turns into a bracelet, making the necklace shorter.