Situated in the heart of the famous Bordeaux vineyards, the Les Sources de Caudalie was established in 1999 by Alice and Jerome Tourbier. Considered one of the finest luxury hotels, Les Sources de Caudalie is known to offer its guests a captivating experience amidst the quaint surroundings of the Chateau Smith Haut Lafitte.
History and Architecture
Les Sources de Caudalie boasts 61 rooms including 40 rooms and 21 suites. Every room comes equipped with a large bathroom that includes 2 basins, a bath, and a shower. The rooms are also air-conditioned and boast a flat-screen TV, a minibar, a safe, and free WiFi. Most of the hotel rooms are also disabled-friendly and accessible to those with reduced mobility. The new decoration, skillfully crafted and signed by Delphine Sauvaget, has become the new face of Les Sources de Caudalie Hotel.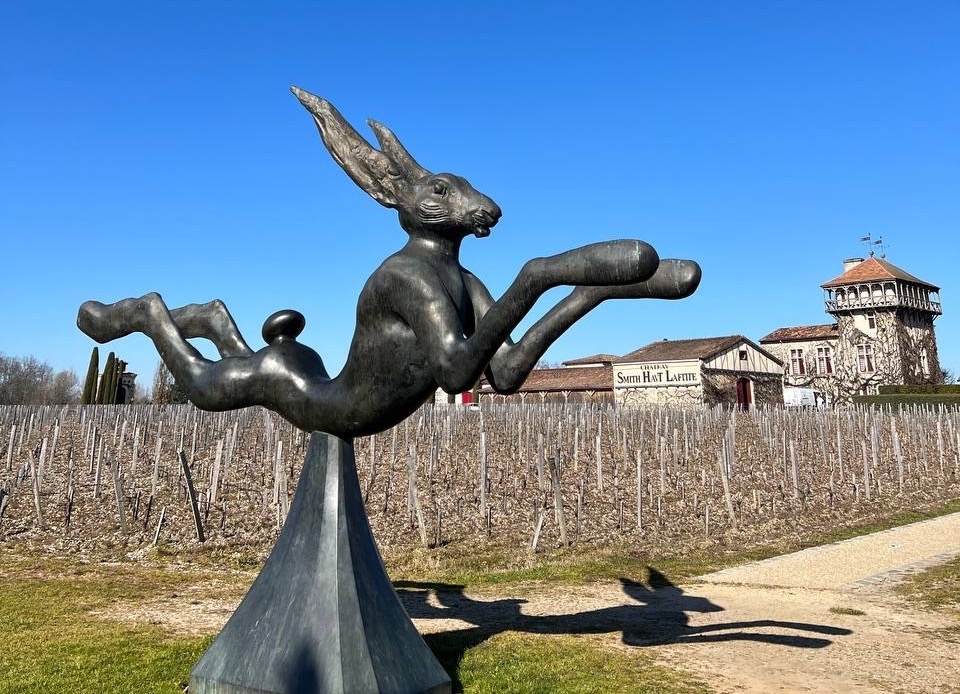 The Suites Prestige
The Suites Prestige comprises two large spacious bedrooms, ensuring complete privacy. Whitewashed wood paneling and design reissues from the 1950s adorn the suites, providing a home-like atmosphere.
The Suites Signature
If you are looking for more exclusivity, a stay at The Suites Prestige is sure to guarantee you intimacy and serenity. Situated in a privileged location far from others, it provides picturesque views of the Chateau Smith Haut Lafitte.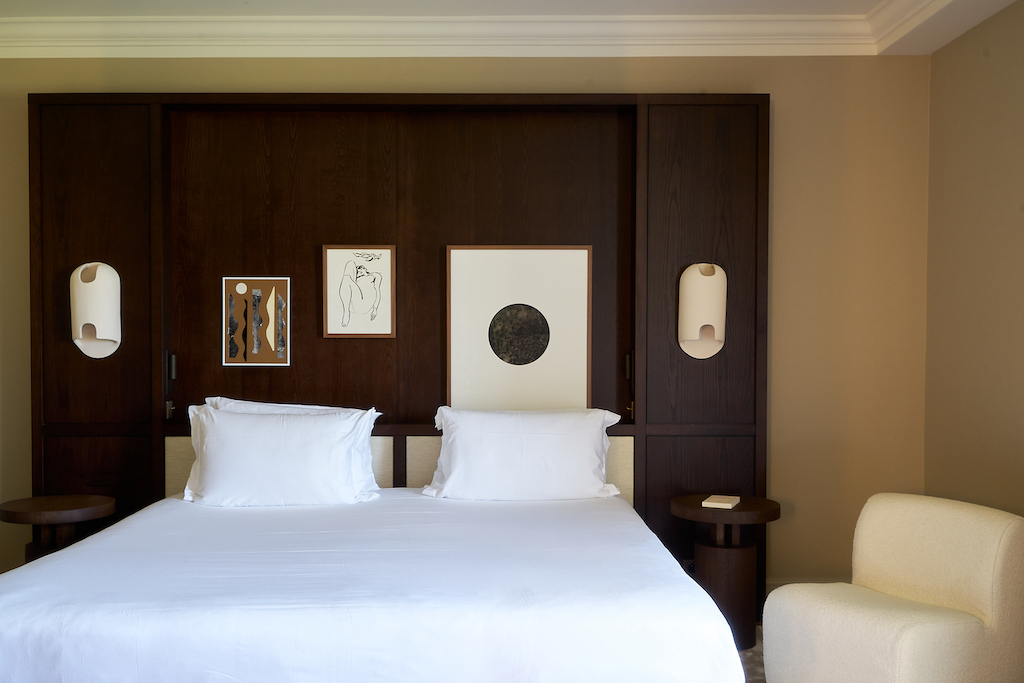 At The Heart Sources
For large groups, a flat in the Heart of the Srpings is an ideal choice. Consisting of two large bedrooms, a kitchenette, a dining area, and a living room, the room overlooks the famous Bordeaux vineries and gardens.
Lile Aux Oiseaux
Reminiscent of the 'cabanes tchanquees' of the Bassin d'Arcachon, the Lile Aux Oiseaux overlooks the natural pond of the estate and boasts architecture of white sublimates found in the Lebanese craft industry.
La Chartreuse Du Chateau Le Thil
Away from the hustle and bustle of the hotel, the La Chartreuse Du Chateau Le Thil is comfortably nestled in the heart of the forest, providing breathtaking natural views for relaxation. An 18th-century property, the room is led by two magnificent staircases and has a fusion of antique furniture and bold prints. An indoor swimming pool and tennis court make La Chartreuse Du Chateau Le Thil ideal for private homes on the weekend.
What Makes The Hotel So Special
If there is one thing that sets Les Sources de Caudalie apart from other luxury hotels, is its commitment to environmental conservation. In a bid to adopt sustainable practices, most of the produce is sourced organically. Further, the Bee Garden provides a year-long supply of fresh fruit, vegetables, eggs, herbs, and edible flowers, reducing dependency on imports.
With an emphasis on high-quality products, the hotel has sourced marble from the Pyrenees mountains for its rooms, antique and refurbished furniture, raw wood species, and woodwork recovered from the region. Plastic packaging has been replaced with recycled paper and maize starch, while all the hotel lights are powered using LED bulbs.
To reduce its carbon footprint, Les Sources de Caudalie has also reduced the consumption of meat products, encouraging its patrons to prefer vegetarian alternatives or fish based on sustainable fishing practices.
Restaurants and Fine Dining
To satisfy your taste buds, Les Sources de Caudalie has Michelin-star restaurants offering delectable yet healthy delights.
La Grand'Vigne
With a two-star rating by the Michelin Guide, La Grand'Vigne offers gourmet cuisine with ingredients either sourced by the chef himself or from the lush gardens around the vineyard.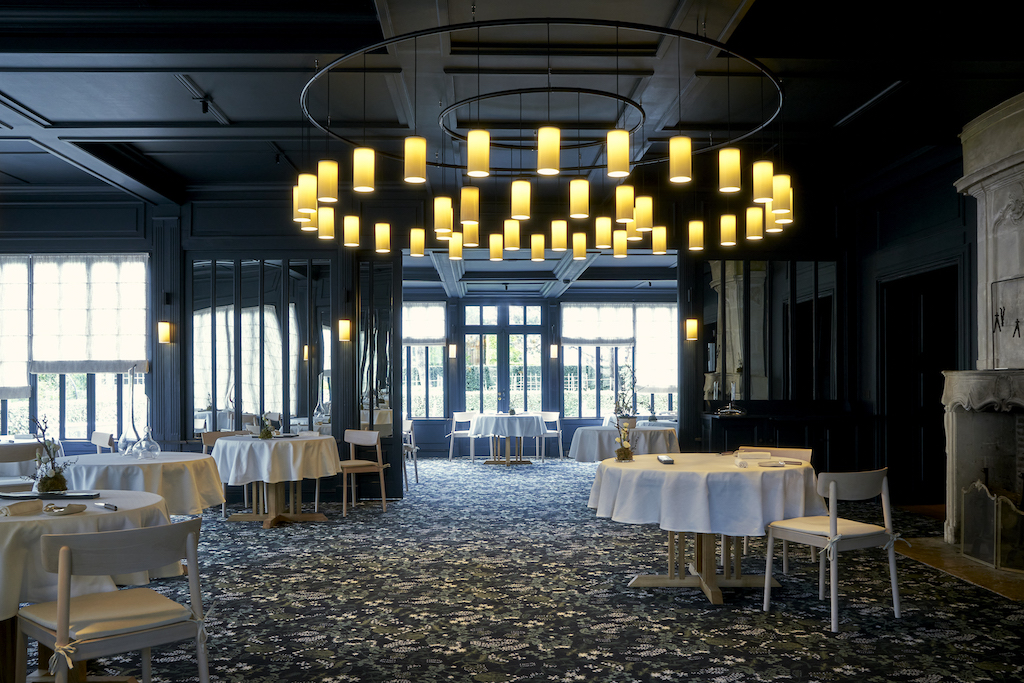 La Table Du Lavoir
With an atmosphere that dates back to the 18th-century Medoc wine cellars, you can ask the chef to whip seasonal dishes or old-fashioned vegetables.
© Les Sources de Caudalie Gallery
ROUGE
To get a taste of the renowned Bordeaux wines, head to the ROUGE bar, and enjoy in the company of family and friends.
French Paradox
Built as a separate room, the French Paradox will take you back to Villa Necchi in Milan. Here, you can pick from tasty cocktails to Pessac-Leognan wines, or old Armagnacs, Cognacs, and whiskies.
Vinotherapie Spa
As a privileged patron of Les Sources de Caudalie, you can experience a Caudalie treatment ritual at the Spa Vinotherapie anytime during your stay. Here, you will get free access to the hammam, restrooms, and natural hot water baths. Boasting anti-aging and detoxification treatments, the Spa is sure to leave you feeling relaxed and rejuvenated.
Things To Do
During your stay at Les Sources de Caudalie, there are a large number of activities to do, making your experience memorable.
Gastronomy and Wine
If you are a cooking enthusiast, chef Nicolas Masse hosts cooking classes once or twice every month at the Michelin-star restaurant La Grand'Vigne.
© Les Sources de Caudalie Gallery
In The Vineyard
In case you are interested in learning how wine is produced, guided tours to the Chateau Smith Haut Lafitte and Grand Cru Classe de Graves take you around the estate. A 16th-century tower, a vat room, and underground red and white cellars with over 1000 barrels show how wine is made.
Sport & Wellness
Les Sources de Caudalie is abounding with sports facilities including a swimming pool, sauna, gym, yoga on the water, an outdoor tennis court, a forest bath, and walks to the Forest of the Senses.
Excursions
There is a lot to explore in Bordeaux. Classified as a UNESCO World Heritage Site in 2007, Bordeaux is only 20 minutes by car from Les Sources de Caudalie. Take a look at the Archachon Basin and Saint Emilion for breathtaking views of the city.
Les Sources de Caudalie has a lot to offer its visitors. You can experience the scenic beauty of the vineyards while enjoying a glass of the famous Bordeaux wine, along with the architectural magnificence of the hotel.