With more than 190 countries from all around the world coming together to showcase their technological and architectural advances, all communicating diverse narratives, it's hard to determine which were the best ones on display at Expo 2020 Dubai.

From learning about sustainability through an aquatic treasure hunt to using augmented reality to discover the unimaginable, we visited them all to help you decide which ones were best at communicating their ideas through stellar design and intricate technologies.

Without further ado, here are the top 10 pavilions of Expo 2020 Dubai:


Courtesy of Saudi Arabia Pavilion




Saudi Arabia

Called a "window to the world", Saudi Arabia's prism-like pavilion is the second-largest at Expo 2020 Dubai and is packed with things to see and do. Sharing its country's rich past, breathtaking natural wonders and promising future with enchanted visitors, the pavilion plays host to a spacious exhibition hall that features impressive installations. The pavilion represents the country's limitless possibilities, demonstrating four main pillars comprising ambition, nature, heritage and opportunities. The exterior of the Saudi Arabia pavilion features the largest interactive mirror screen with around 8000 LED floor lights that illuminate into different multi-coloured patterns. If you're wondering how the pavilion's striking design impacts its natural surroundings, it has been created with sustainability in mind and is LEED Platinum Certified.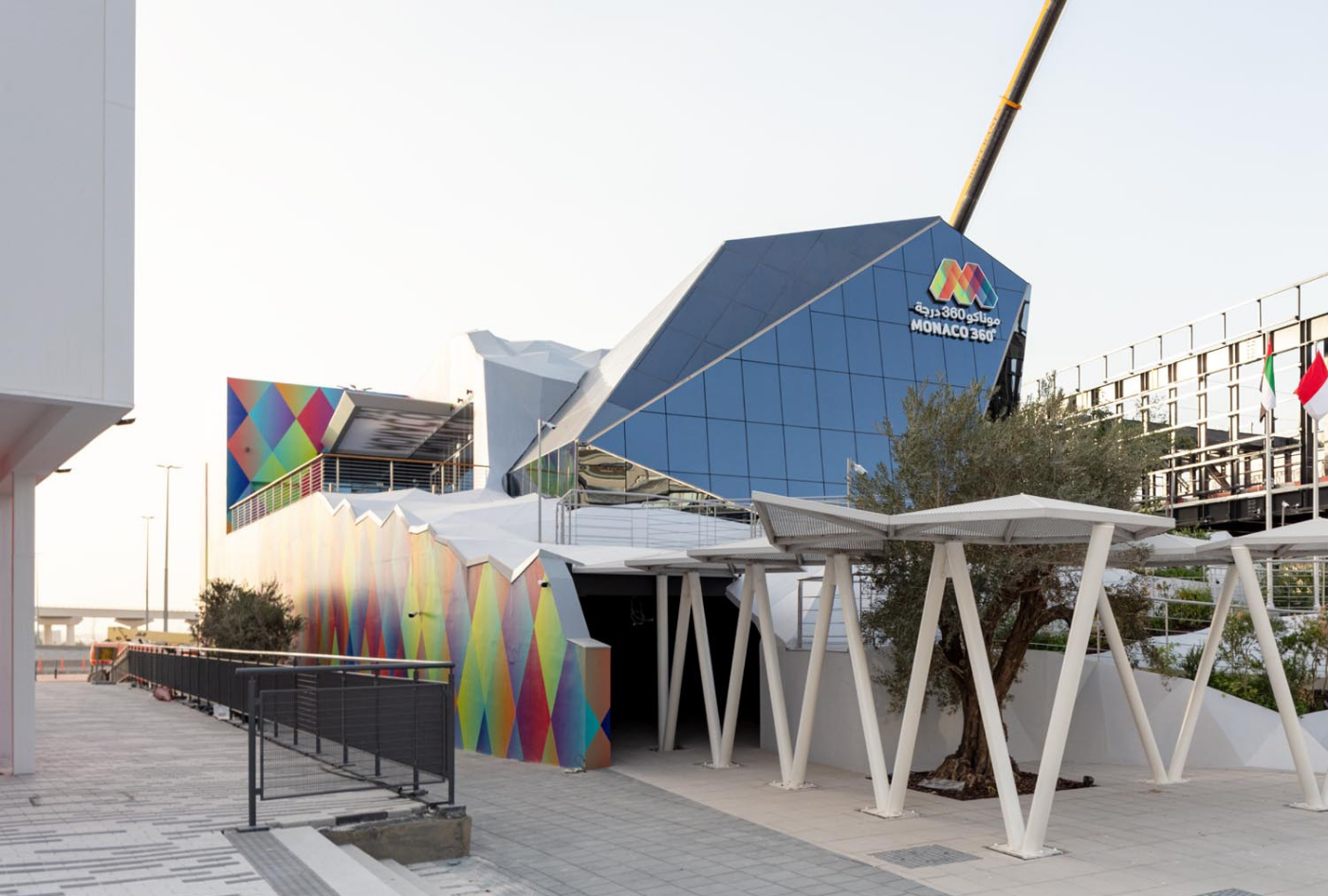 Image Credit: archmospheres




Monaco

Each and every pavilion at Expo 2020 Dubai encompassed science in one way or another, but the Monaco pavilion did so best of all. The country employed a kaleidoscope to showcase the rich history of Monégasque art, culture and innovation. Besides that, guests could immerse themselves in the country's sunny climate, and learn about and explore the future of Monaco at 'Garden of Opportunities'.



Image Credit: Ilya Ivanov




Russia

The multicoloured dome-shaped Russian pavilion reflected constant movement and progress with its cheerful and dynamic design. The structure of the pavilion was composed of colourful aluminium tubes which are bent to form the body of the building, with a total length of 46km! A fun fact is that felt-tip pens back in the Soviet times had these exact same colours available for purchase. Some say that the structure itself resembled a spinning rainbow-coloured Saturn, while others saw it as a traditional Russian Matryoshka. All agreed, however, that the pavilion represented Russia as a different kind of planet with its own unique culture and rich historical heritage. On the inside, you would find an educational exhibition, with interactive explanations of everything you needed to know about how our brain works.


Courtesy of Swiss Pavilion




Switzerland

The Swiss pavilion drew attention from afar with its reflective façade, featuring a massive white cross on a red backdrop. Upon entrance, guests received red umbrellas with Switzerland's white logos and letters. As a result, when visitors passed through the rectangular hallway, their reflections in the huge mirror above looked like a sea of umbrellas. As the main focus of the pavilion was to showcase the natural beauty of the country's enchanting landscapes, guests also had the opportunity to walk through a natural fog that gave the sensation of travelling through the misty Swiss Alps.


Image Credit: German Pavilion Expo 2020 Dubai / Bjoern Lauen




Germany

Whether you prefer to study or play, Campus Germany was a place where you can do both. Nestled in the Sustainability District, the German pavilion focused on the country's innovations and solutions in sustainability. Undoubtedly the most interactive pavilion of all, it allowed you to spend hours learning about cutting-edge technology, play educational games, "swim" in a pool of 100,000 small yellow balls - each telling its own story - and even graduate from a mini university in a psychedelic hall adorned with swings and disco lights. The pavilion had become a firm favourite among visitors of Expo 2020 Dubai.


Image Credit: Dany Eid / Expo 2020 Dubai




Sustainability Pavilion

​​Anchoring the Sustainability District, the Sustainability Pavilion was designed to generate all of its own water and energy. The pavilion resembled a gigantic tree surrounded by smaller trees whose entire rooftops were covered in solar panels. It also featured a 135-metre-wide, solar-panel-covered canopy, and was one of the centrepieces of Expo 2020 Dubai. From harnessing the energy of the sun to conserving our rich marine life, it explored the sustainable future of Earth, allowing visitors to wander through forest roots and dive into ocean depths to discover more ways we can help preserve our planet for generations to come.


Image Credit: V8 Architects / Jeroen Musch




Netherlands

For many, the Dutch pavilion has become a symbol of sustainability. Built around an 18-metre-high green cone covered with oyster mushrooms and over 9000 edible plants and herbs, the Dutch Biotope pavilion was also located in the Sustainability District. A tribute to the natural beauty that surrounds us, the pavilion extracted water daily from the desert air using its colourful solar panels, and even included a rain room.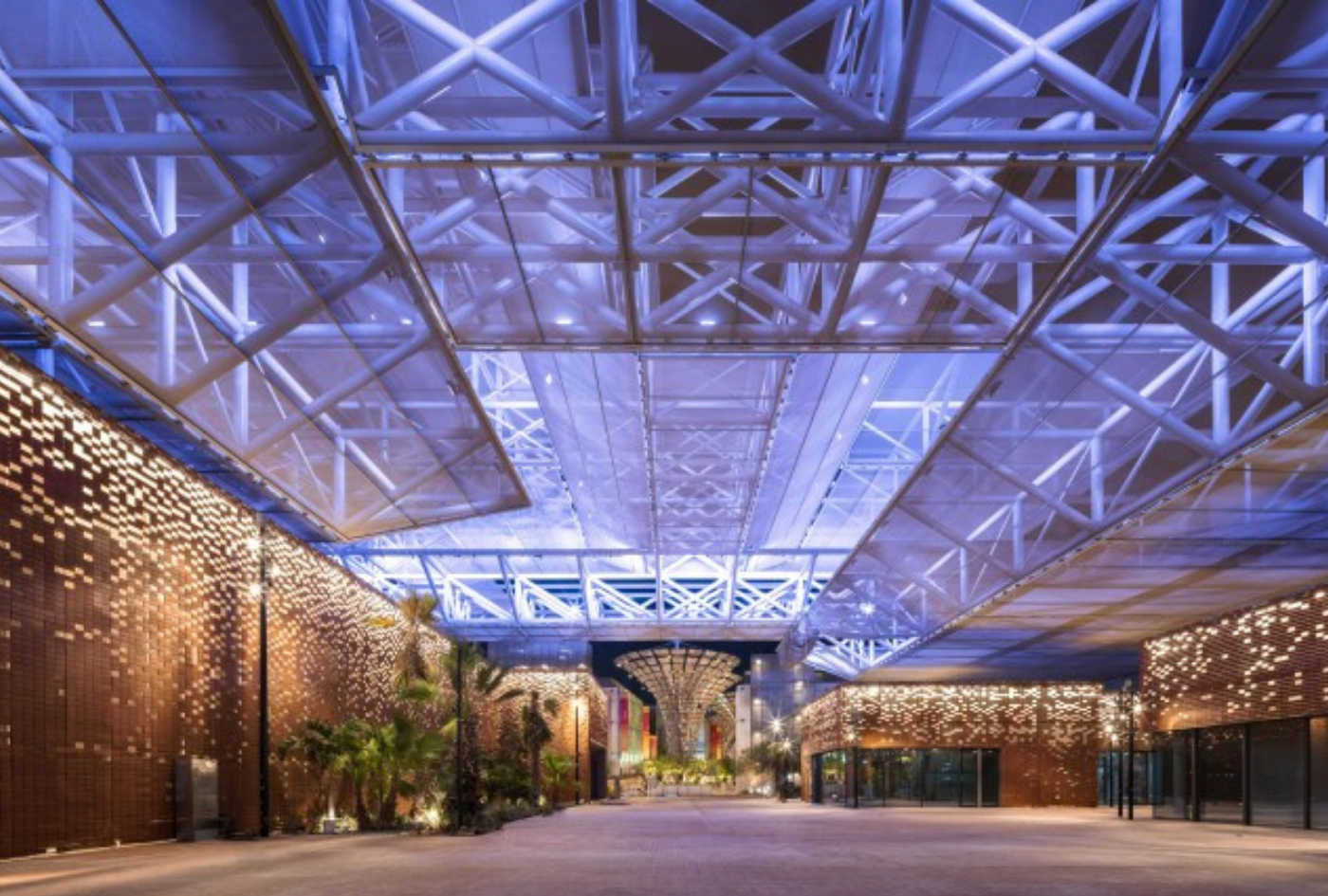 Image Credit: Dany Eid / Expo 2020 Dubai




Opportunity Pavilion

Built by Spanish-Kuwaiti studio AGi Architects, this pavilion nestled in the Opportunity District and definitely resonates with its neighbourhood's theme. The pavilion, named Mission Possible, has taken on the unofficial role of a networking centre for people from different walks of business. Here, people and ideas came together to inspire the future. Besides its strong motivational message and fertile ground for networking, the tessellated structure of the Opportunity pavilion housed narratives that offered interactive learning experiences focused on key sustainability goals - food, water and energy.


Image Credit: Cartier




Women's Pavilion

This jewellery-box shaped structure breathed change and hope, glowing like a desert lantern. With the patronage of Cartier, the Women's Pavilion was the first of its kind at a World Fair, and dedicated to one thing and one thing only: women. Expo Dubai 2020 unveiled its Women's Pavilion declaring once again its commitment to gender equality and women's empowerment. It was the first World Expo since the 1900s to have a stand-alone pavilion dedicated to women, especially in the Middle East, Africa and South Asia (MEASA) regions. Filled with stories about New Perspectives, the exhibition at the pavilion shed light on the central role women play in the world of the present and would continue to play in the future.


Image Credit: Mithun Udayanarayana




Maldives Pavilion

The Maldives pavilion invited its guests to embark on the journey to one of the world's most isolated and beautiful destinations. It aimed to showcase that the archipelago nation is not only a paradise of white-sand beaches spread across nearly 1200 islands, but also home to a unique culture and heritage. Here, guests could get acquainted with the country's culture through Boduberu, the heart of Maldivian music and dance, or the Sailboat Theatre. Inspired by the country's "environment first" philosophy, the pavilion also explored the nation's historical and ongoing initiatives designed to create a sustainable future.

Learn about these and other fascinating pavilions at https: www.expo2020dubai.com